Pavel Losevsky - Fotolia
Q
Get started
Bring yourself up to speed with our introductory content.
Choosing the right data snapshot approach
Independent backup expert Brien Posey compares the various methods for creating a data snapshot in this Expert Answer.
Are storage array-based snapshots preferable to other types of data snapshots (file system, hypervisor, etc.)? Why or why not?
As with many things in IT, there are both advantages and disadvantages to creating storage-level data snapshots. The main advantage is that storage-level snapshots do not tend to incur the performance impact of software snapshots. Software-based data snapshots are often (but not always) based on the use of differencing disks. This approach can have a significant impact on read performance as multiple snapshots are accumulated. Hardware-level data snapshots on the other hand, are oftentimes based on the use of pointers, which offer better performance.

Download this free guide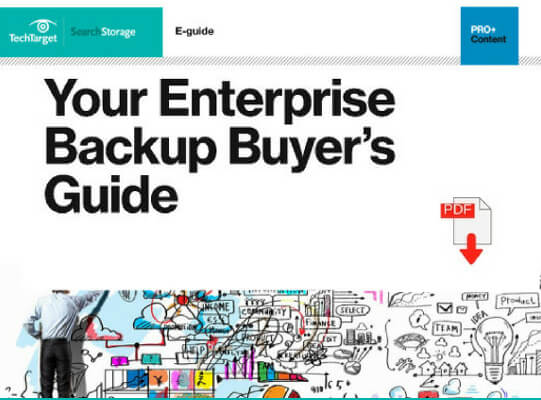 ATTN: Which backup software is right for your business?
"Do I still need an enterprise-level backup software app? How can I prepare for the top challenges I may encounter when buying restore software? Which products should be on my radar?" You'll find the answers to these queries and more, in this free, downloadable PDF.
The main advantage offered by software-level snapshots is consistency. File-system-level data snapshots are almost always file-system consistent. This means that a snapshot will never contain a partially written file. In contrast, storage-level snapshots usually occur at the block level, and it is sometimes possible to take a storage-level snapshot while a file update is in progress, thereby resulting in a corrupt file (if the snapshot is ever rolled back).
Similarly, hypervisors try to provide application awareness. This means that when a hypervisor-level data snapshot occurs, the hypervisor attempts to create the snapshot in a way that places any applications running on virtual machines into a consistent state before the snapshot is created. Storage-level snapshots are generally not application-aware, so snapshots will likely be created with applications in an inconsistent state.
Dig Deeper on Disk-based backup
When healthcare providers need to retrieve medical records from an EHR, keeping in mind where the data is stored will affect how quickly and ... Continue Reading
As business requirements evolve, not every DR tool can keep up. In the age of agile IT, there are drawbacks to consider with a cloud-based disaster ... Continue Reading
Expert Brien Posey explains the storage requirements healthcare organizations should insist on before choosing a vendor and system for their medical ... Continue Reading
Have a question for an expert?
Please add a title for your question
Get answers from a TechTarget expert on whatever's puzzling you.