Pavel Losevsky - Fotolia
Q
Get started
Bring yourself up to speed with our introductory content.
Choosing the right data snapshot approach
Independent backup expert Brien Posey compares the various methods for creating a data snapshot in this Expert Answer.
Are storage array-based snapshots preferable to other types of data snapshots (file system, hypervisor, etc.)? Why or why not?
As with many things in IT, there are both advantages and disadvantages to creating storage-level data snapshots. The main advantage is that storage-level snapshots do not tend to incur the performance impact of software snapshots. Software-based data snapshots are often (but not always) based on the use of differencing disks. This approach can have a significant impact on read performance as multiple snapshots are accumulated. Hardware-level data snapshots on the other hand, are oftentimes based on the use of pointers, which offer better performance.

Download this free guide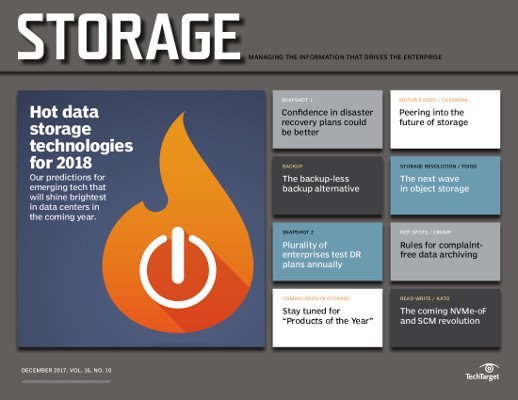 Snapshot of top 2018 backup tech: CDM, complaint-free archiving, ransomware detection vendors
The SearchStorage.com team names the most promising ransomware detection products, 4 rules for complaint-free archiving, how to use copy data management for effective recovery, and more. Download your e-zine copy here.
The main advantage offered by software-level snapshots is consistency. File-system-level data snapshots are almost always file-system consistent. This means that a snapshot will never contain a partially written file. In contrast, storage-level snapshots usually occur at the block level, and it is sometimes possible to take a storage-level snapshot while a file update is in progress, thereby resulting in a corrupt file (if the snapshot is ever rolled back).
Similarly, hypervisors try to provide application awareness. This means that when a hypervisor-level data snapshot occurs, the hypervisor attempts to create the snapshot in a way that places any applications running on virtual machines into a consistent state before the snapshot is created. Storage-level snapshots are generally not application-aware, so snapshots will likely be created with applications in an inconsistent state.
Dig Deeper on Disk-based backup
Using multiple clouds in your disaster recovery strategy may be more difficult to implement, but it will also give your cloud plan an added level of ... Continue Reading
While overprovisioned SSDs have less usable capacity available, that space is put to good use. The majority of SSD manufacturers overprovision their ... Continue Reading
VDI can affect areas of a company network, such as internet bandwidth. IT can mitigate the effects of VDI users by allocating resources and ... Continue Reading
Have a question for an expert?
Please add a title for your question
Get answers from a TechTarget expert on whatever's puzzling you.