Q
Comparing open source backup tools with commercial software
Brien Posey compares open source backup tools and commercial backup software, and identifies things to consider before deploying open source software.
How do open source backup tools stack up against software from the bigger vendors in terms of functionality today?
There are a number of open source backup applications that you can use to protect your organization. Some of the more advanced open source products offer feature sets that are comparable to those found in commercial backup applications. Although there is nothing wrong with using an open source backup product, there are a number of things to consider before doing so.

Download this free guide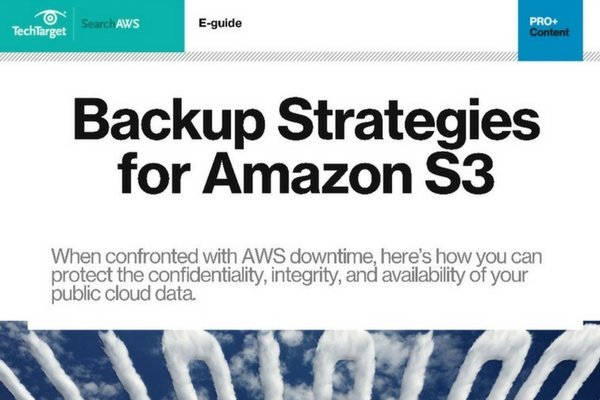 Amazon S3 in the spotlight: Your 34-page backup guide
In this guide curated by the SearchAWS.com editors, you'll evaluate and overcome the DR tradeoffs associated with Amazon S3, with guidance on solidifying an AWS backup plan and securing S3 buckets. Download your copy now.
One of the most important considerations is support. While telephone-based support typically is available for commercial backup software, that isn't usually the case for open source software. Open source software is usually community supported, which means that you will have to search the message boards for help.
Another consideration is that some open source utilities are downloaded as Linux packages. In these situations, you will have to compile the application yourself before you can use it. Rather than being able to run a simple Windows Setup program, you will have to use a compiler such as GCC to assemble the package. Once it's assembled, you may have to run the software on a Linux server or use a utility such as Cygwin to make it run under Windows (in a Linux-like command environment).
The biggest trick to using open source backup software is to get it up and running. After doing so however, a good open source backup application will likely deliver all the functionality that you need. Many open source backup tools support things like deduplication and virtualization. Before settling on an open source backup product, however, make sure that it offers Windows application awareness (some don't).
More on this topic:
Deciding if open source software is the best data backup solution
Expert Brien Posey discusses how to determine whether an open source software backupproduct is the best data backup solution for your organization.
Preston: Lack of support makes free backup software a gamble
The promise of free backup software is appealing to many small and medium-sized businesses, but backup expert W. Curtis Preston says you get what you pay for.
Red Hat tips: Beating Trojan horses and backup blues
Protecting a company's data is a Red Hat Linux administrator's mission, a mission made tougher by Trojan horses and backup mistakes.
When healthcare providers need to retrieve medical records from an EHR, keeping in mind where the data is stored will affect how quickly and ... Continue Reading
As business requirements evolve, not every DR tool can keep up. In the age of agile IT, there are drawbacks to consider with a cloud-based disaster ... Continue Reading
Expert Brien Posey explains the storage requirements healthcare organizations should insist on before choosing a vendor and system for their medical ... Continue Reading
Have a question for an expert?
Please add a title for your question
Get answers from a TechTarget expert on whatever's puzzling you.