Q
Problem solve
Get help with specific problems with your technologies, process and projects.
Look at independent consultants when designing a backup solution
We are in the process of designing a backup architecture/solution for our company. We have 45 sites across the U.S., Canada and Mexico with frame-relay connectivity between sites and an IT data center as a main hub with four other sites acting as hubs as well.

Download this free guide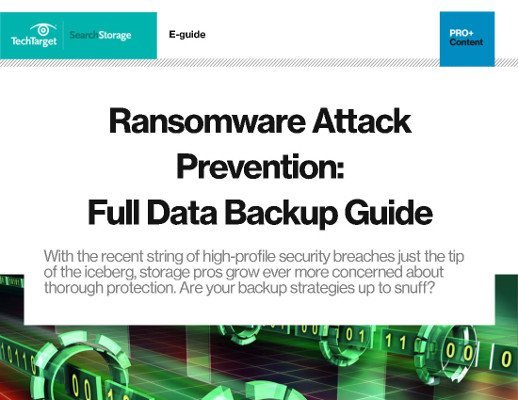 SearchStorage writers evaluate backup's role in ransomware detection
WannaCry, NotPetya, the list of dangerous ransomware viruses goes on and on, well beyond the most highly-publicized attacks. Use this guide to learn about the extent of the threat posed by ransomware, and bolster protection of your data, apps, and systems by using the backup strategies detailed within.

By submitting your personal information, you agree that TechTarget and its partners may contact you regarding relevant content, products and special offers.

You also agree that your personal information may be transferred and processed in the United States, and that you have read and agree to the Terms of Use and the Privacy Policy.

The biggest challenge so far has been deciding whether to "centralized" backups so that all the remote locations are being backed up (1) to the IT data center, (2) to let each remote site backup its data locally or (3) to have each hub site perform "centralized" backup for the connected sites.

Do you have any recommendations about companies that only do backup design and architecture?


First, let me be honest up front and say that my answer may appear to be self-serving, as I am the president of an independent storage consulting firm myself. Having said that, I doubt anyone can refute my answer.

The hardest part about making storage decisions is simply obtaining the right information. Most people simply pick a few large software or hardware vendors and ask them what they should do. While these companies can be very helpful at some stages in the process, they have not typically been very helpful when asking them what you should buy. The answer is always "buy the product we sell and lots of it."

The only answer to this is to contact an independent storage consulting company and there are very few of those. In fact, I only know of The Storage Group and Glasshouse Technologies. While I'm sure there are others who will undoubtedly write to me as soon as we post this answer, these are the only two companies I know of that offer storage consulting independent of any vendor. Every other storage consultant that I know works for a hardware vendor, software vendor or integrator -- all of which want to sell you something.

I believe that only an independent consultant can make recommendations that are in your best interest. For example, I know that in the past few months we have saved our clients millions of dollars by recommending that they buy something different (or a different quantity) than what their vendor was recommending. They all met their backup and recovery needs while buying significantly less hardware and software. Do you really think a hardware or software vendor would have done that?

I'd recommend talking to either The Storage Group or Glasshouse Technologies.

Editor's note: Do you agree with this expert's response? If you have more to share, post it in one of our .bphAaR2qhqA^0@/searchstorage>discussion forums.



Dig Deeper on Remote data protection
Have a question for an expert?
Please add a title for your question
Get answers from a TechTarget expert on whatever's puzzling you.