Q
Mobile device data protection and security increasingly important
Independent backup expert Brien Posey outlines the reasons why mobile data protection and security are increasingly important and whether organizations are on top of the issue today.
How important are data protection and security for mobile devices today? Is this still an overlooked area?
The importance of data protection and security for mobile devices has long been underestimated in IT shops. At one time, mobile device security and data protection were almost nonexistent. In the past, mobile devices weren't very powerful and there wasn't really an effective way of managing them. Because it was primarily high-level managers or tech-savvy employees who were using the mobile devices, IT tended to look the other way with regard to mobile device security and data protection.

Download this free guide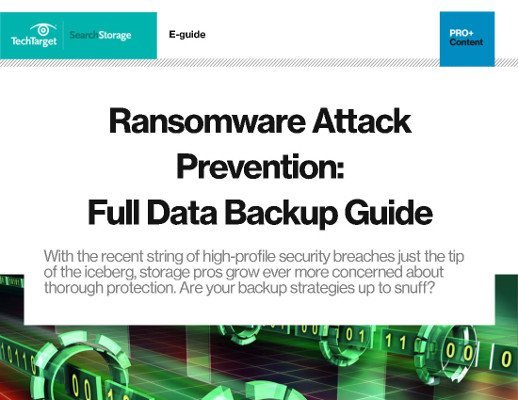 SearchStorage writers evaluate backup's role in ransomware detection
WannaCry, NotPetya, the list of dangerous ransomware viruses goes on and on, well beyond the most highly-publicized attacks. Use this guide to learn about the extent of the threat posed by ransomware, and bolster protection of your data, apps, and systems by using the backup strategies detailed within.
Obviously, things are a lot different today. Mobile devices are much more powerful than they were in the past, and modern devices have a relatively large storage capacity. Furthermore, mobile devices have gone from being obscure novelties to becoming mainstream technologies. Many users own several mobile devices.
As far as whether or not security and data protection for mobile devices are overlooked today, the answer is that it varies from one organization to another. Larger organizations seem to be taking mobile devices very seriously. In these types of environments, mobile users are no longer given free reign of the network. Instead, mobile devices are managed by specialized software that enforces mobile device security. Even the Windows Server operating system is now mobile device-aware. Windows Server 2012 R2 makes it possible to connect a mobile device to a domain by way of the Workplace Join feature.
In spite of the progress that has been made surrounding mobile device security, there are still organizations that do not take mobile devices seriously. In some (primarily smaller) organizations the attitude seems to be that if other companies are allowing users to work from personal mobile devices then it must be okay. The underlying assumption is that the devices are secure by default and that there is no need to provide extra security. Thankfully, however, most organizations do seem to be taking mobile device security much more seriously than might have been the case a few years ago.
Using multiple clouds in your disaster recovery strategy may be more difficult to implement, but it will also give your cloud plan an added level of ... Continue Reading
While overprovisioned SSDs have less usable capacity available, that space is put to good use. The majority of SSD manufacturers overprovision their ... Continue Reading
VDI can affect areas of a company network, such as internet bandwidth. IT can mitigate the effects of VDI users by allocating resources and ... Continue Reading
Have a question for an expert?
Please add a title for your question
Get answers from a TechTarget expert on whatever's puzzling you.