Q
Should the data dedupe process ever be disabled by admins?
While it may seem that you should never switch off the deduplication process, there are two instances where that may be the best solution for your organization.
It is tempting to say that there is never a good reason to disable the dedupe process. However, there are two situations that may warrant disabling data deduplication features.

Download this free guide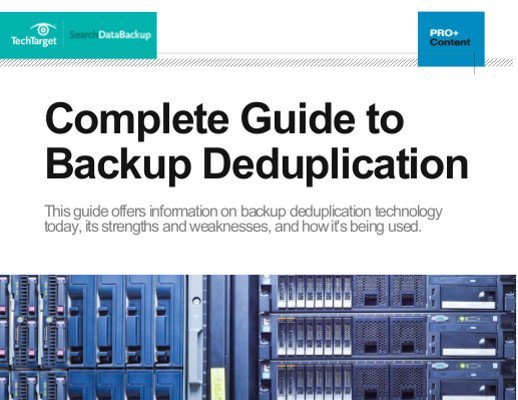 Free Download: Complete guide to backup deduplication
Access all of the 31 articles in our Data Deduplication Essential Guide by downloading our comprehensive PDF version so that you can access all of this expert content in one, easy-to-read resource.
One such situation involves multi-tier deduplication, which refers to deduplicating the same data multiple times using different deduplication methods to achieve the highest possible dedupe ratio.
Global deduplication products are a good example of multi-tier deduplication. Let's say you need to back up 10 different servers running the same operating system. There is a lot of redundancy across these servers because they all have the same system files. A local, block-level dedupe process would eliminate redundancy within a server's file system. Without a second deduplication pass, however, the backup media would still contain a high degree of redundant data because the first deduplication pass only eliminates redundant data on a per-server basis. Cross-server redundancy still exists. A second deduplication pass at the backup target level would eliminate the remaining redundancy.
This type of multistep deduplication is perfectly acceptable. However, data deduplication has become so commonplace that you could have multiple products attempting to deduplicate the same data using an identical dedupe process. Performing a local, block-level deduplication on a per-server basis at the file system level and then again at the storage level would just increase overhead. At worst, it could result in data corruption.
Another possible reason to disable the dedupe process is that the associated overhead could impact system performance. If the deduplication process allows system performance to fall to an unacceptable level, then it is time to disable data deduplication.
Using multiple clouds in your disaster recovery strategy may be more difficult to implement, but it will also give your cloud plan an added level of ... Continue Reading
While overprovisioned SSDs have less usable capacity available, that space is put to good use. The majority of SSD manufacturers overprovision their ... Continue Reading
VDI can affect areas of a company network, such as internet bandwidth. IT can mitigate the effects of VDI users by allocating resources and ... Continue Reading
Have a question for an expert?
Please add a title for your question
Get answers from a TechTarget expert on whatever's puzzling you.