Q
What are some flat backup misconceptions?
Flat backup, which is based around storage snapshots, is gaining popularity. But the technology can't protect every resource in an organization. We debunk the top fallacies.
Flat backup has recently begun to gain popularity, although the concept has existed for quite some time. Here are three major misconceptions regarding how a flat backup works.

Download this free guide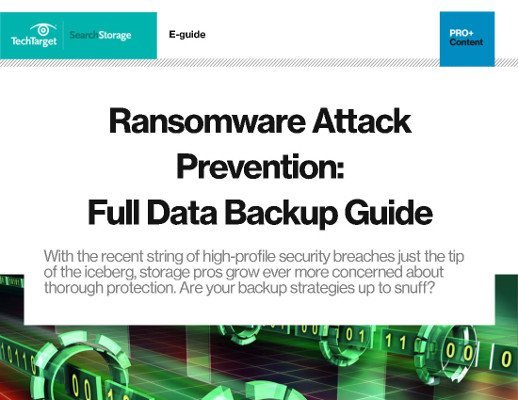 SearchStorage writers evaluate backup's role in ransomware detection
WannaCry, NotPetya, the list of dangerous ransomware viruses goes on and on, well beyond the most highly-publicized attacks. Use this guide to learn about the extent of the threat posed by ransomware, and bolster protection of your data, apps, and systems by using the backup strategies detailed within.
1. A flat backup can be used with all types of snapshots. Flat backups are based around the use of storage snapshots. Although hypervisor snapshots function in a manner similar to storage snapshots, they won't work for flat backups. Flat backups are intended specifically for use with storage snapshots.
2. A flat backup can protect all of an organization's resources. As previously mentioned, a flat backup is based around the use of storage snapshots. Consequently, flat backups can only protect those resources for which storage snapshots are created. Furthermore, flat backups are vendor proprietary, so not every storage vendor supports their use. Those vendors that support the technology only allow them for specific storage products. So a flat backup will not typically be an option for organizations that use heterogeneous storage hardware.
3. A flat backup provides continuous data protection. In reality, a flat backup is subject to the rate at which snapshots can be created and replicated. While most continuous data protection offerings do not truly provide continuous protection -- they actually perform very frequent, scheduled backups -- they tend to allow for more frequent data protection than a flat backup. The primary advantage to a flat backup offering isn't the frequency of its protection, but its low cost and simplicity.
Using multiple clouds in your disaster recovery strategy may be more difficult to implement, but it will also give your cloud plan an added level of ... Continue Reading
While overprovisioned SSDs have less usable capacity available, that space is put to good use. The majority of SSD manufacturers overprovision their ... Continue Reading
VDI can affect areas of a company network, such as internet bandwidth. IT can mitigate the effects of VDI users by allocating resources and ... Continue Reading
Have a question for an expert?
Please add a title for your question
Get answers from a TechTarget expert on whatever's puzzling you.