Tomasz Zajda - Fotolia
Q
Get started
Bring yourself up to speed with our introductory content.
What are some ghost image creation issues?
A ghost image can be used to copy the contents of one server to another for backup, but the process of creating ghost images may not be as simple as it seems.
When used for data backup, ghost image creation can help enable a quicker restore following a failure. However, the seemingly simple question of how to create a ghost image does not always have an easy answer. There are two factors that complicate things.

Download this free guide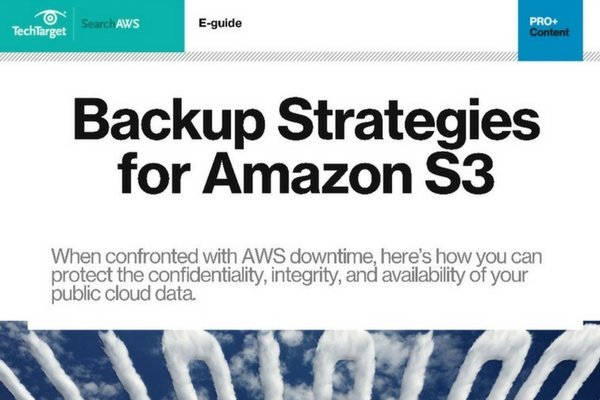 Amazon S3 in the spotlight: Your 34-page backup guide
In this guide curated by the SearchAWS.com editors, you'll evaluate and overcome the DR tradeoffs associated with Amazon S3, with guidance on solidifying an AWS backup plan and securing S3 buckets. Download your copy now.
First, the term ghost image has become somewhat ambiguous. Originally conceived as an acronym for general hardware-oriented system transfer in the 1990s, ghost imaging was developed as a backup and disk-cloning process. Symantec acquired the technology in 1998, and ghost image then mainly referred to an image created by the Symantec Ghost Solution Suite. Today, however, a quick web search on the term reveals sites that refer to Sysprepped images or even full-system backups as ghost images.
The second point of confusion lies in the process. Even once you settle on a specific definition for ghost image, the method you use for ghost image creation varies by operating system (OS).
I tend to think of a ghost image as an image that can be used to clone the system from which the image was created. Given this definition, a full-system backup would not count as ghost image creation because it can't be used to clone a system. If the target system used differing hardware, then restoring the backup may result in an unbootable system. Even if the restore is successful, the resulting OS would have security identifiers, global unique identifiers and a computer name that is identical to system from which the backup was taken. This would result in conflicts on the network.
Ghost imaging methods
There are two general methods that work well in ghost image creation. One option is to use the Sysprep utility included with Windows. The advantage to using this technique is the resulting image can be used to deploy a preconfigured Windows OS to multiple target machines, even if the target computer's hardware is somewhat different from the PC on which the image was created. Furthermore, when paired with an UNATTEND.XML file, the deployment process can be automated. The disadvantage to using Sysprep is it destroys the OS from which the image is made.
Another ghost image creation option is to use a third-party product such as Acronis True Image. True Image isn't designed for mass image duplication the way a Windows Sysprepped image is, but True Image can be used to clone a hard disk, and images can also be restored to dissimilar hardware.
Dig Deeper on Backup and recovery software
A poorly timed Windows 10 update can cause a major headache for an end user. Fortunately, users can pause updates or IT can take steps to halt ... Continue Reading
With tape storage still playing a role for such use cases as offline protection from ransomware, what are some key improvements in the media ... Continue Reading
If you don't need to access old data much, cloud archiving could work out well. That's just one consideration, though, for deciding which archival ... Continue Reading
Have a question for an expert?
Please add a title for your question
Get answers from a TechTarget expert on whatever's puzzling you.