Q
What are the top five misconceptions about cloud-to-cloud data backup?
Protecting data created in the cloud is a low priority for many organizations. Learn the biggest fallacies about cloud-to-cloud backup.
Here are the five most common misconceptions about cloud-to-cloud data backup.
1. It isn't necessary
It's easy to assume storage as a service (SaaS) providers will back up your data. But they often create backups only for their own purposes, and may be unable or unwilling to restore data for individual customers. If they do restore your data, you may be charged an additional fee. In most cases, it is preferable to protect your own cloud-created data.

Download this free guide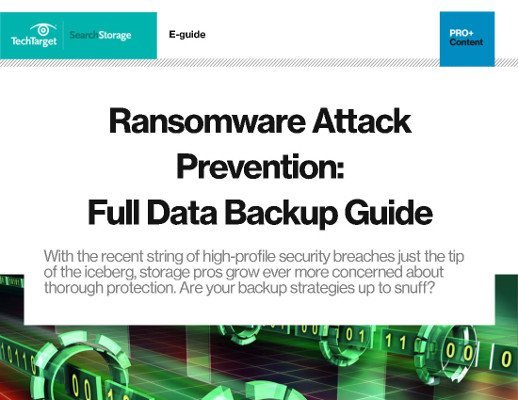 SearchStorage writers evaluate backup's role in ransomware detection
WannaCry, NotPetya, the list of dangerous ransomware viruses goes on and on, well beyond the most highly-publicized attacks. Use this guide to learn about the extent of the threat posed by ransomware, and bolster protection of your data, apps, and systems by using the backup strategies detailed within.
2. You only need a general backup subscription
When it comes to on-premises backup software, you can typically purchase a single product that will provide everything you need to back up your organization's data (though you may need add-ons for specific applications). In contrast, you may need a variety of products to protect cloud data. When it comes to SaaS, a cloud-based backup service focuses on a specific product such as Salesforce or Office 365. Consequently, you may have to manage multiple backup products.
3. You get the same backup frequency as your local backup application
In local environments, data backup administrators rely on continuous data protection and believe it will also be used for cloud backups. In reality, many cloud-to-cloud data backup applications only synchronize data once per day.
4. Cloud-to-cloud backup applications offer comprehensive protection
In many instances, there are gaps in the coverage cloud-to-cloud backup apps provide. Some Office 365 backup tools, for example, may omit SharePoint sites or Yammer discussions.
Using multiple clouds in your disaster recovery strategy may be more difficult to implement, but it will also give your cloud plan an added level of ... Continue Reading
While overprovisioned SSDs have less usable capacity available, that space is put to good use. The majority of SSD manufacturers overprovision their ... Continue Reading
VDI can affect areas of a company network, such as internet bandwidth. IT can mitigate the effects of VDI users by allocating resources and ... Continue Reading
Have a question for an expert?
Please add a title for your question
Get answers from a TechTarget expert on whatever's puzzling you.