Q
When is it time to upgrade your backup software platform?
What are the top five signs your backup software platform is outdated?
All backup software eventually becomes outdated. While there is nothing wrong with using older software if it meets your needs, there are some sure signs that it is time to update your backup software platform.

Download this free guide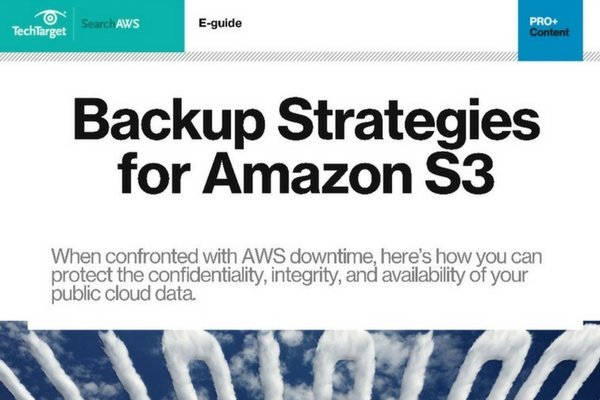 Amazon S3 in the spotlight: Your 34-page backup guide
In this guide curated by the SearchAWS.com editors, you'll evaluate and overcome the DR tradeoffs associated with Amazon S3, with guidance on solidifying an AWS backup plan and securing S3 buckets. Download your copy now.
No deduplication capabilities
In light of rampant data growth, deduplication has become a critical feature for modern backup applications. If your backup software platform does not offer any sort of data deduplication capabilities, you are wasting money by consuming unnecessary backup storage space. In this type of situation, the storage cost savings could very well justify the price of the update.
Lack of support for modern standards
Another reason to abandon your backup software platform in favor of something newer is a lack of support for modern standards. In the not-too-distant past, some backup applications had a maximum file size limit of 4 GB. Today, it is extremely common for virtual hard disk files, video files and other data to exceed 4 GB in size. The bottom line is that as your data grows, your backup software needs to be able to keep up.
Limited virtualization support
A few short years ago, server virtualization really wasn't very well supported by the backup vendors. Many of them required a two-pass backup for protecting virtual machines. Administrators had to run a hypervisor-level backup to enable the restoration of an entire virtual machine, but also had to do a guest-level backup to support granular restoration within a virtual machine. Modern backup applications make this completely unnecessary. If you are running an older backup platform, you can make the backup process a lot more efficient by adopting a product that has good virtualization support.
Lack of support for modern applications
Just as new operating systems are periodically released, new versions of applications also come along every few years. It's fine if your backup application does not currently support the latest application so long as the backup vendor has committed to eventually releasing an update that will allow the application to be backed up. However, when the vendor stops adding support for new business applications, it's time to move on.
Outdated logo certification
Software providers often use logo certification as a way of guaranteeing compatibility with software or operating systems. If the packaging for your backup application proudly supports the Designed for Windows Server 2003 logo, it is probably time to update.
When healthcare providers need to retrieve medical records from an EHR, keeping in mind where the data is stored will affect how quickly and ... Continue Reading
As business requirements evolve, not every DR tool can keep up. In the age of agile IT, there are drawbacks to consider with a cloud-based disaster ... Continue Reading
Expert Brien Posey explains the storage requirements healthcare organizations should insist on before choosing a vendor and system for their medical ... Continue Reading
Have a question for an expert?
Please add a title for your question
Get answers from a TechTarget expert on whatever's puzzling you.