 BACKGROUND IMAGE: iSTOCK/GETTY IMAGES
Learn how to choose the best backup software for your business
Editor's note
Data is too vital an asset to not back up, or leave its protection up to the deficient backup functions of a company's primary storage system. The best backup software not only ensures that data is backed up, but provides replication and recovery and creates efficient backup processes.
For businesses looking for enterprise backup software, gaining an understanding of which backup software vendors to look at and how to assess them is a small venture in the huge effort to protect that primary asset: data.
The needs for backup software aren't as clear as they used to be. Many storage systems today provide a backup ability, so one may wonder why a company needs enterprise backup software in the first place. The answer can be found in the time- and money-saving capabilities that a dedicated backup product offers businesses.
The capabilities of backup software have largely improved and grown since the days of copying to a tape drive. The best backup software doesn't just copy data anymore; it deduplicates; it has replication and recovery capabilities; it provides network backup; and it can schedule server backups. Modern backup software works with cloud technology to back up virtual machines. Understanding what backup software can do helps administrators discern which features one vendor does better than another.
As most enterprise backup software products perform similar functions, the challenge for businesses looking for the best backup software is determining what the vendors themselves do best. The training and customer service they offer clients, and the OSes, environments and applications that they support are big factors to consider when buying backup software.
While these are major considerations, businesses need to pay attention to their own needs to make the right purchasing decision. The quantity and type of data help determine the best backup software for addressing their data protection needs.
1

The business case for enterprise backup software

Learn about the different use cases in which a business would need to buy enterprise backup software and how these products can protect data efficiently.
2

Important criteria for buying enterprise data backup software

All backup software products serve the same basic function, but there are notable features and capabilities that vendors provide. Here are the criteria buyers should consider when deciding what the best backup software is for their businesses.

Download this free guide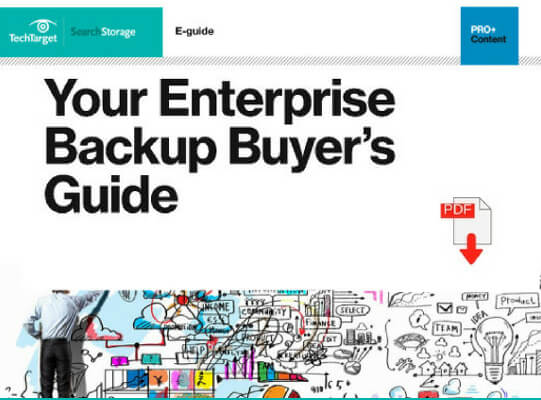 Which backup software is right for your business?
"Do I still need an enterprise-level backup software app? How can I prepare for the top challenges I may encounter when buying restore software? Which products should be on my radar?" You'll find the answers to these queries and more, in this free, downloadable PDF.
3

Finding the best backup software for your business

IT buyers need to learn about the vendors in the enterprise backup software market to select the product that best meets their organizations' needs.
4

Assessing some of the major backup software products

The backup software market offers a diverse range of vendors for buyers to consider. Read these overviews of the different backup software products available to learn about their features, capabilities, the OSes and environments they support, and the buying and licensing options available. TechTarget editors selected these vendors after extensive research into the top DLP market shareholders to discover which vendors fit the presented buying criteria best.