Definition
IBM TSM (IBM Tivoli Storage Manager)
IBM Tivoli Storage Manager (IBM TSM) is an enterprise class backup and archiving application. IBM TSM, like all enterprise backup software products, is designed to make copies of an organization's data to protect against data loss. Similar to other enterprise backup software platforms, it enables policy-based, automated data backup.
IBM Tivoli Storage Manager can manage backup and archive data across disk arrays, tape libraries or optical storage and can automatically move data as it ages to lower performance storage. This approach is sometimes referred to as tiered storage or hierarchical storage management. Policies can specify retention time, type of storage media, frequency of backup, data type and hardware to be backed up.
Content Continues Below

Download this free guide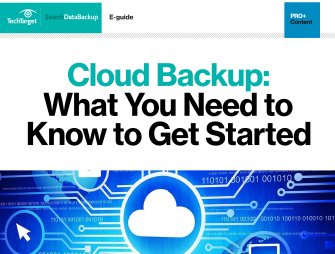 Your Comprehensive Cloud Backup Guide
There are many intricate parts to even the simplest cloud backup strategies that IT staff should be aware of to fully reap all of the benefits. This 30-page guide will help get you started with cloud backup by identifying key pros vs. cons of cloud backup, types of backup, vendors in the space, and more.
IBM TSM uses a progressive incremental, or "incremental forever" backup scheme to collect backup data. The software takes an initial full backup and all subsequent backups are incremental -- that is, only changes to data are backed up. This concept at one time was unique to IBM TSM, but has become more common over time, especially among cloud backup providers.
Tivoli Storage Manager is a true enterprise product, and as such, can be configured many different ways to meet an organization's needs. It is most commonly deployed at companies with large amounts of backup data and a staff to manage it. IBM TSM is supported on a variety of hardware, including AIX, HP-UX, Linux, Solaris, and Windows Server. TSM's backup client is available for most supported versions of major operating systems.
This screencast from Cyrus DataProtection demo's the TSM (v6) administrator GUI.
This was last updated in
July 2013
Continue Reading About IBM TSM (IBM Tivoli Storage Manager)