Definition
Mozy (by Dell)
Mozy (by Dell) is a cloud backup service owned by Dell EMC that targets customers ranging from consumers through to the enterprise.
Launched in 2005, Mozy has headquarters in Seattle. As of late 2017, Mozy claimed an international base of more than 6 million users and 100,000 businesses.
In 2007, EMC paid $76 million for Mozy's parent, Berkeley Data Systems, which included the Mozy online backup service. In 2008, EMC launched a subsidiary named Decho, which included Mozy.
In 2011, EMC-owned VMware bought Mozy. At the time, analysts said it was part of VMware's strategy to move customer workloads to the cloud. In 2012, EMC brought Mozy back under the EMC banner.
In 2013, EMC unveiled new enterprise features for Mozy, including mobile device backup and file sync. When EMC acquired Mozy, it was mostly for home and prosumer users, but these new features brought Mozy more into the enterprise cloud backup world. MozyEnterprise became available as a cloud backup option in EMC's Data Protection Suite.
Dell acquired EMC in 2016. As of 2017, Mozy is part of the Dell security suite.
Important features
Mozy backup offers several features, including file sync and seeding.
Mozy Sync is a file sync system that updates files throughout the day in locations as directed by the user. For example, a user who works on a document at home can save it to the Mozy Sync folder, and if desired, the updated file will also be on the user's work computer. Security includes the 256-bit Advanced Encryption Standard (AES). Mozy Sync is available in MozyEnterprise, MozyPro and MozyHome.
The Mozy Data Shuttle seeding service for large initial backups can support terabytes of data. An organization receives a Data Shuttle device, performs an initial backup and ships the device back to the Mozy data center. The Mozy Data Shuttle is available in MozyEnterprise and MozyPro and for authorized Mozy Resellers.
Mozy 2xProtect backs up files to the Mozy cloud and automatically backs up the same files locally to an external drive. It is available for Windows users of MozyEnterprise, MozyPro and MozyHome.
Major products
Mozy has three major products: MozyEnterprise for enterprises, MozyPro for smaller businesses and MozyHome for consumers.
MozyEnterprise
MozyEnterprise protects endpoint devices and remote offices. The product is for large companies with full-time IT staff and thousands of endpoints. It backs up desktops, laptops and servers, and also features network drive support.
Mozy Data Shuttle is used for large initial data backups. After the initial file upload, Mozy automatically detects and backs up only new and changed files.
A web-based console enables an administrator to manage backups across multiuser environments. Custom configurations include bandwidth usage, backup speeds and what file types should be backed up.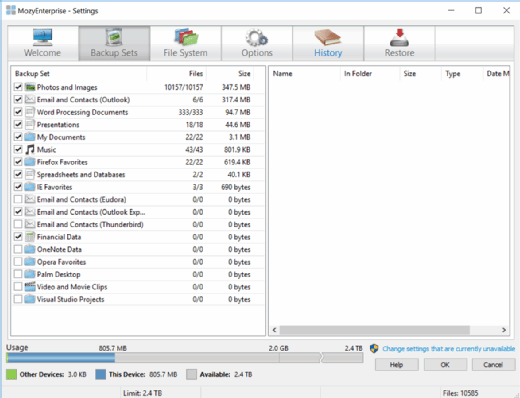 MozyEnterprise offers Mozy Sync and mobile access, as well as Mozy 2xProtect. It also features Active Directory integration.
For security, MozyEnterprise offers a choice of a 256-bit AES personal encryption key, a 448-bit managed Blowfish key or a corporate key known only to the organization. It supports the Key Management Interoperability Protocol (KMIP).
Users can restore files through the MozyEnterprise client, in Windows File Explorer or through the Mozy website. Organizations can also restrict restore access to administrators. Mozy Restore Manager can consolidate and transfer files to a given computer.
Depending on the chosen service, Mozy retains an organization's files for up to one year after deletion.
MozyPro
MozyPro enables smaller businesses to schedule daily, weekly or monthly backups. It offers automatic backup protection and the possibility to run continuous data backups throughout the day. A business can determine the amount of bandwidth used.
To upload a large amount of data, MozyPro customers can use the Mozy Data Shuttle. After the initial file upload, Mozy automatically detects and backs up only new and changed files. Mozy 2xProtect automatically performs a local backup to an external drive, as well as a backup to a Mozy data center. Data is encrypted when a file is selected for backup, during transit through a Secure Sockets Layer (SSL)-encrypted connection and at rest in Mozy data centers.
MozyPro protects desktops, laptops, physical servers and virtual servers. It specifically has support for Windows, Mac and Linux servers, as well as Microsoft Hyper-V. Network-attached storage (NAS) is also supported.
MozyPro includes Mozy Sync and mobile access. Mozy Sync automatically syncs files across all of an organization's devices, including iOS and Android.
In a recovery situation, a business can restore its files through MozyPro client software, Windows File Explorer, the Mozy website or shipped DVDs. In addition, Mozy Restore Manager can consolidate and transfer files to a computer.
MozyHome
A consumer installs MozyHome on a computer and then selects the files they want to automatically back up. Through Mozy Sync, Mozy can automatically sync files between devices -- computers, iOS and Android -- for instant access.
During the backup process, files are encrypted on the user's computer, sent over a secure SSL connection and stored at a Dell EMC-managed data center. For further security, Mozy offers the choice of a 256-bit AES personal encryption key or a 448-bit Blowfish key.
MozyHome keeps file versions for up to 90 days. Mozy 2xProtect keeps a local and offsite copy of data.
MozyHome users can recover data through a mobile device, web restore or the Windows restore capability. In addition, Mozy Restore Manager helps consolidate and transfer files to the user's computer.
Security in Mozy products
Cloud backup is one way to protect against the evolving threat of ransomware, which infects a system and encrypts data, typically gaining access through a malicious link or attachment and then demanding payment to unlock the data.
MozyEnterprise, MozyPro and MozyHome offer what the vendor calls "enterprise-grade security."
Mozy encrypts data before it's sent over the wire, during transit and at rest in Mozy's data centers. Encrypted files are sent through a secure SSL connection.
In 2017, MozyEnterprise launched support for KMIP, which automatically generates per-user encryption keys that can be managed through a key management server.
Mozy offers three other encryption key options:
an encryption key that is assigned to users but is stored and managed by Mozy;
a personal encryption key that is manually created by each user; or
a Mozy administrator that can create a key for all company users or a unique one for each user group.
MozyPro servers are in data centers protected by gated perimeter access, round-the-clock security and technicians, electronic card key access and security cameras inside and outside.
Pricing
MozyEnterprise users are directed on the Mozy website to fill out a form and a representative will follow up.
As of late 2017, MozyPro pricing for a one-year plan of unlimited server, desktop and laptop protection starts at $153.78 for 10 gigabytes (GB) of data storage. A one-year plan with 50 GB is $296.78, while monthly plans start at $13.98 for 10 GB. A monthly plan with 50 GB is available for $26.98. Plans on the Mozy website run up to 4 terabytes (TB), but organizations must request pricing for the top tiers.
MozyPro pricing for a one-year plan without servers starts at $109.89 for 10 GB of data storage. A one-year plan with 50 GB is $219.89, while monthly plans start at $9.99 for 10 GB. A monthly plan with 50 GB is priced at $19.99. Plans also run up to 4 TB, but organizations must request pricing for the top tiers.
MozyHome offers a free account for up to 2 GB of data storage. Pricing starts at $5.99 per month for one computer and 50 GB of data storage. Plans for three computers and 125 GB of data storage are available for $9.99 per month. Users can subscribe on a monthly, annual or biennial renewal schedule. Additional computers are $2 per month per computer; an additional 20 GB of data storage is $2 per month.
Mozy set the above pricing figures in 2011, raising prices from $4.99 per month for unlimited backup to the entry-level rate of $5.99 for 50 GB. The vendor faced pushback initially from MozyHome customers who said 50 GB wouldn't be enough space. That price point has stayed the same through late 2017.
Main competitors
Mozy cloud backup has several competitors in the market.
Founded as an online backup service protecting consumers and small businesses, Carbonite has recently moved up to larger organizations. In 2015, Carbonite purchased Seagate's EVault cloud backup and disaster recovery-as-a-service (DRaaS) business. In 2017, Carbonite acquired Datacastle endpoint backup and Double-Take Software for its high availability (HA) technology. Carbonite received another boost in its personal cloud backup when Code42 announced that it would be shutting down its consumer cloud backup product in 2018 and referring users to Carbonite.
Backblaze offers personal and business cloud backup, as well as cloud storage. Backblaze stores data on its open source hardware platform Storage Pods and its cloud-based Backblaze Vault file system. Backblaze claims the dense architecture of Storage Pods allows it to offer backup at a lower price than competitors. In 2015, Backblaze introduced its B2 Cloud Storage platform, which was designed to compete with public clouds from large companies such as Amazon, Microsoft and Google, but at a lower cost.
Druva provides cloud backup and is making a move into the data management market. The enterprise-level Druva inSync product is designed for endpoints and backs up data across physical and public cloud storage. Druva Phoenix is a software agent used to back up and restore data sets in the cloud for distributed physical and virtual servers.
For any cloud backup product, users should note the service's limitations: It is available only over the internet, and performance depends heavily on bandwidth and connectivity.
Continue Reading About Mozy (by Dell)
Dig Deeper on Cloud backup