PRO+

Premium Content/E-Books
Thank you for joining!
Access your
Pro+

Content below.
February 2014
What is data protection?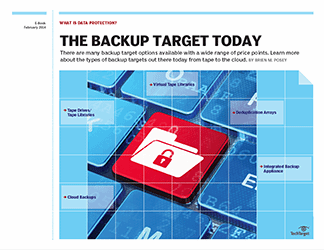 Data backups have evolved to the point that they are hardly recognizable. For many organizations, the days of producing a nightly backup to tape are over. Exponential data growth and the need for near real-time data protection have driven organizations to abandon legacy backups in favor of next generation disk-based solutions.

This E-Book is a primer on modern data protection techniques. The first chapter focuses on the types of backup targets available today, from tape libraries and VTLs to deduplicating disk arrays, integrated backup appliances and the cloud, as well as advantages to using each type of backup target. The second chapter looks at the capabilities that backup software platforms offer today. The third chapter looks at backup challenges IT teams face, including backing up large amounts of data, mobile device backup and BYOD, virtual server backup, and slow restore times.
CHAPTERS AVAILABLE FOR FREE ACCESS
There are many backup target options available with a wide range of price points. They include everything from tape drives and tape libraries to virtual tape libraries, deduplication arrays, integrated backup appliances and cloud backups.

Tape drives have been the standard backup target for decades. Virtual tape libraries are designed to make disk-based storage space look as if it were a tape library to backup software. Deduplication arrays allow organizations to protect a data set that is growing exponentially. Integrated backup appliances are designed to act as an "all-in-one" backup approach. Cloud backups are either Backup as a Service or a backup target.

Backups today hardly resemble those from the not-too-distant past. When choosing a modern backup approach, it is important to remember that every approach has advantages and disadvantages that must be considered.

Download

The last several years have brought about changes and challenges for backup administrators. Many have relied upon the same approach to data backups for decades, but the tried-and-true approach of nightly backups is becoming impractical. Exponential data growth, the need for more frequent data protection and other challenges have forced administrators to look for alternatives to traditional data backups.

This chapter takes a look at the toughest backup challenges IT professionals face. Learn the factors contributing to data growth, the specifics about how this data is generated and why virtual servers present new challenges when it comes to backup. Mobile device backup and BYOD also present unique challenges for IT. This chapter outlines specific considerations for protecting data on the wide array of smartphones and tablets used in organizations today.

Download

Exponential data growth, the need for more frequent data protection, the rise of server virtualization and a variety of other challenges have emerged over the past few years, and backup vendors have begun to offer alternatives to traditional nightly backups. This chapter takes a look at what is available in the market today to deal with some of these challenges.

Learn about technologies like continuous data protection and deduplication that are aimed at easing backup of large data sets, as well as products designed to manage backup and archive together to reduce backup data. This chapter also discusses virtual server backup products from legacy backup software vendors as well as third-party upstarts. You will also learn more about the products available to protect mobile devices, many of which offer additional security and file sharing capabilities.

Download