Actifio PAS 5.0
Actifio PAS 5.0 uses virtualization to eliminate multiple copies created by separate data protection apps. It can replace tools like WAN optimizers.
Actifio Protection and Availability Storage (PAS) 5.0 captures gold in the data backup hardware category in Storage magazine's/SearchStorage.com's 2012 Products of the Year competition. Access our guide to the best data storage products of 2012 to get a listing of the winners in each category.
Multiple data protection applications create multiple copies of the same data, which contributes to data growth. Actifio PAS 5.0 replaces multiple data protection and availability storage applications with a single, complete storage system to manage numerous copies of data generated from backup, snapshots, replication, analytics, test and development environments. The Actifio PAS platform uses virtualization to eliminate multiple copies of data created by separate data protection applications. It's also intended to replace tools like WAN optimizers and deduplication appliances.
The PAS Virtual Data Pipeline technology automatically creates virtual point-in-time copies of production data, eliminating backup windows while making data instantly available to business applications. Only one copy is saved and updated with incremental changes. Actifio PAS systems can be deployed in a single-site configuration or among multiple sites to use its native replication capabilities.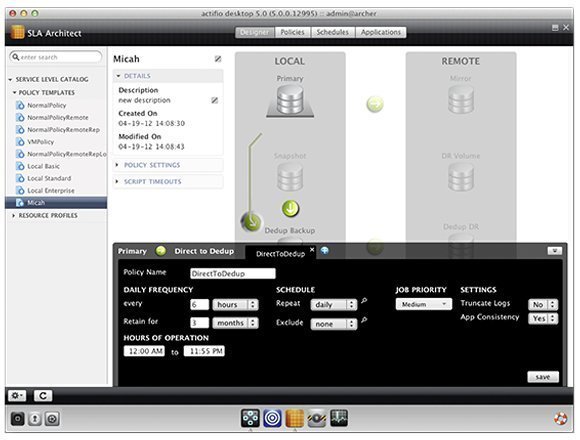 Actifio PAS 5.0 users can consolidate devices and software licenses, using one license to protect a data volume, regardless of the number of customer sites or data centers. Since its data store is virtualized, PAS allows users to use any third-party SAN as a back-end device. The Actifio Enterprise Manager can manage multipetabyte PAS environments via a single console.
Actifio's DeDupe Async technology also reduces network bandwidth utilization, so separate WAN optimization hardware and software isn't needed. For cloud environments, the system provides multi-tenancy, network optimization and advanced reporting capabilities. PAS helps improve workflow so application development cycles can be accelerated with time-saving conveniences like self-service database cloning. The company claims it takes less than 15 minutes to clone a 5 TB database, thus lowering test and development storage costs.
Actifio PAS connects to any host through a Fibre Channel or iSCSI link. Actifio's 20T system scales to 20 TB, and is intended for remote or branch offices and small-to-midsize VMware and Oracle environments. The 100T system scales to 100 TB for data centers or compute farms, big data applications, and heterogeneous physical and virtual environments. The PAS enterprise edition, which can grow to more than 100 TB, is for cloud or managed service providers, and globally distributed enterprises.
Find out the other winners in the Backup Hardware category.