Actifio Virtual Data Pipeline (VDP) 7.0
A pioneer in copy data management, Actifio beat out competitors in the 2016 Products of the Year competition to take silver for backup hardware with its Virtual Data Pipeline.
Silver winner in the Storage magazine/SearchStorage.com 2016 Products of the Year Backup Hardware category.
The Actifio Virtual Data Pipeline (VDP) 7.0 appliance is the latest iteration of a product that has expanded over the years to include more features and functionality. It uses data virtualization software that decouples data from storage, similar to how hypervisors decouple compute from servers.
VDP makes a gold copy of production application data, merges changes incrementally and creates point-in-time virtual copies. Actifio VDP 7.0 lets customers replace the numerous point tools that they use for backup, replication, array snapshots, dedupe, virtual machine databases, physical servers and the cloud.
Judges found the product expensive, but noted that it made up for the initial expense since customers would be consolidating multiple data protection point tools. They also noted that Actifio has some unique capabilities to store data in its native formats on object storage. VDP 7.0 allows data to be instantly accessed even from object storage in the cloud that keeps data in a native format. There is no conversion from proprietary backup of dedupe formats.
Other enhancements focused on lower recovery time objectives (RTOs) and recovery point objectives (RPOs). Upgrades include StreamSnap replication that drives off-site RPOs with incremental-forever capture, featuring compression, encryption, bandwidth throttling and multiple nodes of retaining recovery points.
VDP has streamlined transaction logs for Oracle and SQL Server. Another RTO enhancement is the Actifio Resiliency Director that delivers orchestrated and automated disaster recovery with an RTO of under an hour for virtual machine environments.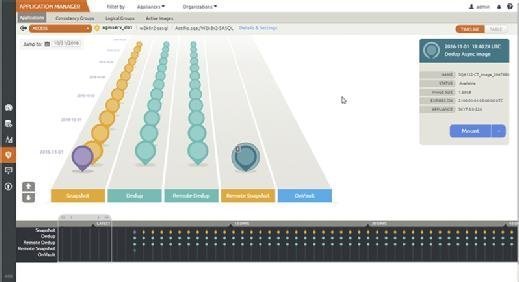 The new Actifio OnVault stores backups for long-term retention into decades if needed in the public cloud with object storage for Amazon Web Services, Google Cloud Nearline and IBM Cleversafe for private cloud.
Actifio VDP software can reside in one of two appliances. The first is the Actifio Sky, a virtual appliance that can run in vSphere, Hyper-V, Oracle Cloud and Microsoft Azure. It also comes in Actifio CDS hardware appliance for larger data center deployments.
Next Steps
Law firm books Actifio for copy data virtualization
Actifio adds out-of-band support to Microsoft Exchange, SQL
Actifio, Nimble show off at Oracle OpenWorld
Dig Deeper on Backup and recovery software