Olivier Le Moal - Fotolia
Asigra Cloud Backup Version 13
Asigra Cloud Backup Version 13 provides an AWS Elastic Block Store Snapshot Manager and the ability to support Docker container backup through an Asigra partner.
Silver winner in the Storage magazine/SearchStorage.com 2015 Products of the Year Backup and Disaster Recovery Software and Services category.
Asigra Cloud Backup Version 13 offers a range of data protection capabilities. This update of the enterprise backup software platform includes a new snapshot manager and support for Docker container backup.
The Asigra Cloud Backup software protects Docker containers by eliminating the need for disruptive software agents, improving management, performance and security. Organizations can use Docker to move containers from one cloud to another, or from a cloud to an on-premises system and vice versa. Together with Docker, Asigra provides flexibility as it can be used cloud-to-cloud, cloud to on-premises, and on-premises to cloud. Users can set automatic protection to protect data in both a local and offsite backup vault.
Asigra's Amazon Web Services (AWS) Elastic Block Store (EBS) Snapshot Manager allows Asigra Cloud Backup users to quickly and easily create a snapshot schedule through a Web-based graphical user interface that automates taking snapshots of one or more AWS Elastic Compute Cloud instances. This automation eliminates the need to write complex scripts, reducing development time, management requirements and other resources.
Both Docker and AWS are highly popular computing platforms that are emerging as credible storage platforms for business information. Asigra says it is the first enterprise software vendor to add support for these platforms.
One judge praised Asigra for being early to market with the new capabilities. Another said that in addition to being "very inexpensive," the Asigra Cloud Backup software is unique in its automatic protection of Docker containers and its ability to manage AWS EBS snapshots.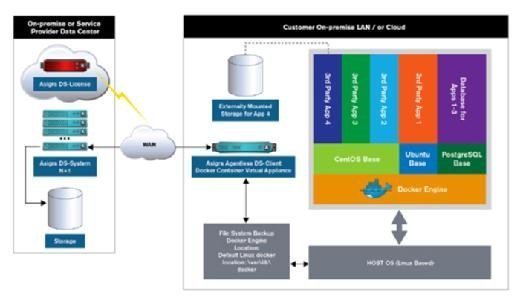 Asigra AWS EBS Snapshot Manager is free and can be downloaded without obligation. The Docker container backup is available in Version 13 of Asigra Cloud Backup and must be acquired through an Asigra partner; estimated starting price is 15 cents to 20 cents per gigabyte per month.
The Docker container capability is a new feature included in Asigra Cloud Backup Version 13. Asigra AWS EBS Snapshot Manager is a standalone product that can be used independently.
Next Steps
Asigra enhances Cloud Backup protection
Asigra adds DR for VMs to Cloud Backup software
Asigra exec talks Cloud Backup platform