Backup 2012: Tape, cloud, CDP backup and mobile device encryption
Check out our top backup videos of 2012, in which our experts tackle tape, cloud, mobile device data encryption and CDP backup.
Data protection should always be a priority for IT storage pros, and some of 2012's most significant events bore that out. Hurricane Sandy proved the need for keeping data backed up after flooding knocked out networks on the East Coast. Meanwhile, more users are taking a closer look at cloud backups and their options to back up data from mobile devices as organizations free their employees from traditional desktop machines.

Download this free guide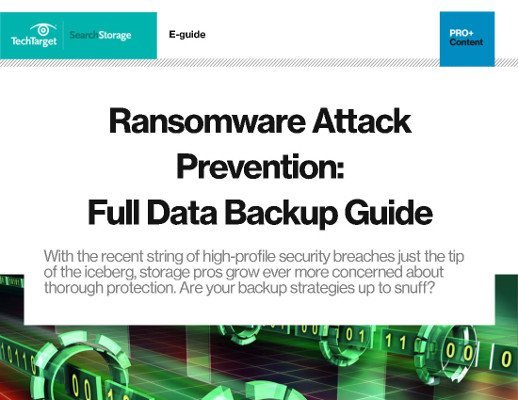 SearchStorage writers evaluate backup's role in ransomware detection
WannaCry, NotPetya, the list of dangerous ransomware viruses goes on and on, well beyond the most highly-publicized attacks. Use this guide to learn about the extent of the threat posed by ransomware, and bolster protection of your data, apps, and systems by using the backup strategies detailed within.
By submitting your personal information, you agree that TechTarget and its partners may contact you regarding relevant content, products and special offers.
You also agree that your personal information may be transferred and processed in the United States, and that you have read and agree to the Terms of Use and the Privacy Policy.
When it came to backup, 2012 had a number of instances where you could see its importance. SearchDataBackup.com had you covered with some of the best backup tips and strategies from industry experts. So check out our top backup videos of 2012, in which our experts tackle tape, cloud, mobile device data encryption and continuous data protection (CDP).
And be sure to keep a close eye on SearchDataBackup.com throughout 2013 for the latest in backup news, tips, tactics and videos!
Watch as Posey explains some options now available for cloud backup, including who is using it today, how it can be performed and more.
Ben Woo, founder and managing director of market research firm Neuralytix, digs into the types of data users should consider backing up to the cloud.
Jon Toigo, founder of Toigo Partners International, discusses how recent developments in tape storage technology -- such as Linear Tape File System (LTFS), greater capacities and increased durability -- make the media a solid choice for 21st century backup needs.
Dig Deeper on Archiving and backup