Backup and disaster recovery software finalists 2007
Find out the finalists in the backup and disaster recovery software category of the 2007 Products of the Year competition conducted by SearchStorage.com and Storage magazine.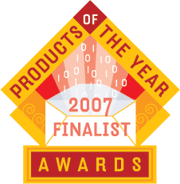 Below are the ten finalists in the backup and disaster recovery software category in the 2007 Products of the Year competition. They are listed alphabetically.
Arsenal Digital Solutions USA Inc.
ViaRemote
ViaRemote is an on-demand data protection service that can protect server or PC data remotely. The latest version of this application adds deduplication technology to reduce bandwidth requirements and extends its reach into virtualized server environments. Users can set their own data retention policies and data transmissions are securely encrypted.
BakBone Software Inc.
NetVault:Backup Version 8.0
BakBone rebuilt their data protection suite as a platform to integrate a variety of applications. Version 8.0 shows the results of the new architecture, with the addition of true CDP, improved management of its Shared Virtual Tape Library, more centralized management and better security.
CommVault
Simpana 7.0 Software Suite
CommVault didn't only rename its flagship suite, it also added a bundle of new or enhanced features. Taking a big step towards data protection integration, SImpana combines key protection apps such as backup, replication, deduplication and data classification. A neat new search facility allows you to search online and nearline data stores simultaneously with results displayed in a browser interface.
Continuity Software
RecoverGuard
Testing a disaster recovery plan can be time-consuming and expensive. RecoverGard can help on both accounts by monitoring your DR setup and determining if there are any gaps or inconsistencies that might thwart your DR planning. This allows you to make the necessary adjustments before you test or need to activate the DR plan.
EVault Inc.
EVault InfoStage 6.0
Evault provides small and mid-sized companies with a viable alternative to managing their own in-house backup environments. The backup and disaster service supports virtually all host OSes, including VMware, and offers advanced data protection services such as data deduplication, encryption and desktop/laptop backup.
FalconStor Software
FalconStor Continuous Data Protection (CDP) Virtual Appliance for VMware Virtual Infrastructure
FalconStor has ported its CDP capabilities to VMware environments, and can now provide continuous data protection for both physical and virtual servers. The product allows recovery of a physical machine to a virtual server, and features quick, granular recoveries.
SteelEye Technology Inc.
SteelEye Data Replication for Windows v6
SteelEye provides replication and CDP services for all Windows servers. In the event of a disaster, data recovery is simplified and expedited via a wizard-driven user interface. Version 6 adds any point in time rewind and advance to allow you to find the best version of restored data. Also new is the ability to replicate to multiple targets.
Symantec Corp.
Backup Exec System Recovery 7.0
An offshoot of Backup Exec, one of the most popular backup apps among small and mid-sized companies, Symantec's Backup Exec System Recovery provides fast full Windows system recoveries. One of the key enhancements in this version is the ability to recover and restore to dissimilar hardware. This release also adds virtual-to-physical and physical-to-virtual restores.
Symantec Corp.
Veritas NetBackup 6.5
In this new release of one of the "big three" backup apps, Symantec provides more centralized management of data protection operations and enhances its disk-based backup capabilities. Improved tools also make it easier to manage backed up data across disk and tape tiers.
Yosemite Technologies Inc.
FileKeeper Corporate
Although the estimates vary, most experts believe that at least half of a typical company's intellectual property resides on desktops and laptops. FileKeeper protects that data using file-level differencing to capture changes to files each time they're saved. For mobile users, FileKeeper will protect their data locally and then update the central repository when they reconnect to the company network.
Dig Deeper on Data reduction and deduplication