Backup hardware finalists 2007
Find out who the finalists are in the backup hardware category in the 2007 Products of the Year awards conducted by SearchStorage.com and Storage magazine.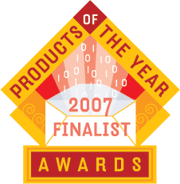 Below are the eight finalists in the backup hardware category for the 2007 Products of the Year competition. They are listed alphabetically by vendor.
Copan Systems
The Revolution 300T
Copan added data deduplication to its MAID array, and between dedupe and spinning drives down, it can cram 6 petabytes (PB) of logical data into a 10-cubic-foot space. With power, cooling and data center floor space as well as ongoing data growth among the hottest trends this year, Copan offers the most data per square inch.
EMC Corp.
Avamar Data Store
EMC packaged up Avamar's data deduplication with preconfigured, pre-tuned hardware that's the first brand new hardware product from the storage giant in years. This will make deployment easier for users, who previously had to rack, stack and configure a grid of server nodes to support Avamar's software. It also boosts Avamar's scalability, which has been the subject of some FUD in the deduplication market.
EMC Corp.
EMC Centera Generation 4 LP (low power) nodes
As archiving for compliance and litigation support took center stage in 2007, EMC came out with a long-due brush-up of its content-addressable storage (CAS) product. The fourth generation of Centera also hooked into the "green storage" trend with smaller processors and a single-chip chipset to reduce cooling requirements, and a smaller fan and motor to reduce power consumption..
Gresham Computing
Clareti VTL
A "VTL director" which allows users to daisy-chain multiple VTLs under one management umbrella, and uses Clareti's Enterprise Distribu-Tape (EDT) software for elegant physical tape management.
NEC Corp. of America
NEC HYDRAstor HS8
A totally new backup/archive architecture. NEC has new ideas about data protection and the mixing of backup and archiving that go against the conventional wisdom in the industry. This is a first-of-its kind product, but parallel access for boosted capacity and throughput on secondary storage systems is gaining in popularity from other new startups.
ProStor
InfiniVault
Archiving has also been a hot trend this year, as has SMB storage. ProStor is one of the few SMB-oriented hardware-based archiving offerings that includes automated tiered storage management and uses removable disks (more popular with SMBs) rather than tapes.
Quantum Corp.
DXi-Series disk backup and replication appliances with data deduplication technology
Data deduplicating VTLs became one of the hottest storage products on the market in 2007, so much so that storage vendors began packing in more features to further differentiate their products. Quantum's DXi series adds automated replication of deduplicated data over the WAN. The products can be managed along with physical tape through centralized management software also available from Quantum.
Spectra Logic Corp.
Spectra T950 with BlueScale 10 Management Interface
LTO-4 hit the market in 2007, bringing improved speeds and feeds as well as native tape encryption for data security. Spectra Logic shipped its LTO-4 tape library with some key management software, essential to managing encryption, but an ingredient missing from many LTO-4 tape products.