Olivier Le Moal - Fotolia
Backup tech buyers want problems solved, data protected
Making a backup purchase? You probably want to solve specific problems and build out your infrastructure, but cost, capacity and scaling matter.
It's been said many times that backing up data is easy -- it's recovery that's the hard part. While that old chestnut is on its way to cliché status, it's no less true today than when it was coined. In fact, with unabated data capacity growth, anyone involved in data protection knows that even with new tools, the job still isn't easy. That may be why nearly half (47%) of the respondents in our latest backup tech survey say they're currently about to purchase -- or considering a purchase of -- additional technologies to add to their data backup kit.
In many cases, the backup tech additions will focus on building out existing data protection infrastructure. For instance, while 38% say they're using disk systems in the backup operations, 46% plan to add more. Similarly, 29% of our respondents still use tape, and nearly as many (22%) plan to add tape backup tech to their environments.
Replication is quickly becoming a key backup tech in many companies' data protection operations, often paired with snapshots for "zero backup" approach to data protection. Our survey indicates that 21% are currently using data replication with another 14% looking to add it.
Data protection can be a complex process, considering data volumes, application requirements, virtual environments and cloud alternatives. As such, the top issue our respondents cited for being in the market for new backup products is to aid in their disaster recovery planning and preparation (63%). Regulatory compliance (21%), virtual server backup (20%) and growing data volumes (17%) were also named as key issues.
Capacity (58%), new requirements (32%) and the need for greater efficiency (32%) were the most compelling reasons that have caused our respondents to rethink their backup operations.
Backup tech vendors should get ready for some hard negotiations, as 82% of our survey respondents said that cost was a key factor when evaluating or purchasing a data protection product. And whatever products are being considering, they better be ready to handle those spiraling capacity needs now and in the future: 53% said capacity was an important factor, followed closely by scalability (51%).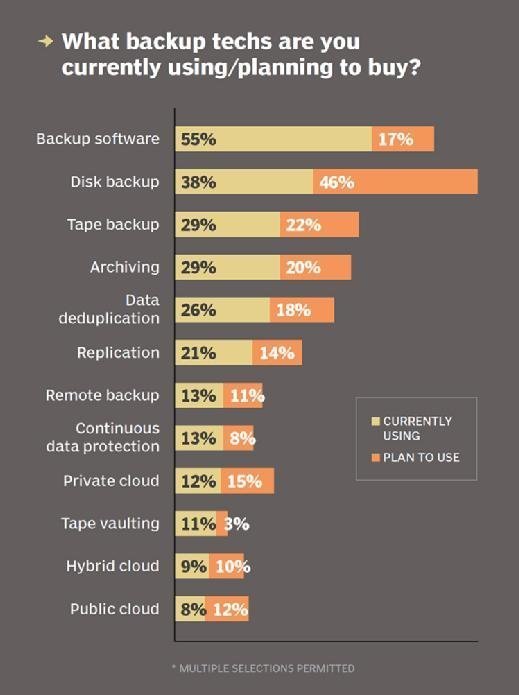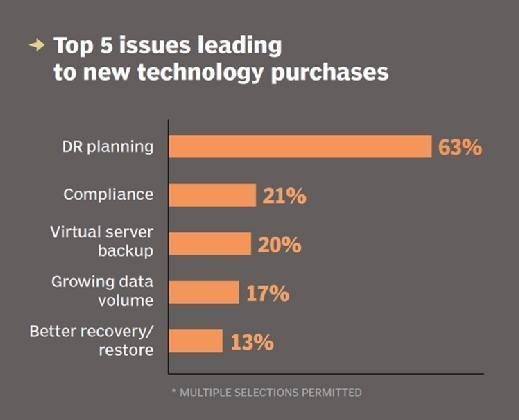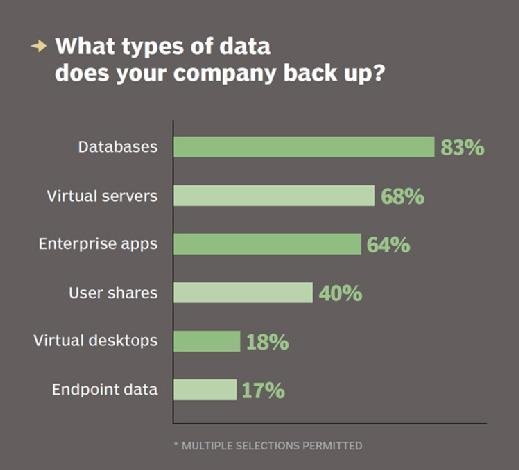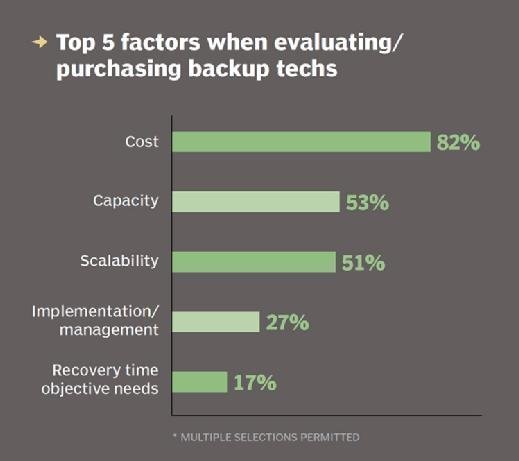 Next Steps
Find the right data backup system for you
Backup, storage purchase plans unveiled
Dedupe tech rises in backup appliances, software