Buying data protection products starts at capacity, compatibility need
Buyers look for easy implementations and good deals as coping with growing data forces changes in backup operations.
It's not easy to change backup apps or even your backup processes, but sometimes you just have to bite the backup bullet and do it anyway.
There are plenty of reasons to change or enhance a backup environment, but in our latest TechTarget Research/Storage Purchasing Intentions survey, respondents made it clear that ever-growing data stores (47%) and the need for reliable restores (32%) are at the top of the list of reasons for purchasing new data protection products. That's not much of a surprise, as capacity numbers have been on an upward spiral for years, not only taxing primary storage but backup systems as well.
Compliance (28%) ranked third among the backup buying criteria, a reflection of the "delete nothing" approach to data management that is prevalent in so many shops today. That modus operandi is largely the result of corporate or legal governance along with the focus on big data analysis.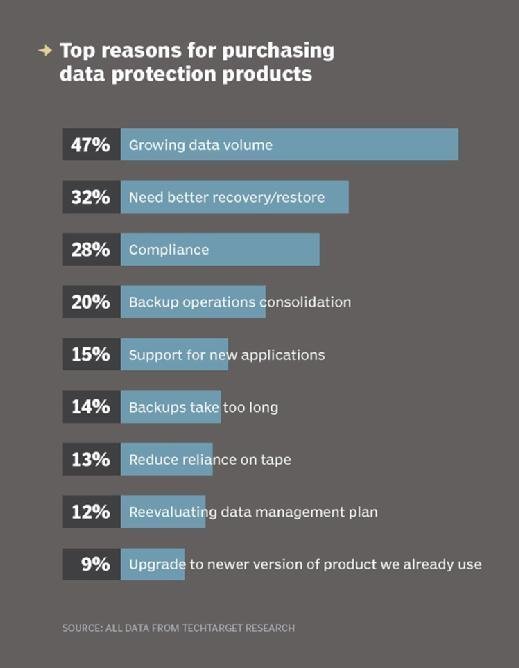 When it comes to specific data protection products, backup buyers are quite demanding: their top criteria for choosing a product is that it's compatible with their existing environments (35%). This makes plenty of sense given how disruptive adding new data protection products can be. The second most cited criteria is -- ka-ching! -- low cost (34%), followed by easy implementations (33%) and security (32%). Backup vendors take note: given how close those criteria are, you'd better show up with inexpensive, compatible and secure products that are easy to deploy!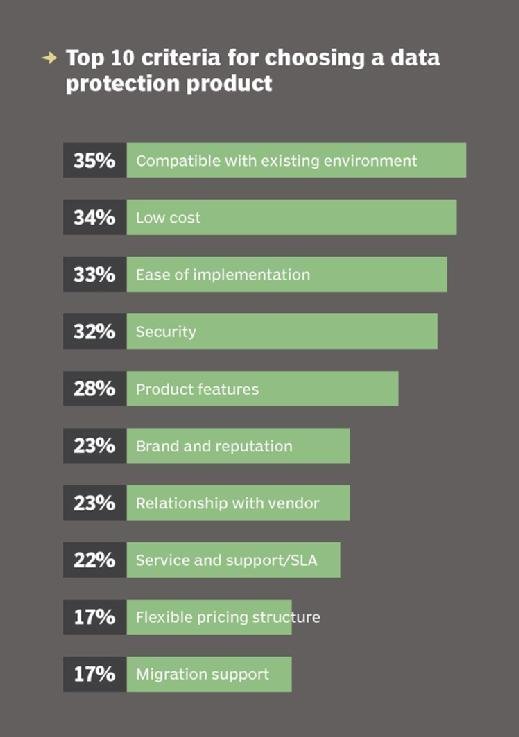 The cloud
Installing new backup gear on premises isn't the only option, of course. Cloud backup -- probably the most mature of all cloud services -- offers a lower impact alternative.
But many storage shops are still a bit reluctant to commit all of their backup to the cloud, so cloud backup is often used for particular apps or servers, or for remote and branch offices.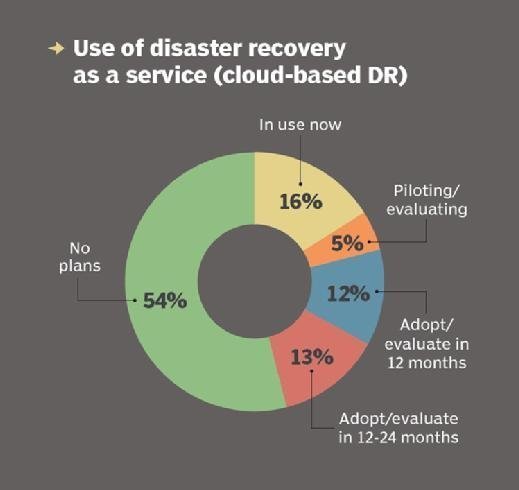 Cloud-based disaster recovery is a great application for cloud storage -- combined with cloud computing capabilities, cloud DR is affordable and may provide the fastest route to recovered data and operations. But our survey indicates that only 16% of respondents' companies currently use a cloud DR service. Although a fairly low number considering the many advantages of cloud DR, another 30% are either actively or planning to evaluate the service.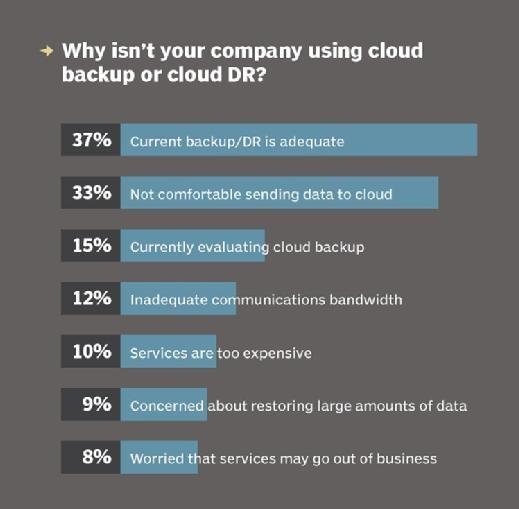 The main reason for eschewing cloud DR is satisfaction with current backup and DR setups (37%), but nearly as many respondents (33%) expressed continued uneasiness about sending their company's data to the cloud. The reasons for resistance drop off considerable after that, so it appears that more companies will at least be sticking their toes in the cloud DR waters soon.
Next Steps
What people buy when it comes to their storage infrastructure
Modernize backup and disaster recovery
A closer look at the virtual backup product marketplace