CommVault Simpana 9 Service Pack 8
The CommVault Simpana 9 Service Pack 8 enterprise backup software platform offers OnePass and ContentStore, and virtual server backup enhancements.
CommVault Simpana 9 Service Pack 8 grabbed third place in the backup and DR software and services category in Storage magazine's/SearchStorage.com's 2012 Products of the Year competition. Read our best data storage products of 2012 guide to get information on the 14 products chosen by our editors.
CommVault Simpana is an enterprise backup software platform that offers automated data protection, replication, archiving and reporting. The company has a reputation for innovation in the backup software space, and CommVault Simpana Version 9 Service Pack 8 (SP8) offers a number of interesting enhancements. One of our judges said Simpana "still seems to be the industry leader in terms of pushing new and traditional backup techniques."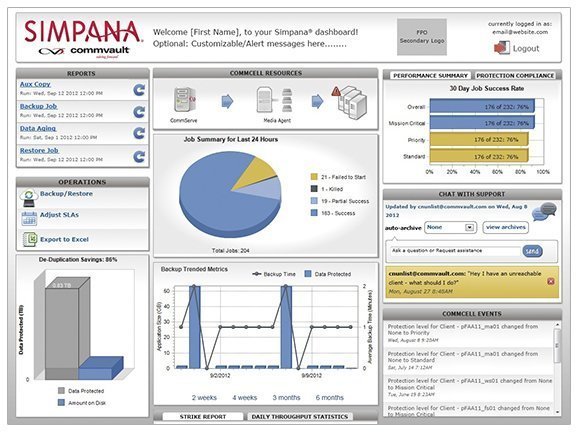 This offering delivered new features such as OnePass, which combines backup, archive and reporting into a single operation; and ContentStore, a deduped backup and archive repository of data stored across disk, tape or cloud. ContentStore tracks blocks, files and objects, and enables intelligent tiering across media types and locations. It's designed to eliminate point products and processes for archiving, data analysis, compliance and e-discovery.
CommVault Simpana 9 SP8 has new virtual server backup enhancements and hardware vendors were added to the IntelliSnap Connect Program, an open API framework for integrating arrays with CommVault's snapshot management software. SP8 also allows users to securely access their own files from anywhere, including support for Apple iOS, Android and BlackBerry mobile devices.
Find out the other winners in the Backup and DR Software and Services category.