Datos IO RecoverX
The cornerstone of Datos IO RecoverX backup and recovery product is the vendor's patented Consistent Orchestrated Distributed Recovery architecture.
Bronze winner in the Storage magazine/SearchStorage.com 2016 Products of the Year Backup and Disaster Recovery Software and Services category.
Datos IO RecoverX is a multi-platform, multicloud, infinite-scale data protection and recovery software product for next-generation workloads such as cloud applications, and nonrelational and cloud databases.
RecoverX combines backup, archive, replication and recovery software in one product. It provides semantic deduplication for storage space efficiency and is purpose-built for nonrelational databases. It also enables scalable versioning for flexible backups and any-point-in-time recovery.
Datos IO promoted the product's patented Consistent Orchestrated Distributed Recovery architecture, which is not dependent on media servers and transfers data in parallel to and from file-based and object-based secondary storage. The Datos IO architecture also delivers application-consistent backups in native formats on secondary storage, and it provides a consistent view of data even in the event of hardware failures. Application-consistent versioning allows users to recover data without running any database repairs, reducing application downtime.
Datos IO RecoverX targets a market -- cloud-scale data protection and recovery purpose-built for next-generation applications and nonrelational databases -- that traditional backup and recovery products do not.
Judges scored RecoverX highly in innovation and performance.
"Datos IO is proof that as new production platforms emerge, new approaches and vendors of data protection will also emerge with solutions that are uniquely suited to those new platforms," one judge wrote.
Another judge said Datos IO charges premium pricing for RecoverX, but that's because it pioneered the market of backup for nonrelational database management systems.
RecoverX can be deployed on servers on-premises, NFS-connected storage or in the public cloud (Amazon Web Services or Google Cloud Platform) using cloud native compute instances and object storage.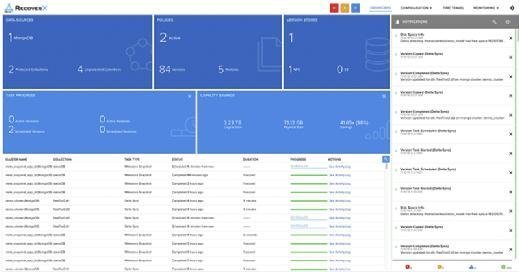 It is a stand-alone software-only data protection product, but it does support Apache Cassandra (2.0, 2.1), DataStax Enterprise (4.5, 4.6, 4.7, 4.8) and MongoDB (3.0, 3.2) as well as a wide variety of secondary storage options. Support for Amazon Simple Storage Service (S3) and Google Cloud storage is also available, with Microsoft Azure Blob Storage support on the roadmap.
RecoverX features an annual subscription-based capacity-tiered pricing model. The least-expensive configuration is a 1 TB subscription price for $5,250 per year.