Share this item with your network:
Managing and protecting all enterprise data

Pavel Losevsky - Fotolia
Evaluate
Weigh the pros and cons of technologies, products and projects you are considering.
Disk still rules enterprise backup hardware roost despite competition
Organizations continue to demand scalable, easy-to-implement disk-based data backup storage devices over cloud or tape when increasing backup storage capacity.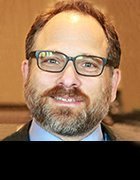 By
While cloud is the new kid on the block and tape the experienced pro among backup targets, disk still rules the enterprise backup hardware world, for now, anyway.
According to a TechTarget research survey, 63% of respondents deploy disk-based backup, while 39% said they use tape and 27% have off-premises cloud storage or backup as a service (BaaS) to protect data. However, cloud backups are starting to rival disk-based backups on roadmaps. Eighteen percent of respondents said they're considering cloud BaaS and, likewise, 18% are considering off-premises cloud storage to meet their backup needs -- four and six percentage points more, respectively, than those already using these services. Slightly more than a quarter of respondents said they intend to buy disk backup over the next year.
Meanwhile, the tape-based enterprise backup hardware world continues its decline. Only 9% of respondents plan to buy tape libraries in the next year and only 4% plan to purchase tape vaulting technology. That's a steep 26-point dive compared with existing deployments of tape libraries and a five-point decline for tape vaulting.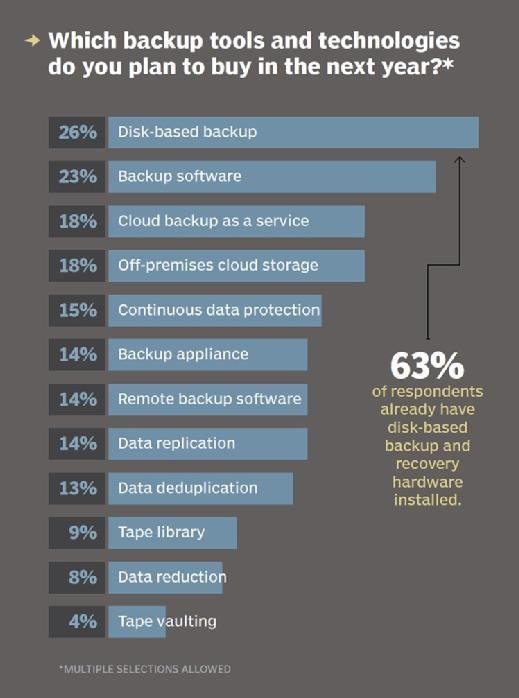 Purchase metrics and features
Respondents plan to significantly bump up backup hardware storage buys overall. They're planning an average capacity increase across all backup hardware -- disk, tape, appliance and so on -- of 1.5 petabytes. The average planned buy for disk-based backup is 275 TB.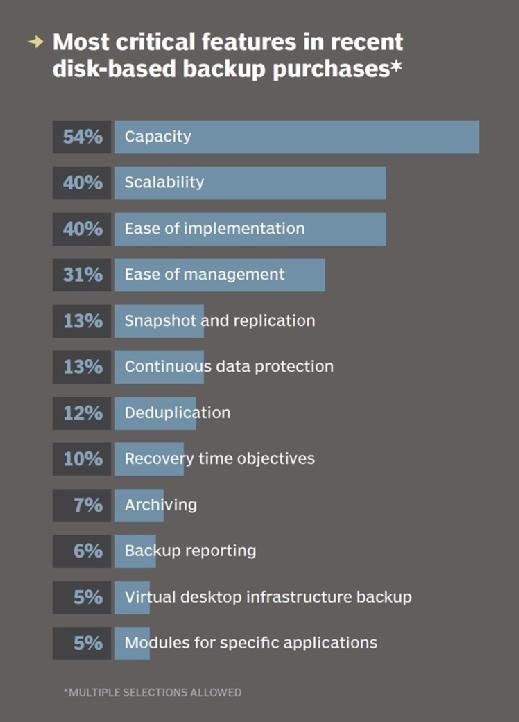 The largest percentage of respondents for both the disk-only and all enterprise backup hardware categories anticipated purchasing 49 TB or less capacity. Two-thirds of those planning to buy disk and 53% planning to buy backup are looking at purchasing less than 50 TB. Thirty-one percent of disk buyers and 40% of disk backup customers said they will acquire 50 TB to 999 TB. While only 7% said they plan to buy more than a petabyte of disk hardware, that's more than twice as much as the 3% who plan to buy more than a petabyte just for backup.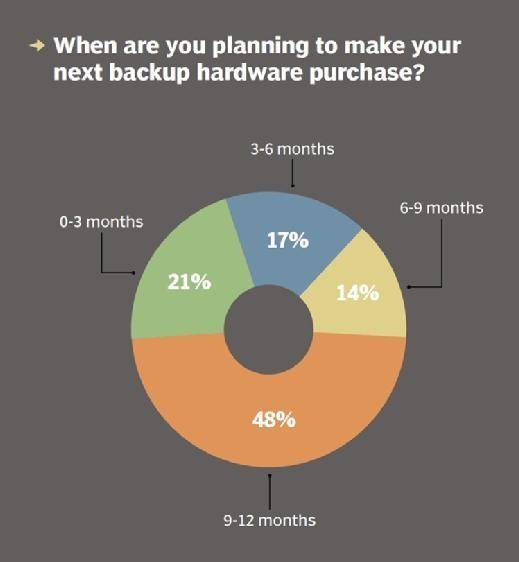 Capacity, scalability, and ease of implementation and management are the four most-critical features companies look for in an enterprise backup hardware purchase. More than 30% of respondents identified each of those characteristics as critical. There is a big drop off from there, with snapshots and replication as well as continuous data protection next at 13% apiece. Deduplication (12%) and recovery time objectives (10%) also came in with double-digit percentages of responses.
When it's time to buy
Nearly half of the companies who responded said they plan on making their next backup hardware purchase in the next nine to 12 months. Slightly more than a fifth of respondents intend to do so fairly quickly, within three months, and the remaining 31% between three and nine months.
A plurality (37%) of those who recently bought disk-based backup hardware spent less than $10,000, 12% spent $10,000 to $99,999 and 6% forked over $100,000 to $499,000. Although 68% didn't get -- or maybe didn't know of -- any vendor discounts on their purchases, almost a third (32%) did receive a discount, from little as 1% to as much as 50% or more off the sticker price. Takeaway: It pays to ask.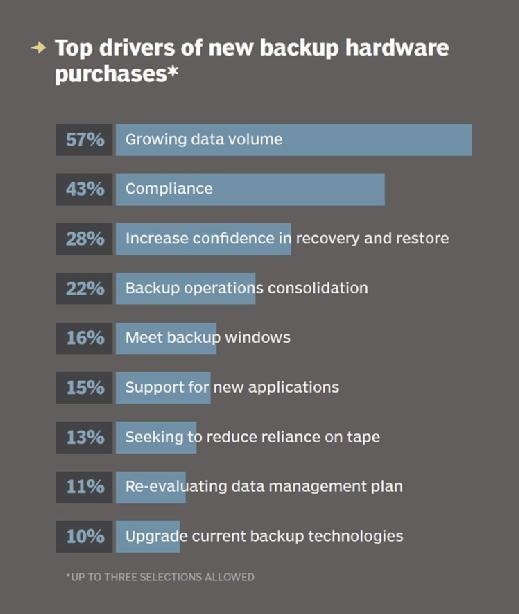 A significant percentage of respondents have deployed backup products from Dell (26%), EMC (17%) and Dell EMC (8%) in their data centers. (Dell's acquisition of EMC closed a little under a year ago, in September 2016.) Companies responding to the survey are also using backup products from Hewlett Packard Enterprise (31%), IBM (17%), NetAPP (12%), Oracle (9%) and Hitachi Data Systems (5%).
Dig Deeper on Disk-based backup