Druva inSync 5.5
Druva inSync 5.5 endpoint backup software stands out with its proactive compliance, cloud app integration, full text search and cloud privacy framework.
Bronze winner in the Storage magazine/SearchStorage.com 2015 Products of the Year Backup and Disaster Recovery Software and Services category.
Druva inSync 5.5 endpoint backup software helps companies address the security and compliance risks created by workforce mobility, adoption of cloud applications, the bring-your-own-device trend and consumer file-sharing tools.
The Druva inSync 5.5 software monitors and notifies the user of compliance risks for sensitive data at rest, using preconfigured and customizable templates. The collection and backup of cloud application data provides a single access point to view and manage user data across separate data sources. A full-text search feature for e-discovery identifies the location of litigation-related files across all data sources, including file versions, deleted files and former employees' files.
The Druva inSync 5.5 cloud privacy framework provides organizations with granular data privacy management, while envelope encryption, data/metadata separation and block-level storage prevents Druva from accessing data that it stores in cloud storage services.
Through Druva inSync 5.5, an IT department has full visibility into corporate data stored on any endpoint, such as laptops and mobile devices, or a cloud app like Office 365, which facilitates collection, data protection and policy enforcement.
The Druva inSync software creates a master record of all endpoint and cloud app data, so any file can be easily recovered in the event of device loss. Data required for compliance audits, leak investigations and litigation requests can be supplied without physically searching devices or multiple cloud apps.
Druva says its design approach ensures data privacy, global scalability and rapid transfer speeds that overcome the usual limitations of cloud-based data protection. The software takes advantage of Druva's patented global source-side deduplication technology to reduce the storage and bandwidth required for backups and file sharing.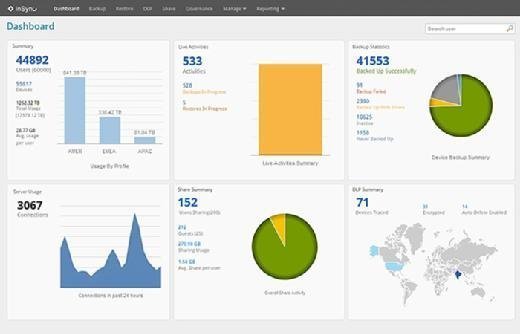 One judge called Druva inSync 5.5 a solid update from an endpoint data protection leader, praising its innovative proactive compliance and a more complete search. Druva continues to excel in endpoint backup, compliance, security, and sync and share, the judge said.
Another judge noted that the Druva inSync 5.5 software is a "very scalable endpoint solution" with "strong governance."
The base price begins at $6/month per user for cloud business and does not require hardware.
Dig Deeper on Backup and recovery software