Endpoint data protection products offer backup, file sync and security
Today's crop of endpoint and mobile data protection products blend backup, file sync and security functionality to increase user productivity while protecting against data loss.
Mobile device use has become the norm, according to a recent survey conducted by Forrester Research on behalf of endpoint data protection vendor Code 42 software.

Download this free guide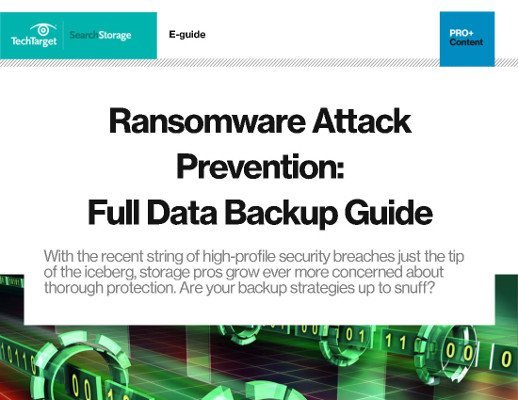 SearchStorage writers evaluate backup's role in ransomware detection
WannaCry, NotPetya, the list of dangerous ransomware viruses goes on and on, well beyond the most highly-publicized attacks. Use this guide to learn about the extent of the threat posed by ransomware, and bolster protection of your data, apps, and systems by using the backup strategies detailed within.
Seventy-seven percent of respondents use smartphones, while 76% work on a tablet when at home. Only 34% of those surveyed use a company-issued laptop to work at home. Even when respondents are in the office, smartphone (60%) and tablet (53%) use outpaces that of laptops (23%) when users are away from their desk -- for example, when they're in a meeting.
Mobile device use outperformed laptops in almost every category -- when traveling, in a public place, commuting and so on. The only category where laptops/desktops came out on top was when respondents were at their office desks. And more than half of those surveyed said they use smartphones and tablets at their desks in addition to a laptop or desktop.
An increasing number of respondents are also accessing corporate data on personal devices. Forty percent access and use corporate data on their personal smartphones, while 54% of those surveyed expect to in the next 12 months to 24 months. Nearly three in 10 respondents (29%) currently access corporate data from personal tablets, while 56% said they will in the next 12 months to 24 months.
Despite this trend, only about half of those surveyed said their organizations used an endpoint backup product. Our own internal surveys have shown even less interest in the technology.
Endpoint data protection challenges
Many organizations assume that most data stored on laptops, smartphones and tablets is stored elsewhere on the network and backed up accordingly. These days, with high-capacity laptop drives and data created on laptops and smartphones, this assumption can be dangerous. Mobile devices and laptops represent a bigger data loss vulnerability than many IT staffs realize or want to admit.
However, there are two inherent challenges to backing up laptops and mobile devices:
They aren't always connected to a corporate network. Backups can occur over the Internet, which can be slow, or when the devices reconnect to the network. Depending on the product, the backup process can affect laptop performance.
Smartphone and tablet operating systems have built-in security features that limit access to data stored on the device. But there are a variety of products on the market designed to protect information stored on endpoints.
Endpoint data protection products
Even though mobile devices are growing in popularity, most endpoint data protection products were (and still are) designed for laptops and desktops.
Even though mobile devices are growing in popularity, most endpoint data protection products were (and still are) designed for laptops and desktops. This market has been around for a while, and the products are mature. Many include deduplication and compression as well as incremental backup, so after the initial backup, very little data is sent over the wire at any given time. Backups occur in the background and have little impact on laptop performance.
It is important to consider whether an endpoint data protection product offers dedupe, compression and so on. These products use an agent installed on the laptop or desktop, and typically send data changes to a centralized on-premises server that can be protected using traditional backup.
There are also a variety of products that back up endpoint data to the cloud. As noted earlier, for the most part, smartphones and tablets are not compatible with this type of backup. So, many endpoint backup product vendors have built in a kind of workaround: file sync-and-share support.
File sync and share
File sync and share isn't backup and has nothing to do with the technology; but when it comes to mobile devices, it is a form of data protection. File sync and share is about enabling productivity by allowing users to access data from any device, anywhere, at any time. Beyond that, it does have a side benefit. Mobile devices wrap data, applications and the operating system into a weird Houdini-proof box, but file sync-and-share capabilities let users access and alter data without storing it locally. For organizations that don't want users mucking about with corporate data minus the safety net, this is huge.
Many of today's products that protect information on mobile devices do so by allowing access to data that is backed up elsewhere. In other words, they skirt the backup issue entirely by keeping the data that needs to be protected off the endpoint in the first place. This is a slick move not only for protecting corporate data, but privacy. People obviously use their phones for so much more than just work. You might pull up an Excel document and make a quick change to it, but do you want your employer backing up your Saturday night selfie? That's not a good look for you, and scaling that kind of backup across an enterprise would obviously result in a massive amount of unnecessary data being backed up.
Some examples of this type of software include Code 42 CrashPlan and SharePlan, CommVault Edge, and EMC Mozy and Mozy Sync.
True smartphone and tablet backup
There are some products available that can perform true backups of smartphones and tablets. Depending on your needs, this could be preferable.
However, as mentioned earlier, it may be more protection than what you need. But if your organization requires tight controls over mobile devices and does not allow bring your own device, these products may be a good fit. Some examples include Druva inSync and Asigra Cloud Backup.
In addition to backup, Druva also offers file sync-and-share functionality. Asigra does not, but in a May 2014 interview with SearchDataBackup, Asigra Executive Vice President Eran Farajun said "it's on their roadmap."
Endpoint security
The issue of endpoint device theft is also a concern as people are always leaving their phones and laptops in some kind of vehicle, or at a coffee shop, bar, restaurant or other location.
This presents a considerable risk for many organizations. To help in situations such as these, just about all the endpoint data protection products mentioned earlier offer security functionality such as remote wipe or cut-off.
Depending on your organization, this may be an important feature, but endpoint security is not the primary focus of these products. There is an entire class of products designed for endpoint security that may better suit your needs.