ExaGrid Systems EX32000E version 4.9
The ExaGrid EX32000E version 4.9 backup hardware appliance and its deduplication software offer capacity for 25 appliances and support 15 data centers for cross-site DR.
Gold winner in the Storage magazine/SearchStorage.com 2015 Products of the Year Backup Hardware category.
The ExaGrid EX32000E backup deduplication appliance is a scale-out disk system built on ExaGrid's GRID architecture, with the latest 4.9 version upgraded to support RMAN for Oracle databases. The two previous upgrades increased capacity from 14 to 25 appliances in a GRID and increased the number of data centers supported to 16 for cross-site disaster recovery.
The company targets small to midrange customers with 10 appliance models of various sizes that can be installed in a configuration that does deduplication and replication without interfering with the backup process. The ExaGrid EX32000E uses "adaptive deduplication" where the deduplication and replication are done in parallel with backup while system resources are provided to the backups to reduce the backup window.
The backups are written directly to the landing zone with the most recent backups maintained in their full original state ready for requests. The ExaGrid EX32000E system does instant recovery of virtual machines from the landing zone. If the primary virtual machine is not available, the administrator can recover and run a virtual machine from the ExaGrid system within minutes. The local restores, instant virtual machine recoveries, audit copies and tape copies do not require rehydration. Instant virtual machine recovery occurs in seconds to minutes -- much faster than inline deduplication which requires data rehydration. ExaGrid EX32000E backups occur in parallel with deduplication and offsite replication. The company calls this adaptive deduplication because the replication and deduplication do not affect the backup process.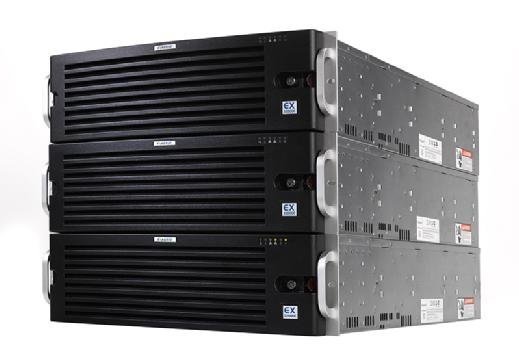 ExaGrid's EX32000E can ingest 7.56 TB an hour with up to 25 appliances in a single, scale-out GRID architecture. Storage and ingest capacity are increased as data volumes increase so there is no effect to the length of the backup window. The systems are plug-and-play, with each added appliance automatically discovered in the GRID. ExaGrid EX32000E appliance models can support from 1 TB to 32 TB and can be added as needed to the GRID.
Next Steps
ExaGrid backup appliance gets a makeover
ExaGrid gives dedupe boxes a boost
Veeam-ExaGrid integration makes backup easier