Evaluate
Weigh the pros and cons of technologies, products and projects you are considering.
HP tape storage systems top midrange, enterprise groups
HP has been close to the top in our Quality Awards for tape storage systems, but this time it leads in both the midrange and enterprise classes.
HP has been close to the top in our Quality Awards for tape storage systems, but this time it breaks through in a big way -- leading both the midrange and enterprise classes.

Download this free guide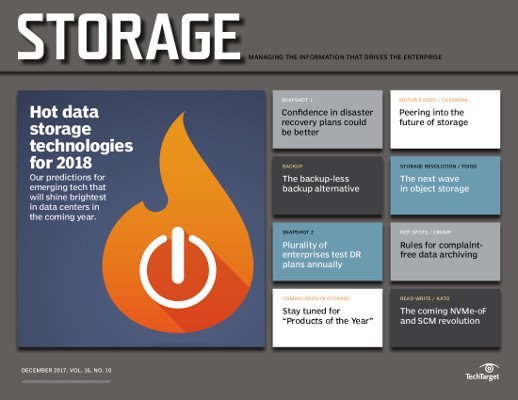 Snapshot of top 2018 backup tech: CDM, complaint-free archiving, ransomware detection vendors
The SearchStorage.com team names the most promising ransomware detection products, 4 rules for complaint-free archiving, how to use copy data management for effective recovery, and more. Download your e-zine copy here.
By submitting your personal information, you agree that TechTarget and its partners may contact you regarding relevant content, products and special offers.
You also agree that your personal information may be transferred and processed in the United States, and that you have read and agree to the Terms of Use and the Privacy Policy.
Hewlett-Packard (HP) Co. has long been a mainstay and key player in the tape library world, and has finished respectably in both the midrange and enterprise classes of our Quality Awards for tape libraries for the past eight years. But in our latest survey, HP breaks from the ranks of respectable to charge into the winner's circle -- twice.
Among its enterprise rivals, HP notched the fourth-best winning score ever, while nudging out Quantum Corp. by a narrow margin. HP triumphed in the midrange group by improving on last year's third-place finish -- previously HP's best showing -- to top Dell Inc. and IBM.
The double win by HP isn't all that surprising, as it's been a strong contender over the years, often earning high enough marks to prevail in specific rating categories.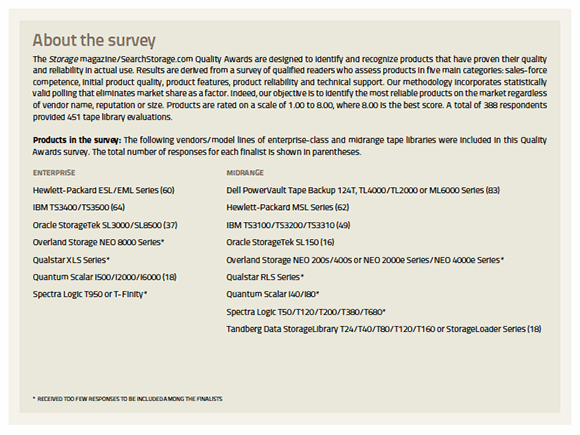 About the survey
Spectra Logic Corp., a double winner in last year's Quality Awards for tape storage systems, didn't receive a sufficient number of responses to earn a place among the finalists this year.
OVERALL RATINGS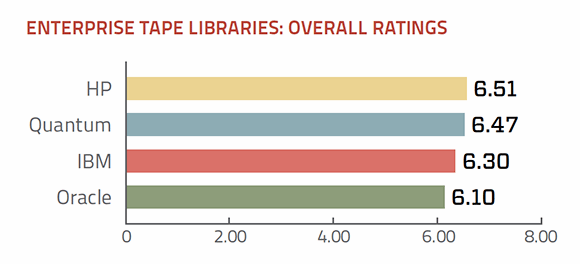 Enterprise. HP scored the highest marks in four of the five rating categories -- by slim margins in some cases -- but its cumulative effort netted an overall score of 6.51, which was just enough to hold off second-place Quantum (6.47). Quantum was a consistent competitor, earning the top mark in one category, second in three others and third in the final category. IBM followed the two leaders and came in third (6.30), adding to its incredible string of finishing in the top three among enterprise tape libraries in every Quality Awards survey to date. IBM came in second or third in every rating category. Oracle rode its Sun/StorageTek tape library heritage into fourth, with a solid 6.10 overall score; its best results were in the initial product quality and product features categories.
Key stat: The average overall rating of 6.35 for all four enterprise products was the third best ever.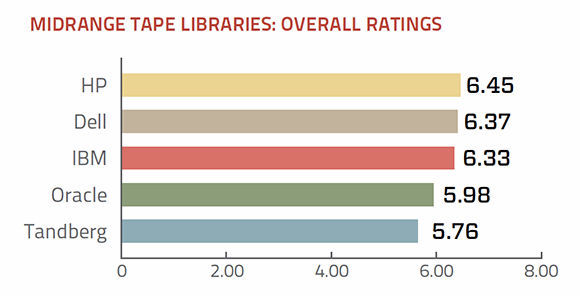 Midrange. HP's winning margin in the midrange group was a bit wider, as it rolled up a 6.45 overall rating to outdistance Dell (6.37) and IBM (6.33). Still, the gap between HP, Dell and IBM isn't very big, reflecting just how hard-fought this competition was, with HP prevailing in two ratings categories, Dell taking two and IBM racking up the last category. In fact, those three vendors accounted for the top three finishers in all categories. And each category was hotly contested, with the gaps between first and second on the order of 0.02, 0.05 (in two categories) and 0.06 points. Given the nip-and-tuck nature of this competition, HP can attribute its overall ratings to its wider lead in the sales-force competence category. Oracle (5.98) and Tandberg (5.76) rounded out the midrange tape library field.
Key stat: The overall average rating for the midrange group was a middling 6.18, despite the heated competition in each rating category.
SALES-FORCE COMPETENCE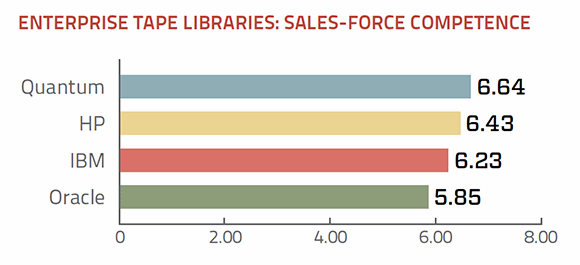 Enterprise. Quantum scored highest (6.64) in this important category that rates how well vendors and their resellers interact with users before any equipment hits the floor. And Quantum won impressively, with top ratings for five of the six statements in the category and barely "losing" on the sixth by 0.01, the smallest possible margin. HP had its share of honors, edging out Quantum (6.70 to 6.69) for the statement "The vendor's sales support team is knowledgeable" and tying Quantum for having sales reps who understand customers' businesses. Quantum was consistently strong, with a 6.73 for having knowledgeable sales reps, and posting 6.69s for three other statements, including for being flexible and easy to negotiate with. IBM had a steady showing, highlighted by a 6.51 for a knowledgeable sales support team; Oracle also earned its best score (6.24) for that statement.
Key stat: Quantum's sales-force competence score of 6.64 was the third highest ever for this category.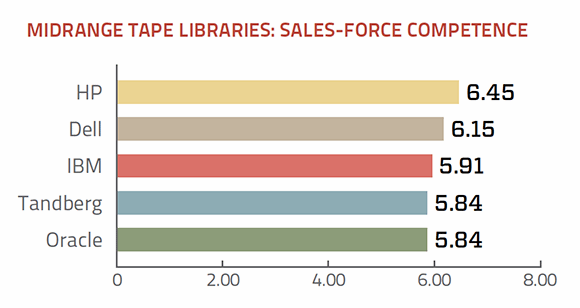 Midrange. Sales-force competence was one of HP's two winning categories as it bested Dell 6.45 to 6.15 and scored highest on all six category statements, including a tie with Dell for having knowledgeable sales support teams (6.42). HP was the only company to net 6.00-plus marks for all statements, highlighted by a 6.56 for being easy to negotiate with, a 6.54 for having flexible sales reps and a 6.50 for "My sales rep is knowledgeable about my industry." Dell's other strong points were for keeping customers' interests foremost (6.24) and flexibility (6.20). Third-place IBM also did well on the knowledgeable support statement (6.20) and being easy to negotiate with (5.93). Overall, the midrange group's sales-force competence scores were lower, suggesting that those buyers may need -- and expect -- a little more assistance than larger companies.
Key stat: The overall average score of 6.04 for the midrange group in the sales-force competence category was the lowest we've seen in five years.
INITIAL PRODUCT QUALITY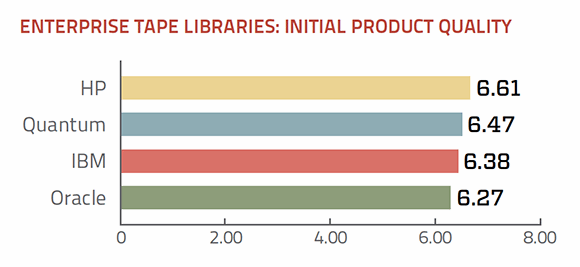 Enterprise. HP achieved its first enterprise win in the initial product quality category by collecting a 6.61 to lead a strong showing by the whole field. Quantum (6.47), IBM (6.38) and Oracle (6.27) were bunched up behind leader HP with impressive scores of their own. HP ranked highest on four of the six category statements, with exceptional ease-of-use scores: easy to install (6.70), easy to configure (6.65) and requires very little daily intervention (6.60). Quantum snared the other two statements, with a 6.65 for "This product delivers good value for the money," and a 6.59 for being easy to use. IBM also scored above 6.00 on all statements, with a high of 6.47 for "I am satisfied with the level of professional services this product requires." Oracle fell below 6.00 on only one statement and registered its highest mark for the professional services statement (6.56).
Key stat: For 4 years, all the enterprise tape library product lines have averaged scores of 6.00-plus for initial product quality.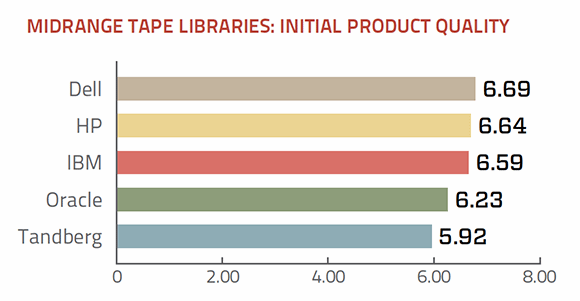 Midrange. Dell (6.69) ranked No. 1 for initial product quality among midrange products in a very close race with HP (6.64) and IBM (6.59). With just one-tenth of a point separating these three, it's no surprise that they also divvied up the statement honors. Dell and HP each scored best on three of the six statements, with IBM tying HP on one. Dell's highest statement grade (6.84) was for "This product delivers good value for the money," which is a key statement in this category. IBM wasn't far off that mark, turning in its best grade (6.82) on the same statement. Dell's other leading scores came for "This product was easy to configure" (6.74) and "The product requires very little daily intervention" (6.63). HP led the group for being easy to use (6.77) and ease of installation (6.69), and tied with IBM for requiring an acceptable level of professional services (6.60).
Key stat: Dell placed second or third in 3 previous surveys before winning the category this year.
PRODUCT FEATURES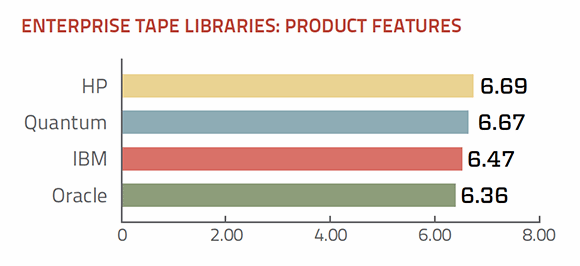 Enterprise. We saw our tightest finish among enterprise tape storage systems in the features category, which bodes well for the tape library market in general. HP nipped Quantum, 6.69 to 6.67, with IBM (6.47) and Oracle (6.36) in hot pursuit. In previous years, HP had two third-place finishes in this category; this time, it split the statements with Quantum, with each leading the field on four. HP earned a pair of 6.86s for "Overall, this product's features meet my needs" and for loading and ejecting tape efficiently. Its other high tallies were for being well designed (6.74) and management (6.65). Quantum's best mark (6.88) was earned for "This product scales well"; it also garnered a 6.81 for interoperability, 6.76 for operational performance and 6.65 for user interface. IBM and Oracle were hardly slouches, with IBM's best showing coming for scaling well (6.63) and Oracle's on the loading/ejecting statement (6.83).
Key stat: For all four vendors, on all eight statements in this category, there was only 1 sub-6.00 score.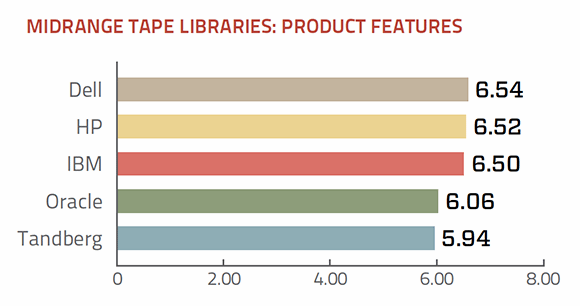 Midrange. Dell (6.54) earned its second category victory by just barely outdistancing HP (6.52) and IBM (6.50) in one of the closest one-two-three finishes we've ever seen. The three vendors split the category statements, with Dell taking four, and HP and IBM two each. Dell built its win on a 6.72 for "Overall, this product's features meet my needs," a 6.67 for performance, a 6.60 for being well designed and a 6.47 for scaling well. HP's statement wins were for loading/ejecting tape efficiently (6.78) and management features (6.63); IBM's winning scores were for interoperability (6.52) and its user interface (6.37). Oracle's overall category score of 6.06 wasn't that far behind the leaders, and Tandberg trailed by just a bit at 5.94. The group's overall category average of 6.31 is the third highest ever and not far off the best mark of 6.39.
Key stat: Click! Whirr!The group's best average statement score was 6.48 for loading and ejecting tape efficiently.
PRODUCT RELIABILITY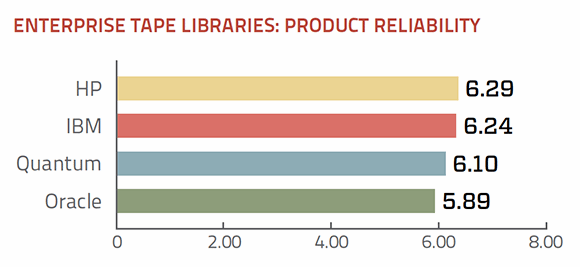 Enterprise. HP had another skin-of-its-teeth victory in the reliability category, outpacing IBM 6.29 to 6.24. HP led the pack on four statements and tied IBM on another; IBM and Quantum each had the top score on one statement. HP's best showing -- and the highest single category score -- was a 6.60 for meeting service levels. All the products did well on the service-level statement, with an overall average of 6.39. HP also scored well for non-disruptive patches/upgrades (6.42) and finished in a near dead heat with IBM for providing good upgrade guidance (6.30 to IBM's 6.29). HP and IBM tied for products that had few bugs (6.19). IBM had the top score for "This product is rarely the cause of backup failures," and Quantum was first for requiring very few unplanned patches/updates (6.35). On the "This product's error handling is easy and intuitive" statement, HP won with a 6.17.
Key stat: IBM and Oracle have finished in the top three in the product reliability rating category in 7 of eight Quality Awards surveys for tape libraries.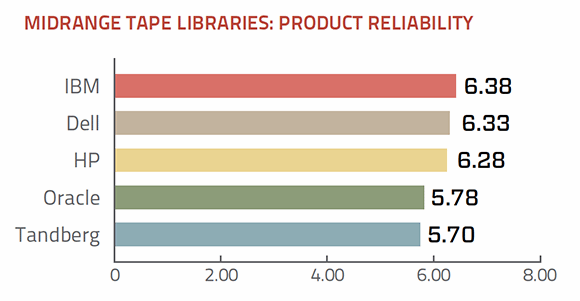 Midrange. For the second year in a row, IBM led the way in the product reliability ratings, posting a 6.38 to just slip by Dell (6.33) and HP (6.28). IBM has seen considerable success in this category, finishing in the top three in seven of eight surveys. Once again, top scores on individual statements were divvied up by IBM, which led on four, Dell (two statements) and HP (one). IBM's best scores were for products with very few bugs (6.55) and for providing comprehensive upgrade guidance (6.50); it also led for good error handling and rarely being the cause of backup failures. Dell picked up the highest score in the category -- 6.67 -- for meeting service-level requirements, and squeezed by IBM for requiring few unplanned patches or upgrades (6.50 to IBM's 6.49). HP's lone statement win was for "Patches/updates can be applied non-disruptively."
Key stat: The group's highest statement average was 6.34 for "This product requires very few unplanned patches/updates."
TECHNICAL SUPPORT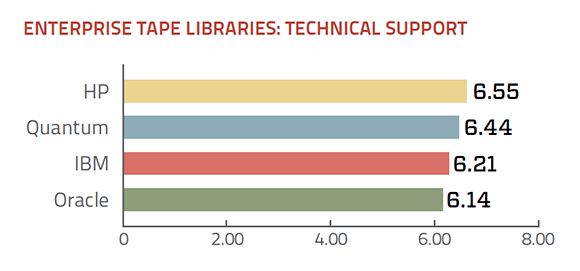 Enterprise. All four finalists earned high marks for their tech support, but HP (6.55) landed on top again by outscoring the field on five of eight category statements; Quantum (6.44) was in second and scored highest on the other three statements. HP's best grades were for delivering support as promised (6.72), having their own knowledgeable support personnel (6.67) and knowledgeable third-party partners (6.65), and for products that are easy to service (6.64). Quantum notched a couple of 6.53s for rarely having to escalate support issues and for resolving problems in a timely manner, along with a 6.76 for taking ownership of problems. Quantum has been among the top three in this category five times; IBM has finished in the top three for tech support on all eight surveys fielded.
Key stat: The enterprise group's highest across-the-board average was 6.54 for the statement "Vendor supplies support as contractually specified."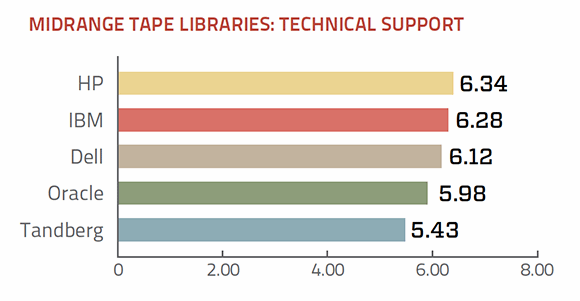 Midrange. HP was back in the midrange winner's circle for technical support, garnering a 6.34 to edge out IBM (6.28) and Dell (6.12). Overall, midrange tech support scores were lower than the enterprise group's, likely because midrange users rely on the vendors' tech staffs more. Still, there were some standout performances among midrange libraries, including HP's 6.55 for products that are easy to service. HP also led on three other statements: knowledgeable support personnel (6.48), issues rarely needing escalation (6.40) and resolving problems in a timely way (6.23). IBM ran first for taking ownership of problems (6.35), knowledgeable third-party partners (6.30) and providing adequate training (6.17). Fourth-place Oracle netted a 6.53 to lead the group for providing support as contractually specified.
Key stat: The midrange group's lowest overall rating category was 6.03 for technical support.
GIVEN WHAT YOU KNOW NOW, WOULD YOU BUY THIS LIBRARY AGAIN?
The final question for our survey participants is whether they would consider buying the product they're rating again, given what they've experienced with the tape storage system thus far. Sometimes, the "buy again" results seem to run counter to the responses on the rest of the survey -- which can indicate that users develop some sense of loyalty even if they've had some rocky times with a particular product. This time, the numbers jibe more closely with the category rating results.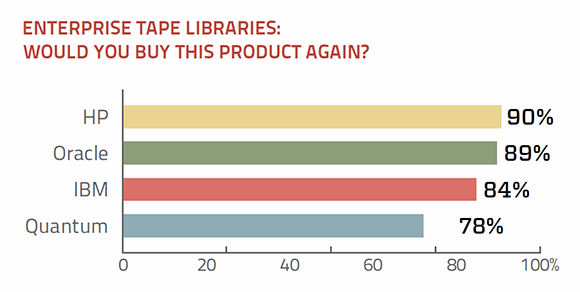 Enterprise. Hewlett-Packard turned in the best score with 90% of its users saying they'd repeat their HP tape library purchases. Oracle did well enough in the category ratings, but obviously boasts significant user loyalty as 89% checked "yes" for buy again.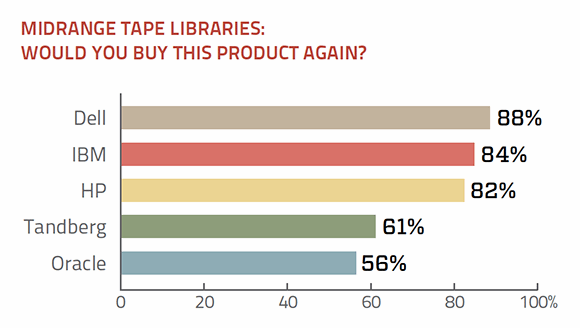 Midrange. The vendors that occupied the top three spots in all five ratings categories also held those positions for the buy again question. Dell's midrange users exhibited the strongest loyalty, as 88% said they'd plunk down their money for the same product again. And with faithful followers of their own, IBM (84%) and HP (82%) weren't far behind.
About the author:
Rich Castagna is editorial director of TechTarget's Storage Media Group.
Dig Deeper on Tape backup and tape libraries