Cybrain - Fotolia
IBM and Dell dominate tape storage systems user ratings survey
Perennially a strong competitor, IBM earns the top spot among enterprise tape libraries for the second time, while Dell snares its first midrange win.
Of all the storage technologies one might find in a modern data center, tape probably gets the least respect. But...
Continue Reading This Article
Enjoy this article as well as all of our content, including E-Guides, news, tips and more.
the media is still appreciated by the hundreds of respondents to our annual Quality Awards for tape libraries who took time to provide feedback on the libraries they use.
The inevitable pronouncements of tape's demise are unerringly premature, as tape storage systems continue to be the most convenient and cost-effective way to get backup data off-site and tucked away securely. Although many backup mavens tout cloud storage as a tape replacement, tape is still likely to have a price advantage over cloud storage. While the price to store a gigabyte of data might be initially cheaper in the cloud than on tape, the charge for keeping that data in the cloud is recurring. Storing a tape in an abandoned salt mine is likely to cost far less on a monthly basis.
Tape technology also continues to march on, with ever-higher throughput and capacity with each new generation. IBM's TS1150 tape drives and media, for example, can store a whopping 10 TB of data, and the LTO roadmap was recently extended to include 25 TB (LTO-9) and 48 TB (LTO-10) media capacities.
This year, 321 users completed our survey, providing 473 product evaluations.
About the Quality Awards
The Storage magazine/SearchStorage.com Quality Awards are designed to identify and recognize products that have proven their quality and reliability in actual use. Results are derived from a survey of qualified readers who assess products in five main categories: sales-force competence, initial product quality, product features, product reliability and technical support. Our methodology incorporates statistically valid polling that eliminates market share as a factor. Indeed, our objective is to identify the most reliable products on the market regardless of vendor name, reputation or size. Products are rated on a scale of 1.00 to 8.00, where 8.00 is the best score. A total of 321 respondents provided 473 tape library evaluations.
Products in the survey
The following vendors/model lines of enterprise-class and midrange tape libraries were included in this Quality Awards survey. The total number of responses for each finalist is shown in parentheses.
Enterprise
• Hewlett-Packard ESL/EML Series (44)
• IBM TS3400/TS3500/TS4500 (67)
• Oracle StorageTek SL3000/SL8500 (32)
• Overland Storage NEO 8000 Series*
• Quantum Scalar i500/i2000/i6000 (34)
• Spectra Logic T950 or T-Finity*
Midrange
• Dell PowerVault Tape Backup 124T, TL2000/TL4000 or ML6000 Series (78)
• Hewlett-Packard MSL Series (86)
• IBM TS3100/TS3200/TS3310 (55)
• Oracle StorageTek SL150 (19)
• Overland Storage NEO 200s/400s, NEO 2000e Series/NEO 4000e Series*
• Quantum Scalar i40/i80*
• Spectra Logic T50/T120/T200/T380/T680*
• Tandberg Data StorageLibrary T24/T40/T80/T120/T160 or StorageLoader Series (21)
*Received too few responses to be included among the finalists
Overall rankings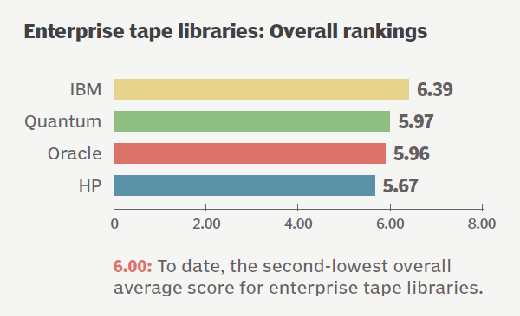 Enterprise: Among the higher end tape libraries evaluated in the Quality Awards, IBM has been a strong contender, finishing among the top three for overall rankings in all nine Quality Awards surveys to date. This is the second time IBM has won it all. IBM's overall 6.39 tally put it well ahead of the other finalists, with Quantum and Oracle placing second and third. Quantum's margin over Oracle was the slimmest possible -- just 0.01 point -- effectively resulting in a dead heat. Both Quantum and Oracle have prevailed in this category in previous surveys.
IBM led for all five rating categories, with winning margins ranging from 0.05 to 0.55. But the result wasn't particularly surprising considering IBM's pedigree as a tape pioneer and a tape tech leader. Quantum and Oracle divvied up second-place category finishes, with Quantum netting two and Oracle three.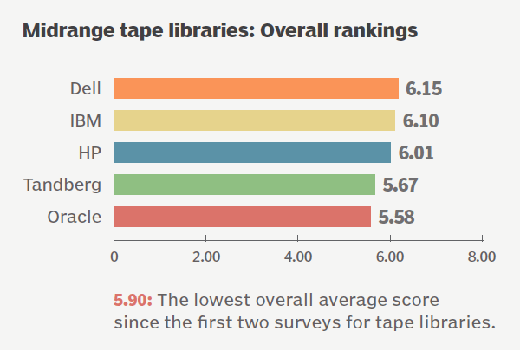 Midrange: With five finalists in the midrange tape library field, the finish was extremely close, with only 0.14 separating the top three vendors. But Dell (6.15) eked out a victory over IBM and Hewlett-Packard (HP) -- 6.10 and 6.01, respectively -- for its first trip to the winner's circle after coming close last year with a strong second-place finish.
This is the fourth time Dell has finished in the top three. Second-place IBM notched its ninth consecutive top-three finish. Last year's winner, HP, rounded out this closely packed trio.
Dell scored highest in three of the rating categories, with IBM finishing first in the other two. In two of the categories in which Dell prevailed, IBM finished second. HP had a consistent showing that included second place in two categories and third place in three.
Sales-force competence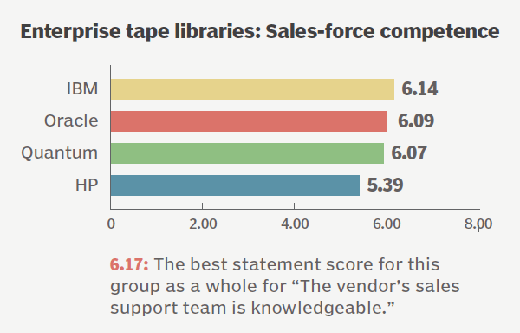 Enterprise: Our enterprise tape library purveyors had a nip-and-tuck competition in the sales-force competence rating category. IBM's 6.14 score was enough to top Oracle's 6.09, which, in turn, just barely slipped by Quantum at 6.07. This was the most hotly contested rating category for the enterprise group of products. Of the six rating statements in the category, IBM led on three: 6.52 for having a knowledgeable sales support team, 6.27 for knowing about customers' industries and 6.11 for keeping users' interests foremost. Oracle was strong for all statements and earned the highest mark (6.31) for sales reps who understand their customers' businesses. Quantum's 6.16 led the pack for the statement "My sales rep is flexible," and its 5.87 was the highest score for sales reps who are easy to negotiate with.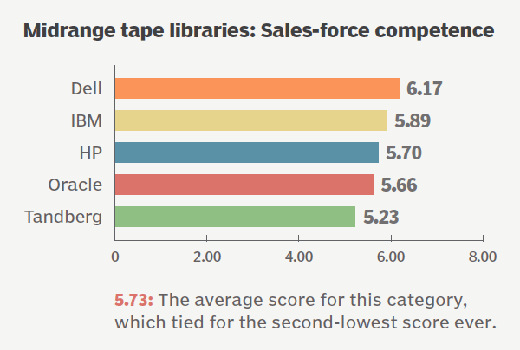 Midrange: Dell (6.17) overwhelmed the competition for sales-force competence by notching the top scores on five of the category's six rating statements. Dell's best marks were for "The vendor's sales support team is knowledgeable" (6.47) and "My sales rep understands my business" (6.30). Second-place IBM (5.89) had the best score (6.00) for "My sales rep keeps my interests foremost." IBM also received a 6.22 for knowledgeable sales support teams.
HP was third, with a category score of 5.70 vs. Oracle's 5.66. HP's best rating was for the knowledgeable sales support team statement (5.87); Oracle earned a 6.24 on that statement, its highest mark, and another 6.00-plus rating for reps who understand users' businesses (6.05). All five finalists had their best marks for knowledgeable support teams, with Tandberg earning a 6.06 for that statement.
Initial product quality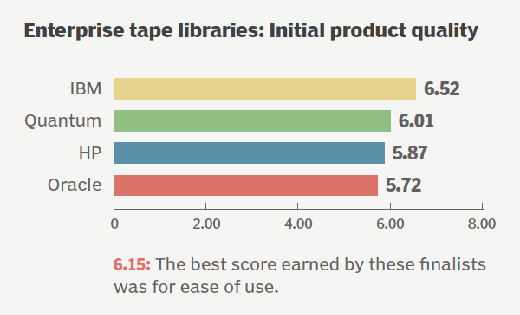 Enterprise: IBM swept the initial product quality category rather handily by outscoring the competition on all six rating statements with consistently high marks ranging from 6.38 to 6.66. There was a substantial gap between IBM's 6.52 category average and second-place finisher Quantum's 6.01; HP tallied a 5.87 to wrest third place from Oracle (5.72). IBM netted its top score for one of the survey's key rating statements: an impressive 6.66 for "This product delivers good value for the money." IBM garnered similarly high results for ease of use (6.61) and user satisfaction with the level of professional services a product requires (5.58). Quantum cruised into second place powered by three 6.00-or-higher scores, highlighted by a 6.19 for ease of installation. HP had one statement rating over 6.00, a 6.12 for ease of use, and also scored well on the value statement (5.88).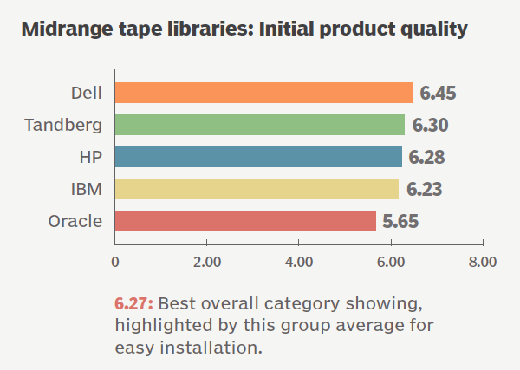 Midrange: All the finalists in the midrange tape library group fared well for initial product quality with four of the five finalists notching scores exceeding 6.00 on all six statements. Dell was a category winner once again (6.45), flexing its muscles by beating the field on four of the statements, with third-place HP (6.28) and IBM taking one apiece. Tandberg (6.30) slid into second ahead of HP with a set of six very consistent scores, ranging from 6.10 to 6.38. Dell stood out for products that are easy to install (6.76), easy to configure (6.57) and that deliver good value for the money (6.44). Tandberg's best rating also came for ease of installation (6.48). HP's highest mark (6.30) was for the statement "I am satisfied with the level of professional services this product requires."
Product features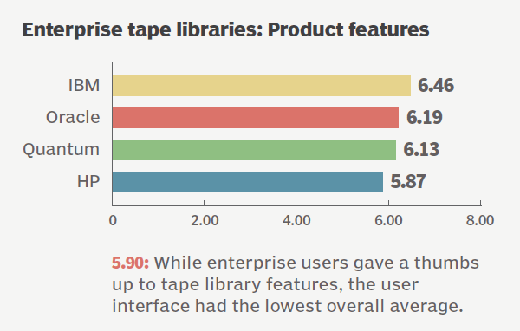 Enterprise: There may be uncertainty about tape's role in storage environments, but there's little doubt the technology continues to advance. Overall, the enterprise products in the survey put up their best numbers in the product features rating category, with a group average of 6.16. Category winner IBM demonstrated that strength with a 6.46 score built on taking top honors on seven of the eight category statements. IBM fashioned its victory with high ratings such as a 6.72 for product performance, a 6.67 earned for scalability and a 6.62 for the overarching statement "Overall, this product's features meet my needs."
Second-place Oracle picked up its best mark (6.44) on the features statement, and added a 6.38 for products that are well-designed. Quantum came in third with all 6.00-or-higher scores, including a group-leading 6.00 for use interface.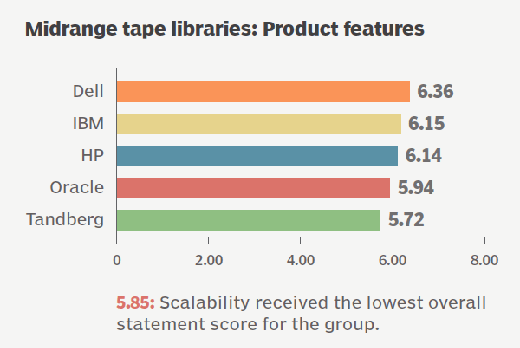 Midrange: Dell's final category win was earned for its feature set. Its 6.36 score led IBM (6.15) and HP (6.14), which finished in a virtual tie. Dell was just slightly less dominating than IBM was in the enterprise group, winning six of the eight category statements, highlighted by a stunning 6.71 for "Overall, this product's features meet my needs." Dell also earned honors for management features (6.57), performance (6.46) and user interface (6.41).
IBM led the pack with a 6.26 score for having well-designed products, but its top score came on the general features statement (6.36). HP received a 6.45 rating on the same statement. HP's other good ratings came for performance (6.22) and management features (6.20). Tandberg finished out of the top three, but had the best mark for loading/ejecting tape efficiently (6.19).
Product reliability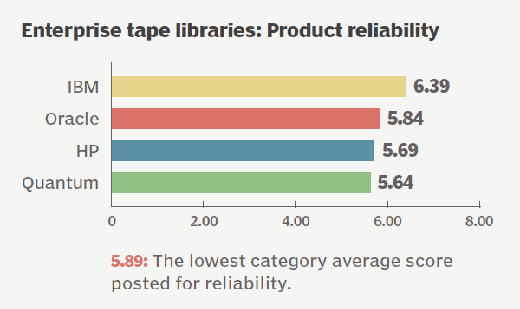 Enterprise: IBM enjoyed its widest margin of victory by outscoring the field on all seven rating statements in the product reliability category on the way to rolling up a tally of 6.39. IBM's highlights include its highest mark (6.85) for products that require very few unplanned patches or updates, a 6.73 for meeting service-level requirements, 6.48 for rarely being the cause of backup failures and a sturdy 6.38 for having very few bugs. IBM has finished out of the top three in this category only once in nine years. Oracle notched its top score on the unplanned patches and updates statement (6.23) to go along with a 6.13 for service-level agreements. HP nosed out Quantum, 5.69 to 5.64, to place third with its highest grade -- a 5.81 -- coming for the statement "Patches/updates can be applied non-disruptively." All of the other products received their lowest scores on that statement.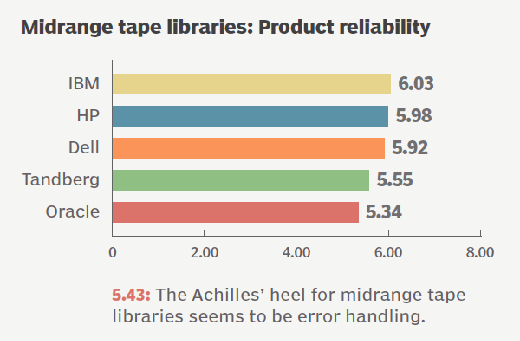 Midrange: In a tightly contested product reliability race, IBM emerged as the midrange leader with a slim 6.03 to 5.98 victory over HP. At 5.92, Dell was a close third, as the top three were bunched up within 0.11 points of each other. Oddly, IBM had top ratings on only two of the seven category statements; second-place HP and third-place Dell each had two and tied on another.
IBM prevailed for non-disruptive patches/updates and for providing comprehensive upgrade guidance. But its best score was a 6.30 for meeting service-level requirements. HP led for products that rarely cause backup failures (6.04), and for easy and intuitive error handling (5.76). Dell had the highest statement score (6.51) for service-level requirements and a 6.26 for very few unplanned patches/updates. HP and Dell tied for having very few bugs (6.11).
Technical support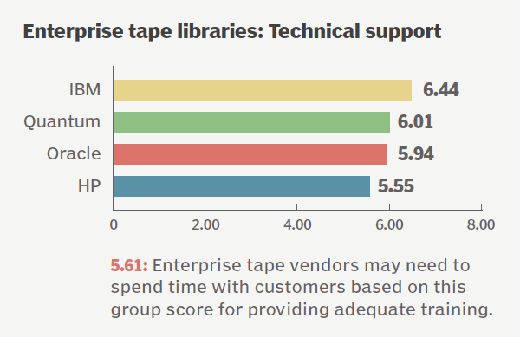 Enterprise: Over the years, IBM has fared very well for technical support on Quality Awards surveys, regardless of the product category. This time around is no different, with IBM putting up the best scores for all eight tech support statements. This win also means IBM has an unbroken string of top-three finishes in all nine tape library surveys. On its way to the winner's circle, IBM posted a 6.86 for delivering technical support as contractually specified, backed by a pair of 6.62s for resolving problems in a timely manner and having knowledgeable support personnel, and a 6.51 for taking ownership of problems.
With a 6.01 category total, Quantum placed second, with its best rating coming for knowledgeable support personnel (6.38). Oracle finished third, with some very solid scores, including a couple of 6.30s for the knowledgeable personnel and ownership statements.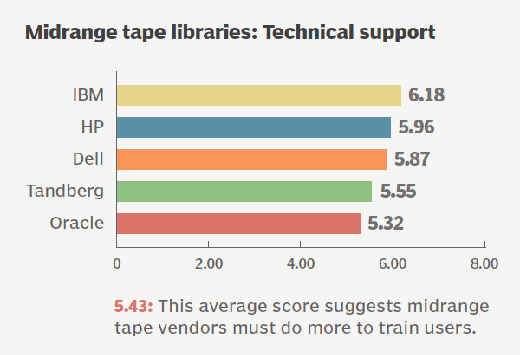 Midrange: IBM duplicated its enterprise win with similar results in the midrange tape library technical support category (6.18). It garnered the top tallies on seven of eight statements. HP had the other statement high score on its way to another strong second-place finish (5.96), again nosing out Dell (5.87). As it did in the enterprise group, IBM posted its best result for delivering support as promised (6.37), complemented by a 6.29 for issues that rarely require escalation and a 6.28 for having knowledgeable third-party partners.
HP's 6.19 for taking ownership of problems led the pack, but its best score was a slightly higher 6.20 earned on the delivering support as promised statement. That was also Dell's strongest statement (6.34), which topped 6.00 for "This product is easy to service" (6.10).
Would you buy this product again?
After asking for detailed service, functionality and reliability ratings, we ask our survey respondents a simple question: Given what you know now, would you buy this product again? Although the responses to this question may sometimes seem at odds with the rest of the survey, this time they're essentially consistent.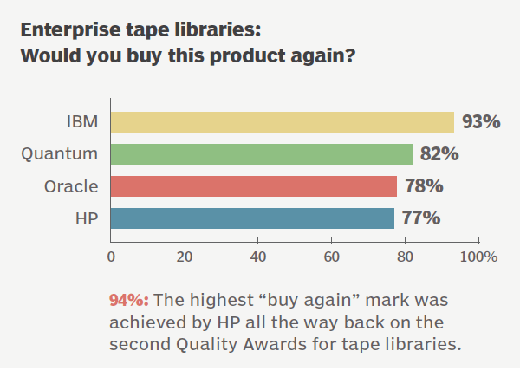 Enterprise: IBM garnered the highest score, with 93% of its users stating they would repeat their tape library purchase. Quantum and Oracle placed second and third, respectively, just as they did in the overall rankings.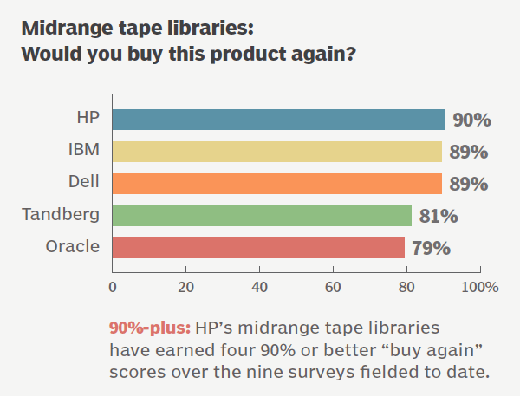 Midrange: Dell and HP swapped their overall first- and third-place midrange tape library positions in this category, but the top three finishers were separated by a mere percentage point.
About the author:
Rich Castagna is TechTarget's VP of Editorial/Storage Media Group.