News
Stay informed about the latest enterprise technology news and product updates.
NEC HYDRAstor v4.4
The NEC HYDRAstor version 4.4 is viewed as the most scalable target dedupe appliance and its Universal Deduped Transfer offers source-side dedupe to reduce bandwidth usage.
Silver winner in the Storage magazine/SearchStorage.com 2015 Products of the Year Backup Hardware category.
NEC's HYDRAstor v4.4 garnered second place in the 2015 product of the year awards for backup hardware as judges lauded it as the most scalable target dedupe appliance. The scale-out, Linux-based system can scale linearly up to 165 hybrid storage nodes.
"It's amazingly engineered but often ignored," said one of our judges of NEC HYDRAstor v4.4. "It's very feature-rich and it has great OST."
The latest 4.4 version of the NEC HYDRAstor introduced the Universal Deduped Transfer feature that eliminates the need to transfer duplicated data blocks from applications to HYDRAstor. The capability is a source-side deduplication that leverages server resources to reduce bandwidth usage. It does not require any application-specific integration so multiple applications are serviced once it is deployed via a standard file-system interface.
With the Universal Deduped Transfer, a single-controller hybrid node has a maximum throughput for general application that increased from 4.9 TB per hour to 40 TB per hour per controller. It can scale out up to 165 hybrid storage nodes and has a performance capability of from 1 PB per hour up to 4 PB per hour with inline global deduplication.
The NEC HYDRAstor system's distributed architecture can meet the needs for the low end and then can scale to handle larger datasets. The system can expand and be refreshed online with no data migration necessary.
The new version of the NEC HYDRAstor also introduced a new OST Accelerator support for Veritas NetBackup to automate and speed the backup process. This accelerator reduces the backup window because it offloads synthetic full-backup processing from the media server to HYDRAstor and automates the synthesis of the next full backup as soon as the new incremental backup is received. The accelerator allows the user to eliminate the weekly full backup from the job schedule and maintain an up-to-date full backup image with only daily incrementals.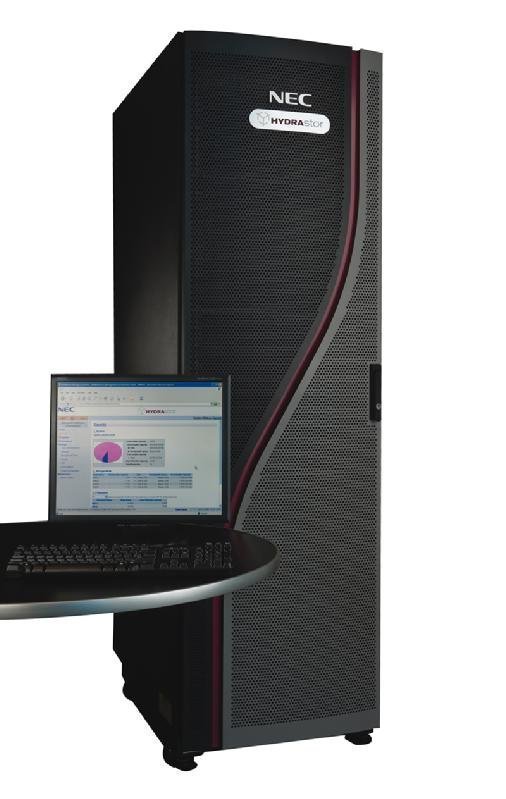 NEC HYDRAstor is a scale-out system, built on an object store with advance erasure coding instead of RAID.
Dig Deeper on Disk-based backup