Remote data backup options offer a centralized approach
Remote data backup options include integrated backup appliances, the cloud and a hybrid approach. Discover the pros and cons of each strategy.
A recent survey of our readers revealed that nearly 40% of companies are responsible for the data protection of five or more offices, including remote offices/branch offices (ROBOs).

Download this free guide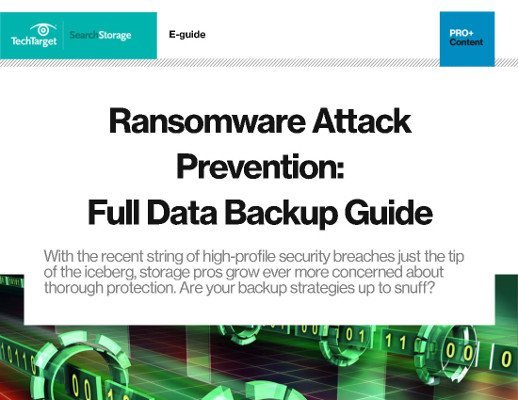 SearchStorage writers evaluate backup's role in ransomware detection
WannaCry, NotPetya, the list of dangerous ransomware viruses goes on and on, well beyond the most highly-publicized attacks. Use this guide to learn about the extent of the threat posed by ransomware, and bolster protection of your data, apps, and systems by using the backup strategies detailed within.
Challenges to remote data backup exist for a number of reasons: lack of on-site IT staff, dated or mismatched technologies, and budget constraints. If remote backup is left in the hands of employees who have not received proper training, it is easy to see how data loss can occur.
However, technology designed to centralize the back up of remote sites is widely available. If your organization is struggling with ROBO data protection, a variety of options can help.
Remote data backup issues
Historically, remote data backup was decentralized for a few reasons. Traditional backup involves moving lots of data over a short period of time. Organizations could not justify the expense of the additional bandwidth necessary to send full backups across a wide-area network (WAN). As a result, centralized backups (and restores) would need to be across a small pipe -- dramatically increasing backup and restore times.
So, organizations performed backups at each remote site separately, which involves a significant investment in hardware and software. And, as noted above, it involves training or hiring staff if you are interested in doing it correctly.
This last piece didn't always happen, so the office member who was "good with computers" would be tasked with running backups at the end of the day. But this decentralized approach to remote data backup wasn't particularly cost-effective and didn't adequately protect against data loss.
When remote office backups are conducted locally, IT has little control over these islands of backup data. Centralized backup of remote sites allows an organization to manage all its data in a single pool, where it can be deduplicated, replicated or copied to tape for disaster recovery. It is also more efficient and reduces risk.
Remote data backup option 1: Integrated backup appliance
A number of backup software vendors offer integrated data backup appliances that package backup software, server and storage in a single device. For example, Commvault partnered with NetApp and Fujitsu on integrated backup appliances. Symantec offers similar products that can be configured to protect remote office data.
These are just two examples; you may be able to find an appliance from your current backup software vendor as well.
You can configure these products to take backups periodically as changes occur. Backups are then simultaneously replicated to another system in the organization's main data center.
This is an excellent approach for organizations that may not have skilled IT personnel at a branch office. Skilled personnel can configure the system upfront to automate remote backups. Restores from the remote site backup storage can also be conducted from the main data center.
Boost productivity with backup data
Some products designed to centralize management of remote office backup (cloud or in-house) also offer employee productivity functionality such as file sync and share or end-user restore capabilities to avoid these issues. For example, Commvault Edge allows users to access backup data, from anywhere at any time, to increase productivity. It can be configured with control policies to ensure that data cannot be accessed by unauthorized parties within or outside the organization. This allows users to share files with co-workers, access data from mobile devices and so on, while allowing IT to maintain oversight over corporate data. Products such as these also ease the burden on IT by allowing users to access and restore files that have become corrupted or been accidentally deleted. This can be particularly useful for organizations with many remote offices.
In other words, these products not only send data back to the central data center where it can be managed accordingly, they provide an on-site copy of data for fast restores and can be managed by your organization's most skilled IT personnel.
In addition, most, if not all, of these remote data backup products offer data reduction capabilities. For example, Symantec's NetBackup 5200 series backup appliances offer deduplication at the source, media server or target, as well as inline or post-process. This reduces capacity needs at the remote office and the amount of data sent over the wire to the home data center. And because deduplication can be configured in a variety of ways, you can set up a system that meets your organization's needs.
Buying an all-in-one appliance is not the only way you can perform backups in this fashion. You can put together a similar configuration with independently selected backup storage, server and software. This may be preferable for some shops, especially if existing hardware can be repurposed. Many organizations have taken this approach for years with great success. However, if you are transitioning from protecting data at remote sites individually, or setting up a new branch office, an integrated backup appliance can be an excellent option.
Remote data backup option 2: The cloud
An alternative to managing ROBO backup data in-house is to send the data to the cloud. While this does not centralize data in the main data center, if designed correctly, it can allow IT control and oversight because it can be automated and managed remotely by trained IT staff. This approach requires no manual intervention by branch-office employees, which ensures consistent backups are taken.
This remote data backup option is rapidly growing in popularity among our readers. In this year's Storage magazine/SearchStorage Purchasing Intentions survey, 11% of respondents were using cloud backup to protect data at remote sites. This is an increase of 6 percentage points over last year's response to the same question (5%). An additional 3% of those surveyed said they would start using cloud backup for remote sites in 2015.
There are a number of ways cloud backup of remote sites can be performed. Most of these options use compression or deduplication and incremental backup to reduce the amount of data sent over the wire when copying data to the cloud. For example, Asigra Cloud Backup offers disk-based, block-level, incremental client-side deduplication to reduce backup bandwidth needs. It also uses an agentless architecture. According to the company, this simplifies deployment, which can be useful when deploying the software to protect multiple remote sites.
As noted earlier, such an approach allows IT to automate backups and manage backup data in the cloud remotely. Other organizations may choose to set up cloud backup of a remote site outside of the domain of the organization's central IT staff. While this protects data, it creates a shadow IT situation similar to when employees select a service like Dropbox for file sharing of business data. This can lead to data loss because it is outside the oversight of IT.
Remote data backup option 3: Hybrid cloud
Backing up remote site data directly to the cloud may not be appropriate for every organization. Depending on how much data is lost in any given event, restoring data over a WAN may be difficult or even impossible. Because of this, many organizations choose a hybrid cloud strategy.
In this model, backups are sent to secondary storage on-site at the remote office and simultaneously replicated to cloud storage. This allows an organization to keep its most recent backups on-site for fast restores while sending a copy off-site for disaster recovery. Organizations can also keep older backups in cloud storage in case they are needed. Most, if not all, integrated backup appliances can perform this task or you can configure a similar model using software and hardware of your choice.
An approach that automates the backup process and allows for centralized management of backup data by skilled personnel is the ideal. Whether backup data resides in-house, at the remote site, in the cloud or some combination thereof is up to you. In the end, choosing the right approach to remote data backup is largely dictated by capacity, bandwidth, recovery time objective and recovery point objective needs, and your budget.