Storage Decisions Supplement: Data Protection Track Downloads
Quite possibly the top issue in storage is how to protect your data. Backing up, restore and making that process seamless is critical. This track covers everything backup. Also covered here are sessions on disaster recovery and business continuity
TRACK 5: DATA PROTECTION, "Back Up, Build Out"
Quite possibly the top issue in storage is how to protect your data. Backing up, restore and making that process seamless is critical. This track covers everything backup. Also covered here are sessions on disaster recovery and business continuity.
Downloads included in this track:

Backup School 101
Speaker:W. Curtis Preston, GlassHouse Technologies
Description: W. Curtis Preston deconstructs the common backup system and points out the mistakes that may be hampering your backup operations. Because of its performance benefits, backing up to disk before tape is making a huge impact on the way backups are done. With the advent of low-cost ATA-based RAID, organizations can improve backup and recovery performance -- and do it more cost effectively. Curtis explains what options you have in creating a disk-based system and the steps you need to take before implementing it.
For more information: View Advanced Backup School webcast series

Download this free guide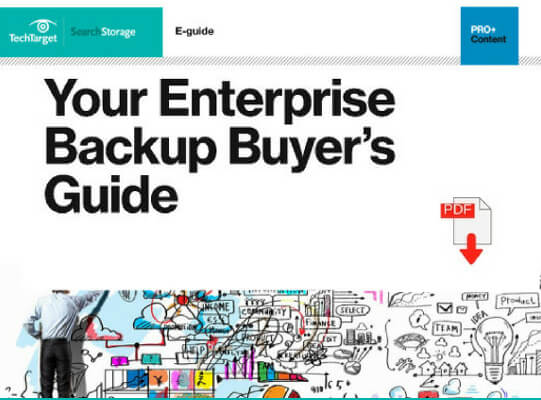 ATTN: Which backup software is right for your business?
"Do I still need an enterprise-level backup software app? How can I prepare for the top challenges I may encounter when buying restore software? Which products should be on my radar?" You'll find the answers to these queries and more, in this free, downloadable PDF.
Backup School 201
Speaker: W. Curtis Preston, GlassHouse Technologies
Description: In hour two, Curtis takes a look at five technologies in-depth: snapshots, continuous data protection, archiving, security and data reduction, which are sure to be working their way into your data center and remote office environments. He will examine the pros and cons of each, where these technologies will make the most sense and why they will comprise the future of backup.
For more information:
Panel discussion: DR Lessons Learned
Speaker: Rob Stevenson, TheInfoPro & Panel of End Users
Description: It takes a lot of work to determine which applications are most critical, which applications are interdependent and the corresponding storage components that need to be most heavily protected. Despite the pain DR may cause, a thought-out discovery process is essential to determining data recovery times, data recovery points, data synchronization constraints and how multiple failback contingencies are addressed. Based upon real DR deployments from a panel of end users, this session will explore DR in-depth.
For more information: Download DR planning podcasts
VMware -- Changing the Face of Recovery
Speaker: Tom Becchetti, Moneygram
Description:As most storage managers know, a few minutes of downtime can equate to millions of dollars in lost revenue. Safeguarding against those outages and getting your business back up and running is critical to a company's success. Host-system virtualization brings many new choices to improve recovery times. In this session, Tom Becchetti, MoneyGram's senior capacity planner shows you what his company is doing with VMware to ensure his systems are always available and easily recoverable.
For more information: Tech Report: Virtualization
Surviving Disaster: A DR Tale from Hurricane Alley
Speaker: Ben Weinberger, Ruden McClosky
Description: This session discusses the DR project in detail; focusing on objectives, alternatives considered, implementation and results. Weinberger details success factors and recommendations for companies currently researching DR products and plans. He will also explain Ruden's testing strategy, recoverability prior to the hurricane hitting and how the "failover" worked when the hurricane hit his office.
For more information: Expanding the reach of disaster recovery
Get It All Back: Efficient Recovery Management
Speaker: Arun Taneja, The Taneja Group
Description: This session explores how users can coordinate a range of data protection technologies such as VTL, CDP, traditional backup, replication and data protection management software to create more recoverable infrastructures. Restructuring your recovery methods can also help you recover the right data at the right time and in the right manner. The session will also cover which vendors are enabling these recovery technologies over the next 12 months. Attendees will learn how to assemble and evaluate their own needs in building a recovery-centric data protection infrastructure.
For more information: Disaster recovery approaches for your VTL
The ABCs of CDP
Speaker: Presented by Phil Goodwin, President and Founder, and Jeff Wells, Vice President of Research Operations and Co-founder, Diogenes Analytical Laboratories, Inc.
Description: As IT organizations consider adding continuous data protection (CDP) systems to their data protection strategies, they naturally want to know how to maximize the value of the investment. This session details how to quantify CDP resource requirements and how to interleave them with existing backup/recovery infrastructure. Phil Goodwin and Jeff Wells from Diogenes Analytical Labs will pull from their extensive experiences and lab tests with Symantec Backup Exec 10d and Microsoft Data Protection Manager.
For more information: Tech close-up: CDP

Back to the full listing of sessions

Other tracks


Smart Shopper Track


Executive Track


Architecture Track


Engineering Track

Dig Deeper on Tape backup and tape libraries