News
Stay informed about the latest enterprise technology news and product updates.
Unitrends Certified Recovery Suite
This year, Unitrends announced UCRS, a new software bundle that offers backup for virtual and physical servers, as well as hybrid cloud DR.
Silver winner in the Storage magazine/SearchStorage.com 2014 Products of the Year Backup and Disaster Recovery Software and Services category.
The Unitrends Certified Recovery Suite, a software bundle announced in April 2014, provides options for virtual and physical backup, as well as a hybrid cloud disaster recovery play. The bundle also offers testing functionality, automated failover and changes-only failback for entire applications and sites, and a new management dashboard. Unitrends says the suite supports more than 120 operating systems, application versions and storage vendors.
Unitrends Certified Recovery Suite (UCRS) includes three separate software products: Unitrends Enterprise Backup for physical, virtual and cloud data protection; Unitrends Virtual Backup (formerly PHD Virtual Backup) for VMware vSphere, Microsoft Hyper-V and Citrix XenServer protection; and Unitrends ReliableDR for VMware vSphere replication automation, orchestration, continuous testing and disaster recovery (DR). Unitrends picked up virtual backup specialist PHD Virtual Technologies in December 2013. PHD gained ReliableDR when it acquired Virtual Sharp in April 2013.
Unitrends Bridge, a feature of Unitrends Enterprise Backup and Unitrends Virtual Backup, offers recovery in place for physical and virtual machines (VMs). Bridge creates a standby VM that can reside on the same physical appliance or another VMware host. The standby is updated by each subsequent backup. The standby server can become an active server at any time.
ReliableDR offers an extension to the Unitrends cloud, with automated testing and compliance dashboards. Users can set up a hybrid DR as a service that continuously replicates locally backed up data to the cloud. The company also offers cloud seeding services and next-day shipment of hardware in case of failure.
One judge praised the offering, calling it "an extremely comprehensive package that covers all aspects of data protection an enterprise would need."
Pricing for UCRS is $1,499 per socket. Pricing for each component of the suite starts at $305 per socket.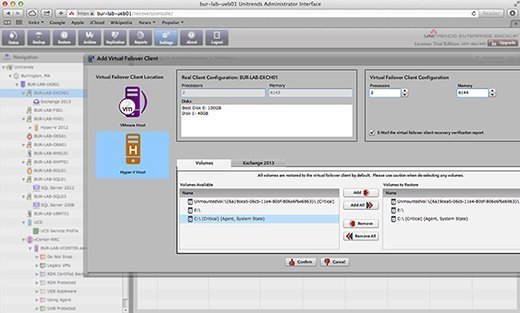 Next Steps
Unitrends hybrid DRaaS combines physical and virtual backup techs
Unitrends adds cloud backup technology with purchase of Yuruware