Veeam Software's Veeam Availability Suite v9
Veeam Availability Suite v9 scored highly on functionality, offering Veeam Cloud Connect Replication and Veeam Explorer for Oracle databases among its more than 250 features.
Silver winner in the Storage magazine/SearchStorage.com 2016 Products of the Year Backup and Disaster Recovery Software and Services category.
Veeam Software won the silver award in the data protection software category on the strength of the high-speed recovery provided by Veeam Availability Suite v9.
The vendor espoused the product's recovery time objectives of less than 15 minutes, and proactive monitoring and alerting of issues before they affect operations. It features built-in VM replication with full failover orchestration.
Veeam Availability Suite v9 works with any backup storage but tightly integrates with NetApp, EMC and Hewlett Packard Enterprise storage array snapshots to back up every 15 minutes without affecting performance.
Enhancements include the following:
Scale-out Backup Repository that allows IT to create a single virtual pool of heterogeneous backup storage to which backups can be assigned.
Veeam Cloud Connect Replication, which ensures availability of mission-critical applications with fully integrated, fast and secure cloud-based disaster recovery through a service provider.
Veeam Explorer for Oracle, which provides transaction-level recovery of Oracle databases, including agentless transaction log backup.
BitLooker, which automatically excludes deleted file blocks and useless files, enabling IT to save backup storage and network bandwidth to reduce costs.
Judges were impressed with the product's functionality.
"Veeam has parlayed its decade-dominance in VM protection into not only profitability and mindshare dominance in its core category, but an evolution of its product portfolio that far exceeds just VM backups," one judge wrote. "Boasting systems monitoring/testing capabilities; automation/orchestration workflows; cloud support; and protection of physical servers, workstations and infrastructure-as-a-service VMs, Veeam is on course to evolve not just from backup to recovery, but edging closer to the 'availability' promise that is its North Star."
Other judges commented that the product offers good integration with the data center and the additional features "keep up with the market."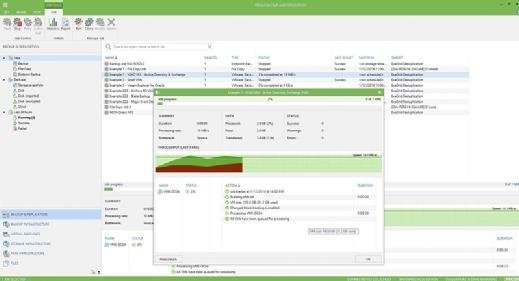 Veeam Availability Suite v8 won Gold in the Backup and Disaster Recovery Software and Services category of the 2015 Products of the Year.
Pricing for Veeam Availability Suite v9 starts at $1,150 per socket and requires a Microsoft Hyper-V or VMware vSphere environment and a Windows-based server.