What to buy: Comparing products for virtual backups
Virtual servers require a new approach to backup and recovery. Brien Posey looks at the products which offer virtual backups.
Server virtualization has become an indispensable part of the modern IT infrastructure. It can reduce data center hardware costs while improving both agility and resiliency. A downside to server virtualization, however, is that it requires virtual backups to be handled differently than they would be in a physical data center.

Download this free guide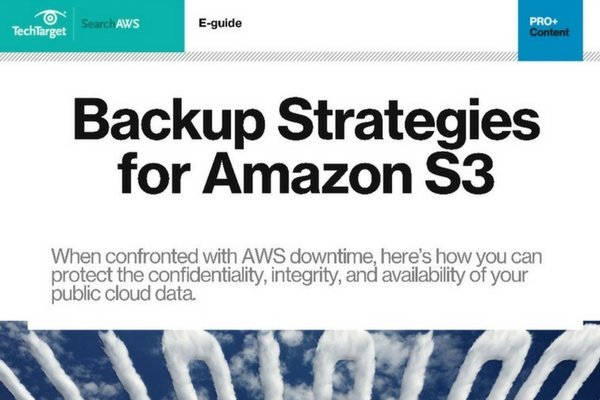 Amazon S3 in the spotlight: Your 34-page backup guide
In this guide curated by the SearchAWS.com editors, you'll evaluate and overcome the DR tradeoffs associated with Amazon S3, with guidance on solidifying an AWS backup plan and securing S3 buckets. Download your copy now.
Thankfully, data backup vendors are keeping pace with the virtualization trend. If your IT environment is new to the server virtualization scene, or you are planning on changing vendors, there are dozens of different products that can be used to back up your virtual servers.
This article will walk you through the four essential purchasing criteria for virtual server backup software -- enterprise application support, deduplication and replication capabilities, and recovery features. It will also compare four products: Veeam's Backup and Replication v7 Enterprise Plus, Symantec's Backup Exec 2014, CommVault's Simpana v10 and Unitrends' Enterprise Backup.
Enterprise application support
All of these products offer support for protecting various lines of business applications. CommVault Simpana v10 provides application support for Oracle, SAP, Microsoft Exchange Server, Microsoft SQL Server, Microsoft SharePoint, IBM DB2 and IBM Lotus Notes. Unitrends Enterprise Backup provides application protection for IBM iSeries, Microsoft SQL Server, Microsoft Exchange Server and Oracle.
Veeam takes a Microsoft-centric approach to application protection. It can protect SQL Server, Exchange Server and SharePoint. A feature unique to Veeam is agentless application support, which requires less management and lowers costs.
Symantec Backup Exec 2012 offered an add-on package known as Backup Exec Agent for Applications and Databases that adds application-level support for Microsoft Exchange, Microsoft SQL Server, Microsoft SharePoint, Enterprise Vault, Lotus Domino and Oracle. With Backup Exec 2014, Symantec seeks to extend its application support by adding SQL Server 2014 protection capabilities and granular recovery capabilities for Exchange Server 2013 and SharePoint 2013.
Deduplication
Deduplication is an important part of modern backup solutions. It not only helps to reduce backup target storage consumption, but it can also be used to compress data prior to transmitting it across slow network links. All of the backup products that are being compared offer some deduplication capabilities.
CommVault offers the highest degree of deduplication flexibility of the four products. Simpana supports both source deduplication and target deduplication. It also offers global deduplication across multiple systems.
Unitrends Enterprise Backup features global deduplication across multiple storage devices as well. It also supports VMware's Changed Block Tracking for vSphere VM incremental backups, and is designed to work with Hyper-V.
Symantec also provides deduplication capabilities in Backup Exec. Symantec's approach has long been to allow deduplication to be used at various levels of the backup infrastructure, such as at the clients, the media server and the appliance data level through the use of an add-on called the Backup Exec Deduplication Option. Backup Exec 2014 offers built-in support for basic block-level deduplication and changed block tracking.
Veeam offers an agentless, source-side deduplication engine that also provides WAN acceleration capabilities to minimize the time it takes to copy backup data across a WAN link.
Replication
Cloud backup is one of the big trends in backup and recovery today. Due to bandwidth limitations, however, using the cloud as a primary backup target is impractical. It is much more effective to back up data to a local backup target and then replicate the backup contents either to the cloud or to a secondary data center. That way, the organization can perform local restorations, but also has a copy of the data stored safely offsite.
Veeam is designed to perform image-based backups of virtual machines (VMs). The backups can be written to a local target and then replicated to an off-site target. Replicated VMs are maintained in a standby state. If a working VM goes down, Veeam allows you to fail over to a replica VM. The software even features an IP re-addressing mechanism that will allow the VM to run at the secondary site.
CommVault enables replication through Simpana Replication, which is designed to work regardless of the underlying storage devices or replication targets. Data can be replicated to the cloud, to a secondary data center and to a DR site.
Unitrends' replication solution is primarily oriented toward the cloud. Data can be replicated to a private cloud or to its public cloud service, and it supports multi-tenant environments.
Symantec previously offered cloud replication through an add-on called Backup Exec Cloud DR Option. This add-on was targeted toward organizations that use vSphere. However, this add-on is no longer listed on Symantec's list of agents, options and add-ons for Backup Exec.
Recovery features
The most important part of any backup application is the degree to which it supports recoverability. A good backup application should allow for an expedited recovery from even the worst disasters.
Veeam says it can restart a failed VM from backup in two minutes. The software also supports instant item-level recovery for files, folders and even application data through a Windows-Explorer like interface called Veeam Explorer. Veeam also offers a virtual lab feature that, although not technically a recovery feature, uses backups to provision a virtual lab environment that mimics the production environment.
Symantec offers full server recovery to dissimilar hardware and granular recovery options for restoring volumes, files, folders, etc. Backup Exec 2014 also includes a P2V and a V2P Conversion Wizard that allows physical servers to be restored to virtual hardware or vice versa.
When it comes to recoverability, CommVault seems to focus most of its attention around efficiency. CommVault makes use of a single-pane-of-glass console specifically designed to decrease the complexity of backup and recovery management. CommVault also provides automated workflows, a reporting engine and a dashboard collection designed to make it easy to see what is going on with a backup or recovery operation. CommVault also provides self-service recovery capabilities for authorized users.
Unitrends uses the hypervisor to support the instant provisioning and recovery of VMs. In addition, the recovery engine supports restoration to dissimilar hardware and allows for P2V, P2P and V2V recovery. Like CommVault, Unitrends says they place an emphasis on the efficiency of their user interface. The Unitrends interface is adaptive and scales as the size of the deployment changes.
Conclusion
There is really no such thing as the perfect product for virtual backups. It is important to shop for a product based on your unique requirements. A backup application that is well-suited to one environment is not necessarily a good fit for another.
With that said, I have had good experiences with Veeam Backup and Replication. It's easy to use, has never left me guessing as to what I need to do next, and I like the variety of recovery options that it provides.
Even so, Veeam isn't perfect. Veeam was specifically designed around protecting virtual machines and does not work with physical servers. Furthermore, Veeam does not provide as much application awareness as some of the other products.
If you need support for a wide variety of physical and virtual systems and for a mixture of applications and operating systems, of the products compared in this article, you are probably going to be best off choosing CommVault Simpana or Symantec Backup Exec.
Product profiles
Veeam Backup and Replication v7 Enterprise Plus
Veeam's flagship product is built specifically for virtual environments. It uses an image-based system for instant file-level recovery and off-site failover and failback for nearly continuous data protection. Veeam also offers built-in WAN acceleration (Enterprise Plus edition), deduplication, compression and incremental backups. The Veeam Backup Management Suite is included in the per-socket pricing, and it includes advanced monitoring, reporting and capacity planning for the backup environment. Veeam offers an optional cloud edition to add Amazon, Microsoft Azure or other public cloud service as an off-site option. Pricing starts at $750 per socket for the Standard edition, $1,250 per socket for the Enterprise edition and $1,999 for the Enterprise Plus edition. The company offers a free 30-day unlimited feature trial.
Symantec Backup Exec 2014
Symantec Backup Exec is one of the most mature backup products on the market. Its long history has given Symantec plenty of time to create a product that is stable and reliable (both of which are extremely important characteristics for a backup application). Even so, Symantec upset many users with the 2012 version of Backup Exec, which became known for its clunky interface.
Symantec is attempting to save face with its recently released 2014 edition of Backup Exec. The software allows for much faster backups than were previously possible and adds support for Windows Server 2012 and 2012 R2. Symantec has also added SQL Server 2014 support and granular recovery capabilities for SharePoint 2013 and Exchange Server 2013, as well as Amazon Cloud Gateway VTL support.
Backup Exec 2014 continues to be a highly modular product, and that modularity has its good and bad points. On one hand, modularity means that the core product is relatively lightweight and that it is designed to be extensible. In fact, Symantec offers an impressive array of add-ons. The downside, however, is the cost and complexity involved in acquiring, deploying and managing any required add-ons. Backup Exec is licensed on a per-server basis, and a server license sells for $1,162.66. Symantec offers a free 60-day trial.
In spite of the fact that Backup Exec depends heavily on add-ons, there are a number of features included with the core product. Backup Exec supports protection for physical and virtual environments, and supports backups to tape, disk and cloud. When it comes to VM protection, Backup Exec has the ability to automatically detect new VMs brought online and protect them as a part of the already established backup process. Symantec also provides the ability to verify recoverability for VM backups.
CommVault Simpana v10
CommVault Simpana 10 is also designed to be a modular product. CommVault has designed all of the various modules to use a common set of back-end components, thereby allowing the modules to work seamlessly with one another. This reliance on shared code makes using the software feel like a much more fluid and cohesive experience than it might have been if CommVault had built each module independently. CommVault's approach has also allowed them to develop modules that offer functionality that builds on the basic recovery capabilities. For example, CommVault provides legal hold, search and eDiscovery, and even self service capabilities. Unfortunately, CommVault does not publically disclose pricing.
Simpana 10 works well in both physical and VM protection, and fully supports cross-platform environments (VMware vCenter, vCloud Director and Microsoft Hyper-V). Like Backup Exec, CommVault Simpana can automatically detect and protect newly created VMs. However, CommVault takes VM protection a step further by allowing for the creation of affinity rules for data stores, resource pools, VDCs, VM names and more. These fully customizable rules allow Simpana to protect newly created VMs according to your needs rather than applying a generic backup policy to them.
Unitrends Enterprise Backup
Unitrends Enterprise Backup provides features such as global deduplication, replication, bare metal recovery and near-continuous data protection. Unitrends does not publically disclose pricing information, but CDW sells Unitrends Enterprise Backup licenses for $1,057.99 per socket. Unitrends licenses are offered without extra fees for agents, operating systems, applications or new releases.
Unitrends Enterprise Backup supports backups of virtual systems though Unitrends Virtual Backup (which was previously called PHD Virtual Backup). This protection extends to VMware, Hyper-V and Citrix environments. The Unitrends Recovery Management Suite bundles Unitrends Virtual Backup with ReliableDR, which is a system for validating and testing your DR plans. Incidentally, Unitrends offers a custom version of ReliableDR called VCAR (VMware Certified Application Recovery). It is specifically designed to work with Unitrends Enterprise Backup and Recovery Series appliances.