News
Stay informed about the latest enterprise technology news and product updates.
Which data backup software is best? - Page 2
The second installment of the Diogenes Labs, Storage magazine Quality Awards finds a clear winner in the data backup software category.
Sales competence

Most SMB backup products are sold through value-added resellers (VAR), while enterprise products are sold through VARs or directly to large accounts. For sales made through VARs, vendors have less control over sales quality.

You might expect a vendor's own sales team would deliver superior satisfaction. However, EMC/Dantz -- which is sold almost exclusively through VARs -- received the highest sales force rating with a 6.38 (see the "Sales force" category in the "SMB backup software" chart). HP Data Protector, also sold primarily through resellers, topped this category among enterprise products with a score of 5.56 (see the "Sales force" category in the "Enterprise backup software" chart).

Although Computer Associates International Inc.'s (CA) products didn't fare particularly well in this survey, the company achieved its highest marks in the sales force section. The vast majority of CA's backup/recovery product sales are through VARs, so the high ratings in this category speak well of the company's ability to train, manage and motivate resellers.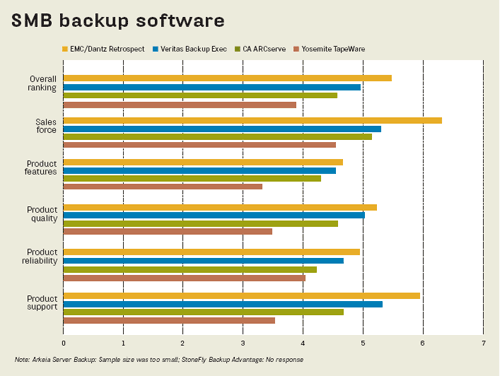 In the sales force category, Veritas' score for NetBackup was particularly hurt by the survey question, "The vendor's licensing model offers good value," where it received a 4.19 rating -- the lowest of any product.
Karl Lewis, storage administrator at the University of Michigan in Ann Arbor, said NetBackup has been a blessing to his shop, but adds, "[Veritas] licensing is my No. 1 complaint. Of my top five things, it's the top three." According to the survey, HP ranked the highest related to licensing with a score of 5.62. "The HP licensing model is excellent," said Roman Van Liempt, storage administrator for xwave Solutions in St John's, Newfoundland, an IT services company that provides support for New Brunswick Power. "It's the best I've seen," he added.
Dig Deeper on Data storage backup tools