News
Stay informed about the latest enterprise technology news and product updates.
Which data backup software is best? - Page 3
The second installment of the Diogenes Labs, Storage magazine Quality Awards finds a clear winner in the data backup software category.
Product features
Backup and recovery software products have been around for a long time, tend to be comparable and new functionality is incremental. Surprisingly, all of the major SMB products hovered near a neutral 4.5 rating in the product feature category -- Retrospect had a modest 4.62 (the highest score in the category), while the lowest rating was a 3.25 for Yosemite Technologies Inc.'s TapeWare.
In the enterprise product group, five of the eight products rated above 5.0. CommVault's Galaxy led all products with a very high 5.77, the highest category score among the enterprise products. Veritas' NetBackup received its highest category rating for features (5.28). Six of the eight products had generally favorable ratings above 4.5 (only Syncsort Inc.'s Backup Express and CA's BrightStor Enterprise Backup rated below a 4.5). This suggests that the majority of enterprise products are suitable for most applications and environments. As opposed to features, product differentiators center on support, price, quality and reliability.
The University of Michigan's Lewis appreciates NetBackup's operational prowess after running into some problems with HP's Data Protector. "A lot of the features that you admittedly pay for in NetBackup just aren't there in [Data Protector]," he said. "NetBackup is definitely much more robust."
Product quality
Product quality and reliability were the lowest rated categories as measured by the average of all vendors. Given IT's frustration regarding backup and recovery operations, it's not surprising these were the lowest rated areas. To assess product quality, we asked respondents to rate the products in terms of ease of use, configuration and the need for manual intervention. Only two SMB products—Retrospect and Backup Exec—received scores above 5.0 for quality, while Galaxy was the only enterprise-class product to score above 5.0.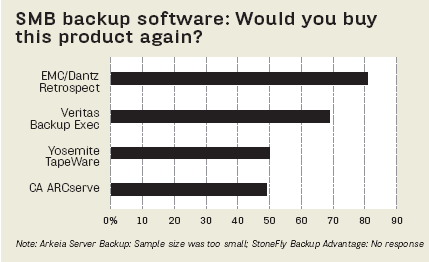 We also asked respondents how well they felt the products delivered value for the money. They rated Galaxy as the best value (5.50); Data Protector and TSM were nearly tied for second with a 5.22 and 5.21, respectively.
Gary Wood, manager of server engineering for the County of Westchester, N.Y., explained why his firm switched to EMC Legato's NetWorker after using Syncsort's Backup Express for five years. "As our server base increased, and consequently the load on the product [Syncsort], we began to see some cracks appear," he said. He concedes that while implementing NetWorker "we did have a bumpy road along the way, as it wasn't configured properly by Legato and their consultants." It took about a month to iron out the problems and, as far as Wood is concerned, the configuration snafu is no longer an issue. "All in all, we're very pleased with the Legato experience."
Lewis also experienced some configuration problems when installing Veritas' NetBackup. While he's pleased with NetBackup's performance, he noted that "it's extremely cumbersome to install and configure, possibly because of the flexibility of the product."
Dig Deeper on Data storage backup tools