News
Stay informed about the latest enterprise technology news and product updates.
Top tape libraries revealed - page 2
Users cite a high level of satisfaction for these backup mainstays, citing StorageTek and Spectra logic as the top libraries, in the Diogenes Labs-Storage magazine Quality Awards.
Product features
The most important features of tape libraries are related to flexibility of configuration and usability. In our survey, we asked users about their experience with the user interface, tape insert/eject and scalability. In this category, Advanced Digital Information Corp.'s (ADIC's) Scalar i2000/10K bested StorageTek's SL-Series (which was fourth with a score of 6.50) as the highest rated enterprise product. ADIC's 6.69 rating was the highest among all products, both midrange and enterprise, for this section. In fact, this score was the highest of any section score among enterprise products.
Spectra Logic's 10K/20K/T50 scored a 6.60 to lead the midrange library pack.
Library upgrades frequently involve time-consuming and difficult "box swaps." Manufacturers have spent considerable engineering effort to improve scalability. The highest rated products in this aspect were ADIC's Scalar i2000/10K (7.04) in the enterprise class, and Spectra Logic's 10K/20K/T50 (6.57) among the midrange products. For the statement "Overall, this product meets my needs," ADIC's Scalar i2000/10K led all products with a 6.96. Manufacturers also devote significant resources to improving tape libraries' user interfaces with touch screens, color and other usability features. In response to the statement, "I like this product's user interface," ADIC's Scalar i2000/10K again nabbed the overall high score with a 6.58; on the midrange side, Spectra Logic nearly matched that score with a 6.57.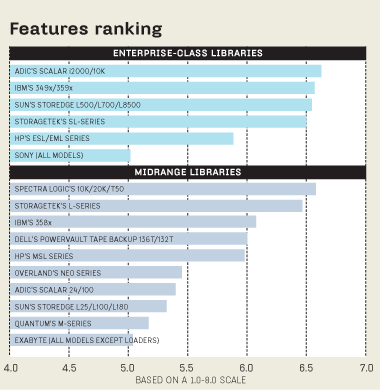 Health Net's Holt said a tape library's user interface is an important feature that can ease—or frustrate—system management. With both Hewlett-Packard (HP) Co.'s Enterprise Systems Library (ESL) and StorageTek's SL-Series libraries installed, Holt favors the SL's interface. "The StorageTek library is controlled by a separate server that has a full-blown interface a user can access, instead of just a front-panel control that's available on our HP libraries," he noted.
Tape libraries that can cost-effectively scale to meet growing data demands also receive high marks. Although generally satisfied with the Overland NEOs he has, Sybase's Bembenek cited some difficulties with scaling. "The design wasn't very modular where you could just keep adding tape drives on top of each other," said Bembenek. The company recently evaluated Overland's disk-based REO backup appliance, which addresses some of its scalability issues.
Initial quality
The initial quality portion of our survey assesses how easy a product is to install, configure and place into service. Initial quality was the highest rated section in the survey. Even as the lowest rated product among enterprise products, Sony Electronics Inc. scored well above its other section scores with a favorable 5.86. Six out of the 10 midrange products had scores that exceeded 6.0, which was more than in any other section.
One particularly compelling statement in the initial quality section is "This product offers good value for the money." Even though StorageTek is rarely the low price leader, its SL-Series products were rated highest among enterprise products (6.59); StorageTek's midrange L-Series also led the other midrange products for this statement with a 6.44. Users also believe ADIC offers a good value, giving its enterprise-class i2000/10K products a 6.45 rating.
Because B/R is a labor-intensive task, we wanted to see which product minimizes the ongoing effort, so we asked users to respond to the statement "This product requires very little daily intervention." Respondents rated the StorageTek SL-Series highest among enterprise products and best overall with a 6.69. Spectra Logic's 10K/20K/T50 products topped all midrange libraries with a 6.57 rating for this statement.
Initial quality, as well as ongoing quality, has been a sore spot for ADIC Scalar 24/100 user Michael Sleeman, director of technology at Hanbury Evans Wright Vlattas (HEWV) & Co. in Norfolk, VA.
"I tried to make sure everything was going to work ahead of time—I didn't want any problems," said Sleeman. In preparation, he confirmed with ADIC that its system was compatible with his backup application and interface card, but Sleeman's problems began almost immediately. "They sent me three different drives; after the third one, they sent me a whole new library," he said. Worse yet, the three vendors blamed each other's products for the compatibility difficulties. "It's always somebody else's problem," lamented Sleeman.
Next page: Click here for the winner in the reliability and technical support category.
Dig Deeper on Tape backup and tape libraries