News
Stay informed about the latest enterprise technology news and product updates.
Top tape libraries revealed - page 3
Users cite a high level of satisfaction for these backup mainstays, citing StorageTek and Spectra logic as the top libraries, in the Diogenes Labs-Storage magazine Quality Awards.
Reliability
Our product reliability section focuses on ongoing operations. In our disk array surveys, patch application issues caused the most dissatisfaction among respondents. This was also true for tape libraries. Of the 16 product finalists in our survey, only three scored a 6.0 or higher for the statement "Patches/updates can be applied to this product non-disruptively." StorageTek's SL-Series and Sun's StorEdge L500/L700/L8500 systems (identical products), each managed to score 6.0 for this statement among enterprise systems. Spectra Logic's 10K/20K/T50 midrange products scored best with a 6.36. All other products were below 6.0, with Sony libraries (4.96) and Quantum Corp.'s M-Series (4.91) bringing up the rear in their respective enterprise and midrange categories.
Failed backups not only make maintaining storage significantly more difficult, they also place data at risk. Therefore, we asked users to respond to the statement "This product is rarely the cause of backup failure." Here again, StorageTek's SL-Series enterprise products (6.36) and Spectra Logic's midrange 10K/20K/ T50 products (6.43) distinguished themselves among otherwise disappointing scores; no other product scored above 6.0.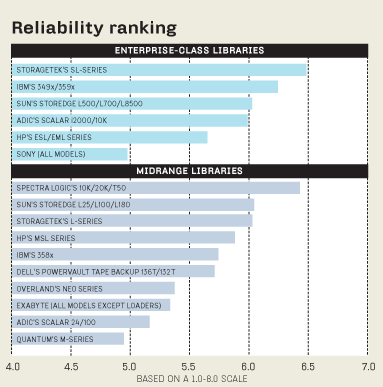 Error handling is an important aspect of maintaining a tape library, as well as a measurement of product reliability. Though happy with his IBM 3583 library, Hobart's Sitler would appreciate some improvements in its error-notification functions. "I would have it e-mail when it had an error rather than just put something onscreen," he said. Sitler uses Tivoli Storage Manager (TSM) with his 3583, but noted that "a lot of times there are lower level errors before TSM notices and it would be nice to hear about those."
Technical support
In previous surveys, technical support wasn't a significant differentiator among vendors. For tape libraries, however, there was a wider range of scores suggesting that technical support may be a factor in vendor selection. Eight support-related statements were included in the survey.
Among enterprise products, four vendors scored 6.0 or higher on every item in the support section: ADIC, IBM, StorageTek and Sun. Although five midrange products averaged higher than 6.0, only two scored 6.0 or higher on all eight statements: Spectra Logic and Sun. Spectra Logic was the only vendor to score 7.0 on any support issue, and did so twice for "This product is easy to service" and "The vendor takes ownership of the problem."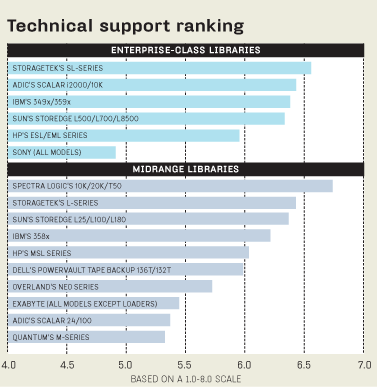 For some, support is the make-or-break issue of their overall product experience. Citing his service struggles, HEWV's Sleeman facetiously said his ADIC library has "a nice case" and "tape loading is easy." But on a more serious note, he added, "I'm not going back to these guys—it has been disappointing."
For the most part, our survey respondents didn't echo Sleeman's dissatisfaction. Although his StorageTek SL is still relatively new, Health Net's Holt is impressed. "[From] what we've seen so far, StorageTek service and everything is meeting our needs just fine." And Hobart's Sitler has managed to find some peace of mind because of the effective service he receives for his IBM tape library. "I'm pretty happy with it," he said. "I feel like I can go away for a week on vacation and not come back and be snowed under with problems."
Next page: Would users make the same choice again?
Dig Deeper on Tape backup and tape libraries