News
Stay informed about the latest enterprise technology news and product updates.
Top tape libraries revealed - page 4
Users cite a high level of satisfaction for these backup mainstays, citing StorageTek and Spectra logic as the top libraries, in the Diogenes Labs-Storage magazine Quality Awards.
Make the same choice again?
We also asked respondents to tell us if they'd purchase the same product again. It's important to note that this isn't a question about buying intentions, but rather a key measure of hindsight. On the enterprise side, 88.1% of StorageTek SL-Series users said they'd buy that product again—this was also the highest percentage among all library vendors in the survey. In the midrange arena, nearly 86% of Spectra Logic's 10K/20K/T50 respondents said they'd buy those products again. In previous surveys, the responses to this question often didn't match the rankings of the survey; for tape libraries there was a very close correlation between buy-again numbers and category winners.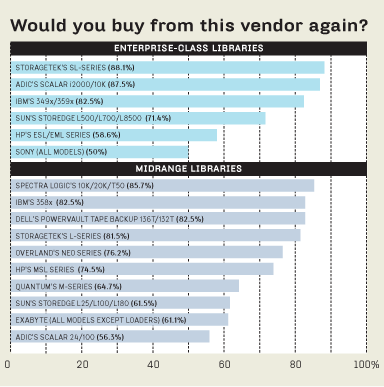 Part of a backup solution
Tape libraries are one-third of the B/R solution, with B/R software and tape devices being the other two-thirds. By combining the findings of this survey with those from our B/R software survey, IT organizations can assess what combinations of components are likely to yield the most satisfactory system for their environments.
BIO: Rich Castagna is Editor-in-Chief of Storage; Phil Goodwin is president of Diogenes Analytical Laboratories Inc.
Products included in our survey
The following products were included in Storage magazine's Quality Awards tape library survey.
Enterprise-class

Advanced Digital Information Corp.'s (ADIC's) Scalar i2000/10K
Hewlett-Packard (HP) Co.'s ESL/EML Series
IBM Corp.'s 349x/359x
Qualstar Corp.'s TLS-Series*
Quantum Corp.'s PX-Series*
Sony Electronic Corp. (All models)
Spectra Logic Corp.'s 64K/T120/T950*
Storage Technology Corp.'s (StorageTek, now owned by Sun Microsystems Inc.) SL-Series
Sun's StorEdge L500/L700/L8500
*Not included in survey results because of inadequate number of responses

Midrange

ADIC's Scalar 24/100
Breece Hill Inc.'s 16-/50-/100-PAK*
Dell Inc.'s PowerVault Tape Backup 136T/132T
Exabyte Corp. (All models except loaders)
HP's MSL Series
IBM's 358x
Overland Storage Inc.'s NEO Series
Qualstar's RLS-Series*
Quantum's M-Series
Spectra Logic's 10K/20K/T50
StorageTek's L-Series
Sun's StorEdge L25/L100/L180
*Not included in survey results because of inadequate number of responses

About the survey

The Diogenes Labs-Storage magazine Quality Award for tape libraries is the fourth in our series of survey-based service and reliability awards. The Quality Awards are designed to help identify and recognize products that have proven their quality and reliability in actual use. The results are derived from a survey of qualified Storage readers, who assess products in five main categories: sales competence, product features, initial quality, reliability and technical support. Our methodology incorporates statistically valid polling that eliminates market share as a factor. Indeed, our objective is to identify the most reliable product on the market regardless of vendor name, reputation or size. Products are rated on a scale from 1.0-8.0, where 8.0 is the most favorable possible score.

Previous Quality Award winners

HDS sweeps Quality Awards on arrays
Which backup software is best?
What are the best midrange arrays?
Dig Deeper on Tape backup and tape libraries