News
Stay informed about the latest enterprise technology news and product updates.
Storage Clips: HDS resells Diligent VTL
HDS announced it will resell three software products from Diligent; are HP and McData on the rocks?
Daily compilation of storage news: HDS resells Diligent VTL
Hitachi Data Systems Inc. (HDS) announced it will resell three software products from Diligent Technologies Corp. that will allow it to offer its own rebranded line of virtual tape librarieis (VTL) for the mainframe and open systems. The products are called VTF Mainframe, VTF Open and ProtecTier VT for Open Systems.

ProtecTier VT, another Diligent product offered as an option on HDS' open systems VTL, is a dedupe engine that does bit-by-bit comparisons of already stored data for single instancing purposes, rather than using a hashing algorithm that assigns an identification number to certain pieces of data and matches those numbers for deduplication.

Download this free guide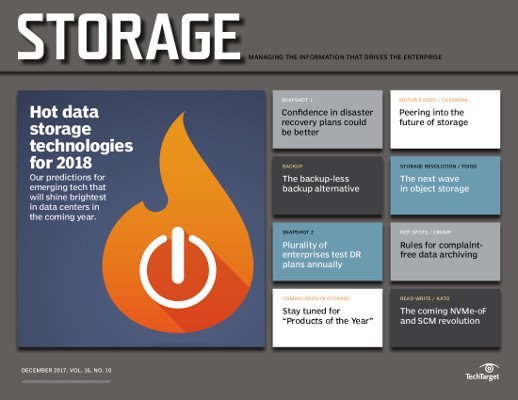 Snapshot of top 2018 backup tech: CDM, complaint-free archiving, ransomware detection vendors
The SearchStorage.com team names the most promising ransomware detection products, 4 rules for complaint-free archiving, how to use copy data management for effective recovery, and more. Download your e-zine copy here.
By submitting your personal information, you agree that TechTarget and its partners may contact you regarding relevant content, products and special offers.
You also agree that your personal information may be transferred and processed in the United States, and that you have read and agree to the Terms of Use and the Privacy Policy.
According to Victor Nemechek, product manager for VTL at HDS, this aspect of the product means there is less of a chance of data corruption. "We can guarantee 100% data integrity," Nemechek claimed.
However, the dedupe method means a performance hit -- the VTL's native performance per server, according to Nemechek, is 480 MBps, and ProtecTier cuts that to 250 MBps.
"There is a performance hit there, but there is also the benefit of storing a larger amount of data on a smaller amount of physical disk," he said.
HDS is claiming a "middle of the road" compression ratio of 25 to 1, and that some customers are seeing up to 60 to 1 compression depending on the type of data.
"But for customers who value throughput more, that's why we have the VTF Open product as an option, without the deduplication," Nemechek said.
The VTF product, which consists of a Linux server running the Diligent software and attached to HDS storage arrays on the back end, can scale three different ways -- users can add front-end ports to the Linux box, the better to attach more servers; more back-end ports, the better to attach more storage; or more servers for clustered performance.
"At over 400 MBps native throughput, clustering four VTF servers would give you 1.7 terabytes per hour throughput," Nemechek said.
Pricing for the VTF mainframe is based on millions of service units and starts at $8,000. Open Systems pricing is based on the number of host bus adapters of the VTL server and starts at $25,000. ProtecTier pricing starts at $40,000.
HP, McData on the rocks?
A note issued by RBC Capital Markets Corp. analyst Thomas Curlin recently said that "sources indicate HP [Hewlett-Packard Co.] is discontinuing the sale of its McData Corp.-sourced switching products."
The report continued, "Sources have pointed to a stronger presence from both Brocade [Communications Systems Inc.] and Cisco [Systems Inc.] at the expense of McData. Brocade in particular appears to have re-engaged the channel in an effort to build out its branded business and emerging market offerings."
HP has declined to comment publicly on the status of its relationship with McData, but McData officials have said that the reseller relationship with HP remains alive and well.
Idealstor releases CDP for removable disks
Removable disk backup maker Idealstor announced the release of Ibac 4.0 continuous data protection (CDP), which now includes CDP capabilities for Windows servers. In addition to offering the ability to recover and restore lost or corrupted data from any point in time, Ibac 4.0 allows users to continuously back up systems on a byte level to its removable hard drives.
Ibac 4.0 separates backup and continuous backup into individual modules, allowing users to assign continuous backups to servers containing the most critical data, while allowing the remaining servers to run on scheduled basis. In addition, Ibac 4.0 allows users to continuously backup open files and databases like Exchange and SQL without the use of remote agents.
Eze Castle to offer NetApp
Eze Castle Integration Inc., an outsourced technology provider to the financial services industry, announced an agreement with Network Appliance Inc. (NetApp) in which Eze Castle will use NetApp storage products in its services to hedge funds and investment firms.
NetApp also announced that the FAS250 iSCSI storage array has been given the Microsoft Simple SAN for Windows Server Component designation for the storage array category.
Overland introduces entry-level tape
Overland Storage Inc. introduced a new series of entry-level tape automation products. The first models in this new line will include an autoloader and rackmount tape library; the series provides up to 19.2 terabytes of storage.
Managed services provider chooses Pillar
Pillar Data Systems Inc. announced that managed services provider Pertineo chose its Axiom SAN for its 35 client environments. According to a press release, the full implementation of the Axiom, including testing, took Pertineo two months. The company, which did not name its previous storage vendor, said it has seen increased performance with the Axiom, with client servers booting up in less than 30 seconds, opposed to two minutes before. The SQL servers (MS SQL and MySQL) are capable of processing around three times more transactions per second without any modifications to the software and hardware in its environment, the company said.
IVivity storage processor integrated by Huawei-3Com
Huawei-3Com and iVivity Inc. announced a multiyear partnership to integrate iVivity's iDiSX Storage Network processors into its storage and networking product lines. The marketing of the product will be focused on the China.
Fujitsu selects Emulex 4Gbps HBAs
Emulex Corp. announced that Fujitsu Ltd. has selected the Emulex LightPulse 4Gbps PCI Express and PCI-X host bus adapters (HBAs) for use with the Primequest 420, Primequest 440 and Primequest 480 enterprise servers.
Dig Deeper on Disk-based backup