Riverbed extends WAFS to laptops
Steelhead Mobile installs on workstations without an onsite appliance. Users say they'd like to see better integration between the mobile and data center versions of the product.
Riverbed Technology Inc. has announced a new version of its WAFS product called Steelhead Mobile. The new product can be used to accelerate file transfers between a central data center and a workstation device, such as a PC or laptop, without requiring an onsite Steelhead file caching appliance.

Download this free guide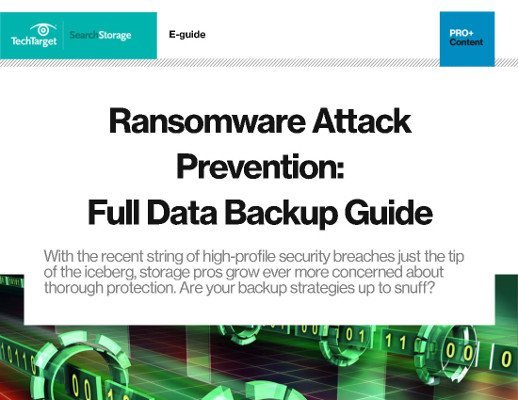 SearchStorage writers evaluate backup's role in ransomware detection
WannaCry, NotPetya, the list of dangerous ransomware viruses goes on and on, well beyond the most highly-publicized attacks. Use this guide to learn about the extent of the threat posed by ransomware, and bolster protection of your data, apps, and systems by using the backup strategies detailed within.

By submitting your personal information, you agree that TechTarget and its partners may contact you regarding relevant content, products and special offers.

You also agree that your personal information may be transferred and processed in the United States, and that you have read and agree to the Terms of Use and the Privacy Policy.

The new product consists of two components: workstation software and a central management hardware appliance called the Steelhead Mobile Controller, which manages Steelhead Mobile file caching separately from the main Steelhead appliance. (Users must also have a Steelhead appliance to use Steelhead Mobile.)

The software can be pushed out to workstations automatically from the Mobile Controller. Once installed on the system, the product can be used in either visible or invisible mode, depending on whether or not the administrator wants the end user to be able to configure or monitor the software. The product requires a laptop or PC with a minimum of 1 GB hard-disk space and Windows 2000 or XP. Instead of an appliance for file caching, the software uses part of the hard drive on the workstation and can take up to 20 GB of that space.

According to beta testers, so far that amount of storage space isn't a problem to reserve for file caching. "It's been running at an average of about 5 GB to 10 GB of space for laptops with large files; more like 1 GB or 2 GB for laptops that only have Office documents," said Travis Klasna, CAD manager and assistant IT manager for engineering firm JEO Consulting Group Inc. One of his end users has a 10 GB data store, but because of the elimination of redundant data in the cache, Klasna said it would've amounted to much more if all the files had to be stored separately on the user's PC. "There's a lot more redundant data than most people realize."

Users are also praising the licensing scheme Riverbed is using for the workstation software agents that requires they pay for "concurrent access" licenses rather than purchasing a license for every mobile user. A pack of 10 concurrent access licenses (supporting 10 users accessing the mobile controller at one time) is priced at $3,500. License packs are available in 50, 100, 1,000 and 20,000 license increments. According to Apurva Davé, director of product marketing for Riverbed, the licensing scheme works out to approximately one license for every four end users.

"That's exactly what I was hoping they'd do," said Ray Sirois, IT manager for engineering firm Wright-Pierce, who participated in user focus groups that first proposed the idea of a software-only mobile version of the Steelhead product to Riverbed. "I always liked the idea, but my concern was that they were going to charge a lot for each license."

That said, Sirois said he was less than thrilled about the mobile controller price tag of $12,995. "At that amount it's an item I have to budget for," Sirois said. "It'll probably keep me from jumping into it right away." Sirois also said he'd like to see a smaller version of the product packaged for small and midsized companies at a lower price.

Other users also said they'd prefer not to have to use a separate controller at all. "It would've been nice if we'd had just one hardware device to think about," said Padmini Dhulipala, vice president of IT at AccuVal Associates Inc.

Davé said such integration is planned. "Over time, but not today," he said. "It was a matter of getting mobile acceleration out today versus delaying it for more complete integration -- more customers will take mobile acceleration today."

Dhulipala said she agreed. "The benefits definitely outweigh the drawbacks as far as the extra appliance is concerned."

Further wish list items for future iterations of the product include support for Windows Vista, which won't be available until September, and support for mobile devices, including BlackBerrys and smartphones.

"Why not?" Klasna said of the smartphone idea, adding that he had gotten Steelhead Mobile to work using a smartphone as a modem, though not as a caching device. "We got fantastic acceleration, though with 110 MB of data it took just eight minutes to transfer using Steelhead over the cell phone, as opposed to 45 minutes without it."
Dig Deeper on Data backup security