News
Stay informed about the latest enterprise technology news and product updates.
EMC classifies Infoscape as a security play
EMC is shifting its Infoscape data classification software to under its RSA security banner, as demand for data classification software remains tepid.
GRAPEVINE, Texas -- EMC Corp. is shifting development and marketing of its Infoscape software to its RSA security unit, completing a process set in motion when RSA acquired data classification and discovery vendor Tablus Inc. in August.

Download this free guide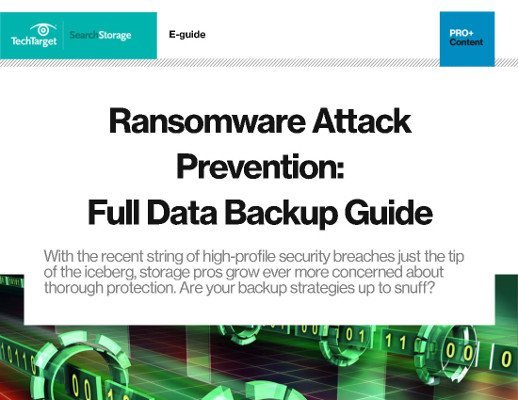 SearchStorage writers evaluate backup's role in ransomware detection
WannaCry, NotPetya, the list of dangerous ransomware viruses goes on and on, well beyond the most highly-publicized attacks. Use this guide to learn about the extent of the threat posed by ransomware, and bolster protection of your data, apps, and systems by using the backup strategies detailed within.

By submitting your personal information, you agree that TechTarget and its partners may contact you regarding relevant content, products and special offers.

You also agree that your personal information may be transferred and processed in the United States, and that you have read and agree to the Terms of Use and the Privacy Policy.

Art Coviello, executive vice president of EMC and president of RSA, confirmed the change in strategy to SearchStorage.com this week at Storage Networking World (SNW), dispelling rumors that EMC would pull the plug on Infoscape because of lagging sales. Although EMC launched Infoscape as the flagship of its Intelligent Information Management (IIM) initiative last year, Coviello said it fits best in combination with Tablus as a security play.

"That's probably where the market for it is greatest," Coviello said. "It's not just about classification, it's also about discovery. Infoscape is the engine to do discovery and classification. The best opportunity for us is to combine it with Tablus. Infoscape becomes the front end for Tablus. You need to find and classify information to do discovery."

The move isn't completely out of left field. When EMC acquired Tablus, EMC said it would combine Tablus' products for protecting intellectual property and personal information with Infoscape's data management capabilities. Tablus also added the ability to classify and protect structured data to Infoscape, which only handled unstructured data (files) in its first version.

The surprise is that Infoscape is being moved out from under EMC's software banner. Infoscape was created by pulling together pieces of technologies from other EMC acquisitions, such as Documentum, Legato and Smarts event automation and systems management software..

Rob Emsley, EMC senior director of software product marketing, said the details of the integration with Tablus were still being worked out, but the move was not a complete turnaround for Infoscape. "One of the primary use cases of Infoscape was risk mitigation, identifying the user through personal information," he said. "That was the use case that resonated most with customers."

Perhaps the best EMC explanation comes from a blog written by Chuck Hollis, EMC's vice president of technology alliances, on the day of the Tablus acquisition.

"At a high level, [Infoscape] discovers file servers and analyzes file systems trying to find things of interest and then execute whatever makes sense," Hollis wrote. "When we first brought it to market, we thought its major use case would be saving money -- finding the stuff that wasn't so interesting and either deleting or archiving it. But when we talked to customers, they were much more interested in finding sensitive information in their file systems and wrapping those bits in a secure wrapper."

The recasting of Infoscape comes after EMC spent a lot of energy around its launch emphasizing its ability to manage growing volumes of unstructured information and advance information lifecycle management (ILM).

One analyst said he fears Infoscape will be cast too narrowly as a security play. "Classification needs to go beyond just security," said Arun Taneja of the Taneja Group. "Infoscape needs to be horizontal across all areas. If they did it just for convenience or internal political reasons, I can see that. Otherwise, I don't get it."

The market for data classification has developed slowly. None of the rash of startups that jumped into the game before EMC brought out Infoscape have taken off. Scentric Inc. folded around 18 months after it rolled out its software. Kazeon Systems Inc, which. hasn't received the boost expected when it landed an OEM deal with Network Appliance Inc. (NetApp), has shifted its focus from classifcation to discovery. Abrevity recently overhauled its data classification product to support multiple servers and add new search, migration and reporting tools.

"A lot of these products hit the market too early," said a former executive of one of the classification vendors who asked not to be named. "Data classification is still more of a nice-to-have than a have-to-have."
Dig Deeper on Data backup security