News
Stay informed about the latest enterprise technology news and product updates.
ADIC snaps up dedupe patent king, Rocksoft
ADIC has forked out $63M for data deduplication software firm Rocksoft, which has no customers but has several key patents around this emerging technology.
Advanced Digital Information Corp. (ADIC) announced this week that it has acquired deduplication software company Rocksoft Ltd., of Adelaide, Australia, for $63 million in cash. The deal highlights the buzz around this emerging technology (Rocksoft has no customers) and the significance of owning patents.

Download this free guide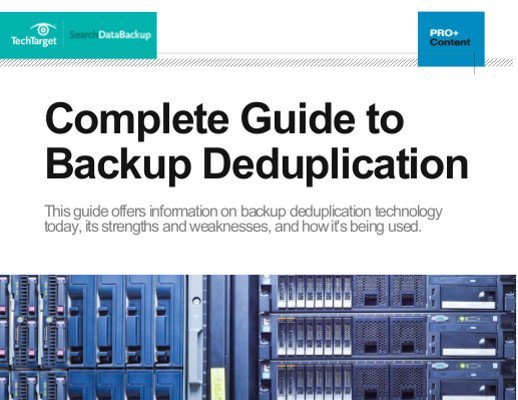 Free Download: Complete guide to backup deduplication
Access all of the 31 articles in our Data Deduplication Essential Guide by downloading our comprehensive PDF version so that you can access all of this expert content in one, easy-to-read resource.

By submitting your personal information, you agree that TechTarget and its partners may contact you regarding relevant content, products and special offers.

You also agree that your personal information may be transferred and processed in the United States, and that you have read and agree to the Terms of Use and the Privacy Policy.

Rocksoft's patented data deduplication software searches for duplicate files on a disk and replaces them with pointers to a single copy. In the event that a user modifies a deduplicated file, the software automatically creates a writable copy of the file for the user. This functionality makes storage consumption more efficient, saving costs. ADIC plans to integrate Rocksoft's functionality into its PathLight VX virtual tape library and StorNext archiving software.

"We're talking quarters away for integration," said Steve Whitner, corporate marketing director at ADIC. The company declined to talk about the technical aspects of Rocksoft's so-called Blocklets deduplication software, such as how much storage it can support and how its indexing works. "We can't definitively answer that … it'll be a couple of weeks before we can get into those details," Whitner said.

He did note that Rocksoft's patents were an important part of the value of the company. This anecdote might send a shudder down the spines of Avamar Technologies Inc. and Data Domain Inc., as both these companies use a similar scheme to Rocksoft's, employing hashing algorithms for the purpose of deduplication. Some of Avamar's patents even cite Rocksoft's work.

That said, patent concerns rarely affect customers as vendors usually assume all responsibility for any patent litigation in their licensing. It was not a factor at St. Peter's Health Care Services in Albany, N.Y., which deployed Avamar's Axion storage array to centralize its backup process. St. Peter's pulled out tape libraries and Veritas backup software from eight remote sites and now sends its backup data over the wire to the Axiom at its central site.

"Commonality factoring [another term for deduplication] is the magic in this product …We're moving just 1% of our total data everyday, so we don't crush the network [when] performing backups," said Michael Fair, network administrator at St. Peter's.

Analysts say that data deduplication will change the entire economics of storage. "Actual stored data can be reduced by magnitudes and result in enormous cost savings," said Tony Asaro, senior analyst with the Enterprise Strategy Group, in a recent column on SearchStorage.com. He says he has spoken with customers that are seeing a 20-to-1 reduction in capacity using data deduplication.

Others note that external deduplication might not be as big of a market as some people think, especially since Microsoft recently added this capability to its Windows Storage Server 2003 R2 product. "Once this capability makes it into the file system, there's less need for external deduplication," said one industry watcher who preferred to remain anonymous. With secondary storage getting cheaper and cheaper, there's also less of an issue adding more disk. It could be interesting for primary storage, but speed is an issue as every block of data has to be checked for redundancy, which adds latency.

Under the terms of the agreement with Rocksoft, ADIC has agreed to provide a $5 million loan to Rocksoft, which may be repaid or converted into Rocksoft shares. And, it has obtained the option to acquire a source code and patent license if the transaction does not close under certain conditions.
Dig Deeper on Data reduction and deduplication