News
Stay informed about the latest enterprise technology news and product updates.
Storage Clips: FalconStor adds dedupe to VTL
FalconStor VTL customers can now add a single-instance data repository; Fortiva makes a bold email archive search guarantee.
Daily compilation of storage news: FalconStor adds dedupe to VTL
FalconStor Software Inc. announced Single Instance Repository (SIR), a deduplication storage software service. The product, based on FalconStor's IPStor, provides a policy driven redundant data elimination engine and object repository for backup and archive data designed to store only a single instance of each file or data block. SIR can be packaged and deployed as a separate, single appliance or a high-availability cluster attached to a virtual tape library (VTL), or as a software add-on to existing VTL appliances. FalconStor is also partnering with backup software vendors on a certification process that ensures accurate format interpretation of the virtual tape contents in the SIR.

Fortiva guarantees email search performance
Fortiva Inc. announced that it will guarantee that 95% of all customer search requests on archived email will occur within five seconds or less, regardless of the amount of data stored. The guarantee, along with support for Bloomberg Mail and Instant Bloomberg, is part of a series of new enhancements to Fortiva's email archive appliance.

Download this free guide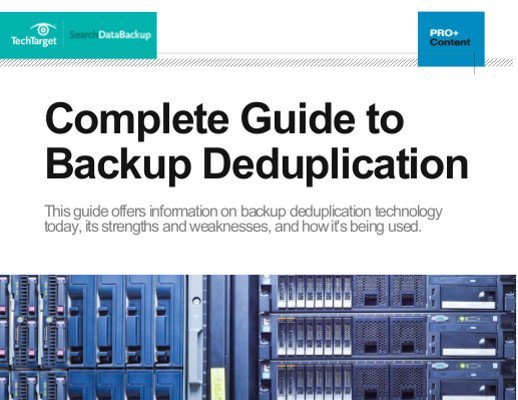 Free Download: Complete guide to backup deduplication
Access all of the 31 articles in our Data Deduplication Essential Guide by downloading our comprehensive PDF version so that you can access all of this expert content in one, easy-to-read resource.
"We kept hearing from customers, that with other vendor solutions, searches became progressively slower and slower as more data was added, sometimes taking hours or even overnight to conduct a single search," said Paul Chen, CEO of Fortiva. In the event that the customer experiences slow search performance, Fortiva will credit the customer a prorated portion of its annual billing amount.
Manufacturing firms select Riverbed
Riverbed Technology Inc. announced today that Contech Stormwater Solutions (CSS) and G&T Conveyor have deployed Riverbed's Steelhead appliances to improve application performance and allow replication and transfer of large design and database files over WANs. CSS and G&T selected Riverbed's Steelhead appliances over the competition in part for their ability to support applications specific to its businesses, including very large CRM and CAD/CAM files.
Disuk debuts encryption for optical libraries
Disuk Ltd. announced that its Paranoia2 data encryption appliance will now work with optical media. The appliance sits between the archive server and the optical media library and encrypts data as it is transferred. The company claims there is no impact in the overall write speed from encrypting the data. Customers with Plasmon Ultra Desity Opitcal libraries can deploy Disuk's new Paranoia2 appliance without modifications to their library or to their archive software or processes.
WysDM reports 100th customer
Data protection management software startup WysDM Software Inc. announced today that it has signed its 100th customer. Orange Business Services, one of the world's largest multinational telecommunications companies, is using WysDM for data protection and visibility into its backup and recovery operations.
Vanderbilt University selects BlueArc
BlueArc Corp. announced that Vanderbilt University has selected the company's Titan Storage System for its high-performance research computing department. Titan will house research data from many different campus research laboratories, centers and research cores with focus areas from diabetes and cancer to the earliest states of the universe following the big bang. Previously, the university's different research departments had each been using their own systems. The University also considered a storage area network (SAN) to centralized storage but went with network-attached storage (NAS) from BlueArc after being impressed with its throughput performance.
Teradata OEMs Engenio
LSI Logic Corp. announced that its Engenio 6998 storage system will serve as the basis of the new high-end Teradata 6843 Enterprise Storage Array data warehouse. The Engenio 6998 4 Gbps Fibre Channel storage system has more than 3,000 units shipped since its introduction in Feb. 2005. The product is also rebranded by IBM.
Nortel embeds Brocade WAFS
Brocade Communications Systems Inc. announced that the software version of the Brocade Tapestry WAFS product will be embedded in Nortel Networks's newly launched Business Continuity System 3000 branch office configuration. Brocade WAFS software that will be used in the product includes storage caching over IP.
3Par locks in leasing partner
Key Equipment Finance, the nation's third-largest bank-held equipment leasing company and an affiliate of Keycorp Ltd. and 3Par Data Inc. announced that Key Equipment will allow customers to finance the leasing of 3Par Inserv storage systems.
Emulex FibreSpy embedded in HP EVA
Emulex Corp. announced that it will provide Hewlett-Packard Co. (HP) with a custom version of its FibreSpy Model 850 embedded storage switch for the HP Enterprise Virtual Array (EVA). FibreSpy root switches provide switched point-to-point connectivity to each drive enclosure.
Polyserve, Logicalis partner
PolyServe Inc. and Logicalis Computing Solutions announced a U.K.-based agreement that will see Logicalis deploy PolyServe's Database Utility and File Serving Utility software as part of its virtualization product for customers.
StoneFly announces MVP channel program
IP SAN maker StoneFly Inc. announced MVP, a new program aimed at expanding its nationwide reseller network. Key MVP program components include additional discounts and increased margins over StoneFly's published pricing for members; dedicated StoneFly team representatives assigned to each member; an online system to post and monitor deals, manage account information, take advantage of special discounts and stay informed about new products and incentives; training programs; marketing materials; and a channel newsletter.
Dig Deeper on Data reduction and deduplication