News
Stay informed about the latest enterprise technology news and product updates.
Quantum first with data deduplication flexibility
The latest addition to Quantum's disk-based backup line allows users to set whether or not the system uses inline or post-process data deduplication during backup windows.
Quantum Corp. has taken a different tack with its latest disk-based backup product as the war continues over various aspects of data deduplication in the marketplace. Rather than choosing between inline and post-process data deduplication methods with its DXi 7500 device, it's letting customers make the call.

Download this free guide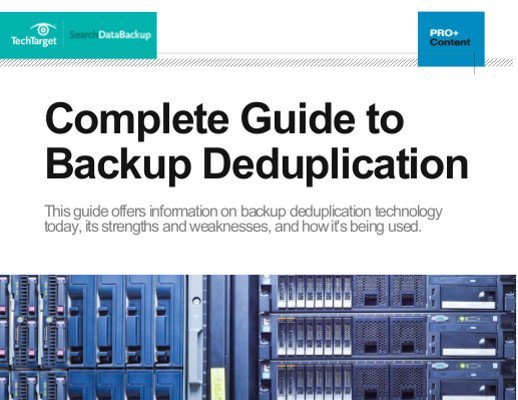 Free Download: Complete guide to backup deduplication
Access all of the 31 articles in our Data Deduplication Essential Guide by downloading our comprehensive PDF version so that you can access all of this expert content in one, easy-to-read resource.

By submitting your personal information, you agree that TechTarget and its partners may contact you regarding relevant content, products and special offers.

You also agree that your personal information may be transferred and processed in the United States, and that you have read and agree to the Terms of Use and the Privacy Policy.

The new product, which joins the DXi 3500 and 5500 devices announced in December and began shipping in February, is a higher capacity, higher performance model intended for higher end environments. The 7500 can scale up to 240 terabytes (TB) with a fully populated chassis of SATA disks and offers up to 8 TB per hour aggregate throughput (though Quantum declined comment on its single-stream throughput, which for most data deduplication vendors is around 100 megabytes per second [MBps]).

The 7500, like the 3500 and 5500 models, includes replication, and Quantum said the 7500 is meant to be a central repository at the data center for data from the 3500 and 5500 in "edge" deployments at remote offices.

However, the new feature getting the attention with analysts is the option of performing data deduplication inline; that is, as data is ingested into the system, or post process, after ingestion. The system will be able to perform either way according to policies users can set around their backup window. So, users can choose to have the system perform inline deduplication for most of the day, but during high-volume periods, such as backup windows for high-performance applications, they can set the system to perform the dedupe post-process, in order to avoid performance bottlenecks.

"I think the ability for users to turn deduplication on and off is an essential feature for those users who are unsure about the feature's viability," said W. Curtis Preston, vice president of data protection services for GlassHouse Technologies Inc. "It allows them to use the VTL [virtual tape library] while testing the feature until they're comfortable with it and then turn the feature on when they're comfortable."

However, while the 7500 shares common software with the 5500 and 3500, the deduplication flexibility will only be available with the 7500, according to Mike Sparkes, product manager, disk systems for Quantum. "We feel that post-process deduplication is really better suited for larger systems," Sparkes said. He declined to comment on whether Quantum has plans to add the feature to the smaller systems at a later date.

"I suspect that you'll eventually see them offer the capability in the smaller models," said Robert Amatruda, research director in the tape hardware and removable magnetic storage program for IDC. "But the 7500 is meant to take them up market, and so for now it may be about differentiating their products."

"I think it's about performance, especially in high-end environments," said Greg Schulz, founder and analyst for the StorageIO Group. "Those environments are more sensitive to bottlenecks when it comes to inline data deduplication with large amounts of capacity and throughput."

Meanwhile, Schulz said, before Quantum adds support for dedupe flexibility to its smaller models, it ought to add more options to the model it already has. "The ideal next step will be to allow users to choose either inline or post-process deduplication according to application, disk volume or even according to backup job or data stream."

Schulz also envisioned Quantum adding options around the "aggressiveness" of deduplication, setting levels of bit-by-bit comparison that would be more thorough for some applications, resulting in greater data reduction, but slower performance.

VTL integration with NetBackup

Also new with this system, and extending to all of the DXi models, are new options when it comes to VTL integration. The products can use code ported from Advanced Digital Information Corp.'s (ADIC) Pathlight VTL that allows the system to make a copy to physical tape from the virtual tape repository with the same barcode for tracking, but without backup application awareness, a configuration that has been problematic for some users.

However, Quantum is announcing that it has certified its interoperability with the latest version of Symantec Corp.'s NetBackup product, which will allow NetBackup 6.5 to both control and track writes to physical tape in its catalog. Quantum also plans to participate in Symantec's OpenStorage API program, which would give NetBackup even more control over the operation of the disk-based backup devices.

While such control is limited only to NetBackup environments for now, "it is my understanding that integration like this with other backup apps will follow," according to Heidi Biggar, analyst with the Enterprise Strategy Group (ESG). In the meantime, she said, "The multiple path to tape functionality, as Quantum refers to it, allows users to move data directly from the DXi Series to tape with no impact to the server or SAN environment and allows users to recover directly from tape in a disaster recovery situation."
Dig Deeper on Data reduction and deduplication