News
Stay informed about the latest enterprise technology news and product updates.
FalconStor clusters VTL data deduplication
FalconStor beefs up clusters in v5 of its VTL software to boost data deduplication performance.
FalconStor Software Inc. has turned to larger clusters to add horsepower for data deduplication in the latest release of ifs Virtual Tape Library Enterprise Edition software. VTL5, the fifth-generation of FalconStor's virtual tape library (VTL), also has new tape integration features.

Download this free guide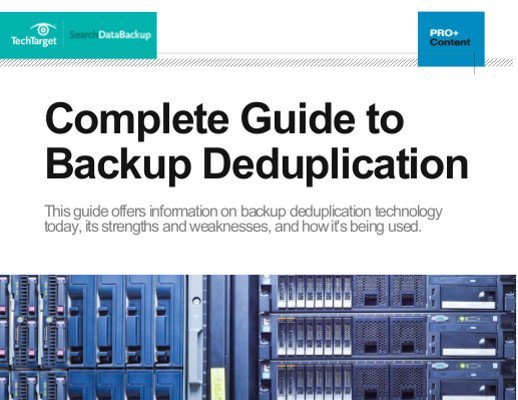 Free Download: Complete guide to backup deduplication
Access all of the 31 articles in our Data Deduplication Essential Guide by downloading our comprehensive PDF version so that you can access all of this expert content in one, easy-to-read resource.

By submitting your personal information, you agree that TechTarget and its partners may contact you regarding relevant content, products and special offers.

You also agree that your personal information may be transferred and processed in the United States, and that you have read and agree to the Terms of Use and the Privacy Policy.

Previously, FalconStor's VTL software could run on two server nodes for high-availability failover. VTL5 can run on up to eight nodes, each of which can support up to 64,000 cartridges, 1,024 drives and 128 libraries. VTL5 also allows customers to dedicate up to four of the nodes to additional processing for FalconStor's Single Instance Repository (SIR) data deduplication.

FalconStor claims each capacity node performs at 1.2 GBps, and each SIR node at 400 MBps. An eight-node cluster can scale up to 1.6 PB, and four SIR nodes can process up to 256 TB. The nodes run as a single pool with one software console for management, and users who prefer not to use a clustered system can also use VTL5 with a single node.

The update means the data deduplication process runs concurrent with ingestion into the system. That's not a complete switch to an inline approach but, according to FalconStor founder vice president of marketing Wayne Lam, "a concurrent, overlapping, hybrid approach" between inline and post-processing deduplication. The goal is to reduce the time it takes to do data deduplication. FalconStor also said it has improved deduplication performance by replacing older Indra Networks Inc. compression cards with speedier cards from Hifn Inc. that claim throughput of up to 600 MBps.

Clustering could also lead to higher data deduplication ratios by spreading the process across nodes instead of doing it on a per node basis, according to Enterprise Strategy Group analyst Heidi Biggar. "Global deduplicated replication will also be a check-off item for enterprise-class environments going forward, and [FalconStor's product] has that. It's not alone in offering this type of capability, but it is one of just a few," she wrote in an email to SearchStorage.com.

However, these updates could be too late for one storage administrator. Mark Stewart, backup and recovery storage administrator for Randolph Air Force base in Texas, said he has not yet tested VTL5, but he's already in talks with Data Domain Inc. to test its DD580. "I'm considering Data Domain because it deduplicates and replicates simultaneously, and there's no delay where you have to wait for deduplication to complete," he said. "We want to have the most current data we can at our DR site in case something happens here." Stewart said he will meet with FalconStor to discuss the updates to its VTL software and will consider both vendors before making a decision.

Whatever the technical merits of VTL5, boosting adoption numbers for SIR in the first half of 2008 will be the most crucial test for FalconStor, according to Biggar. So far, none of FalconStor's large OEMs has publicly announced adoption of VTL5, but Lam said announcements will be out in the coming weeks. To date, the only OEM to qualify SIR is Copan Systems Inc. "FalconStor is using the VTL5 release to …reintroduce' its SIR capability," Biggar wrote, adding that FalconStor's traction with its VTL is "often downplayed … due to the company's lack of traction with SIR and the perception that there may be issues with it."

New tape integration features

With this release, FalconStor is also adding a feature called Hosted Backup Enabler. This feature allows backup software to run on the VTL server, thus allowing the backup application to "see" writes to physical tape from the back end of the VTL. This is a feature FalconStor users first brought up a little over two years ago. One of FalconStor's OEMs, EMC Corp., engineered a similar option for Legato Networker into its Clariion Disk Library (now EMC Disk Library), in early 2006.

VTL5 has also been qualified with Symantec Corp.'s OpenStorage API that allows Symantec's NetBackup 6.5 to control when backup images are created, duplicated and deleted using disk backup targets. Symantec's NDMP media cloning feature will also be supported with VTL5.

VTL5 also supports automatic imports from a tape library back into the VTL for restores. Virtual tapes can also be automatically replicated to another VTL either before or after writes to tape. A new "incremental export" feature means that when appending data to already written tapes, the VTL will only write new data, reducing the time it takes to complete the export process. Users can now also make up to five copies of a physical tape automatically.

VTL5 is currently available direct from FalconStor. SIR is embedded in the small and medium-sized business (SMB) version of FalconStor's VTL appliance, the VTL-S6, which starts at $19,000. For the enterprise, SIR can be purchased as an appliance or as software that integrates with the VTL. Base SIR packages start at $100,000 for the E16 Appliance, and VTL packages start at $53,000 for the E50 Appliance.
Dig Deeper on Data reduction and deduplication