News
Stay informed about the latest enterprise technology news and product updates.
Open source storage apps get a boost
GFS, rsync and Xen catch some air at LinuxWorld, but look at the names behind these open source applications.
BOSTON -- The hacker monkeys and coding ninjas were out in force at LinuxWorld this week, and some were even willing to talk about storage.
"There's really no need to spend millions of dollars on software from EMC or any other company come to think of it, when you can get it for free," said Jake Elder, an independent Linux consultant.

Download this free guide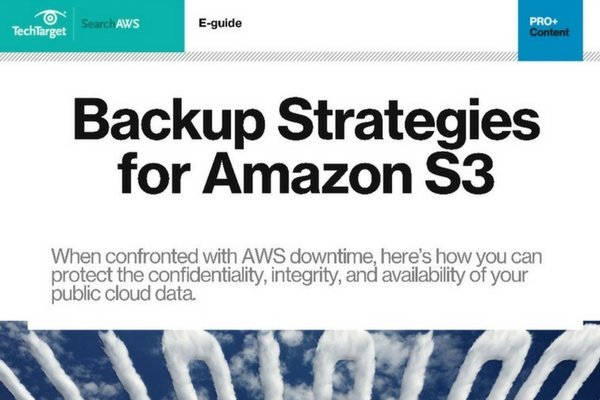 Amazon S3 in the spotlight: Your 34-page backup guide
In this guide curated by the SearchAWS.com editors, you'll evaluate and overcome the DR tradeoffs associated with Amazon S3, with guidance on solidifying an AWS backup plan and securing S3 buckets. Download your copy now.
By submitting your personal information, you agree that TechTarget and its partners may contact you regarding relevant content, products and special offers.
You also agree that your personal information may be transferred and processed in the United States, and that you have read and agree to the Terms of Use and the Privacy Policy.
He mentioned an application called rsync that provides remote replication of files over long distances and is freely available. "It copies huge amounts of data worldwide and is smart enough to copy just the changes made to a file to save on bandwidth and storage costs," he said.
GFS (Global File System) is another application picking up speed in the Linux community, according to Elder. GFS is an Open Source 64-bit SAN file system with an impressive list of industry sponsors. Veritas Software Corp., Storage Technology Corp., NASA Ames Research Center Mass Storage Systems Group, Seagate Technology and EMC are behind it.
"It's all out there -- you just have to know what you want," said Robert Lynch, database administrator at Electronic Data Systems Corp.
David Pippenger, chief technology officer for Yarde Metals, a distributor of specialized metals in Connecticut, runs a Linux shop from top to bottom. The firm's phone system through to storage, e-mail and databases all run on Linux. "The challenge is to find the smart people that really get this stuff and can plug it all together," he said.
The biggest buzz at this year's show was Xen, an open source virtualization product that lets multiple operating systems run on the same computer. Sound familiar? It's the open source equivalent to VMware, EMC's virtualization cash cow, and it's steaming ahead with support from Sun Microsystems Inc., Hewlett-Packard Co., Novell Inc., Red Hat, Intel Corp. and Advanced Micro Devices, among others.
Watch out EMC, the hacker monkeys are coming to get you and they mean business!
Here are the announcements from the show:
Arkeia Corp. and Silicon Graphics Inc. unveiled the SGI Altix 350 Linux server bundled with Arkeia's backup software designed for technical computing environments in the research, education and government sectors.
BakBone Software Inc. announced general availability of its NetVault data protection software with support for Red Hat Enterprise Linux, Version 4.
CommVault Systems Inc. added support for Novell NetWare, Novell SUSE LINUX Enterprise Server 9 and Novell Open Enterprise Server to its Galaxy backup and recovery suite.
Emulex Corp. announced Open Source driver Version 8.0 as part of Red Hat's Enterprise Linux 4 (RHEL 4) distribution. Red Hat Enterprise Linux 4 implements the latest Linux 2.6 kernel developed by the open source community.
Veritas Software Corp. announced plans to ship Linux bundles on IBM eServer xSeries systems. The bundles, which Avnet Partner Solution will distribute include: Veritas Cluster Server, Storage Foundation and Storage Foundation for Oracle RAC software products.
InfiniBand switch provider, Voltaire Inc. will integrate its technology with Xen, an open source server virtualization architecture that allows users to run multiple Virtual Machines (VM) simultaneously on the same physical server. Each VM gets a portion of the server CPU, memory and I/O from Xen, which dynamically assigns resources to virtual machines or migrates virtual machines to other servers, if needed. Through integration with Voltaire, Xen benefits from multichannel hardware and operating system bypass to enable full isolation between virtual machines, the company said.
The Weather Channel revealed that it is using Veritas software on lower cost Linux servers to reduce its total server cost of ownership by 90%. The Weather Channel relies on Storage Foundation for Linux and NetBackup software for storage management and data protection for its HP servers running Linux.
Dig Deeper on Backup and recovery software