News
Stay informed about the latest enterprise technology news and product updates.
Users protect laptops by outsourcing backups
With more data residing outside the data center on remote laptops and desktops, companies are handing backup duties to service providers such as EVault and Iron Mountain.
A sales person accidentally deletes a presentation from his laptop that could score the company millions. An architect does the same with crucial designs for a building. But here's the real problem -- because laptops live outside a company's data center, these files may not be backed up. With more remote devices out in the field, companies are looking to service providers to handle backup and restore.

Download this free guide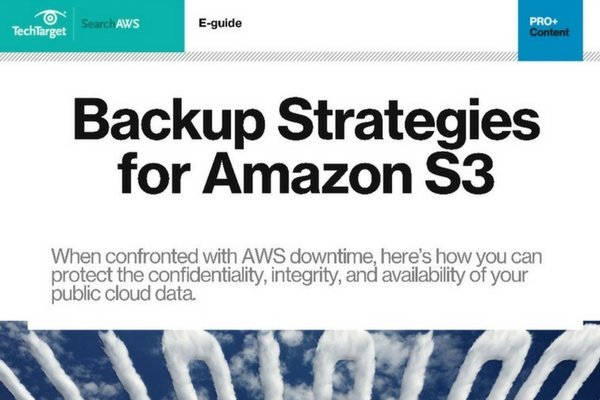 Amazon S3 in the spotlight: Your 34-page backup guide
In this guide curated by the SearchAWS.com editors, you'll evaluate and overcome the DR tradeoffs associated with Amazon S3, with guidance on solidifying an AWS backup plan and securing S3 buckets. Download your copy now.

By submitting your personal information, you agree that TechTarget and its partners may contact you regarding relevant content, products and special offers.

You also agree that your personal information may be transferred and processed in the United States, and that you have read and agree to the Terms of Use and the Privacy Policy.

"There is a growing consciousness that desktop data can be just as important as the data on the company's main servers, but it is not treated with the same respect," said Arun Taneja, consulting analyst and founder of the Taneja Group. When laptop backups are neglected, it can lead to wasted time and money spent on data restores, project delays and lost business.

Taneja said that as desktop backup outsourcers gain traction, more companies will realize the benefits of protecting data that lives outside the data center. "There is an awakening to the importance of desktop data, especially with compliance regulations. The SEC doesn't care if the data they want is on a remote device," said Taneja.

In addition to Connected Corp., now owned by Iron Mountain Inc., and EVault, other backup service providers for laptops and desktops include: Asigra Inc., LiveVault Corp., NetMass, NovaStor Corp., Pro-Softnet Corp. and Xdrive Inc.


Backups not for non-IT people


Sodexho, a food and facilities management company headquartered in Gaithersberg, Md. with 10,000 locations, is outsourcing its laptop backups with EVault's service. Eighty percent of Sodexho's internal users work at customer locations all over the country. For years, Sodexho was relying on end users to do their own backups to hard drives.

"But 90% of our users weren't doing their backups, and they weren't doing them because it's not their job," said Kevin Galvin, director of LAN services at Sodexho.

Depending on chefs to change a backup tape or sales people to back up their laptops only resulted in more calls to the help desk, said Galvin. Sodexho is in the process of installing EVault Desktop software on all their laptops, desktops and small remote servers.

With this service, the software is installed and an initial full backup is sent over the Internet and stored on EMC Clariion CX500 arrays and Hewlett-Packard ProLiant DL380 servers at an EVault data center.

After the initial backup, only changes to data are backed up. The data is compressed and encrypted. Backups are done automatically and the responsibility is taken away from "non-IT people who can now focus on serving Sodexho customers," said Galvin.

Sodexho is storing 1 TB of total data with EVault. Right now, EVault is installed on 200 laptops, but Sodexho plans to have it on close to a thousand by next year. Galvin said it's difficult to estimate if outsourcing backup and restore of remote devices is saving Sodexho hard dollars, "but from a financial viewpoint, it's like insurance. What price do you put on lost data?"


Restoring in three clicks


Another business that is outsourcing desktop and laptop backup is computing, storage and visualization technology company Silicon Graphics Inc. (SGI). With 90% of its remote workers using laptops, SGI is outsourcing backup with Connected's DataProtector software.

Initially, SGI chief information officer Dean Drougas had complaints from his staff that he was taking away part of their jobs by outsourcing. "But soon they realized that outsourcing was taking away the worst part of their job," said Drougas.

"With the Connected service, our end users can restore a lost file in three clicks rather than picking up the phone and calling the help desk," said Drougas. SGI was early into the outsourcing game so their relationship with Connected goes back six years. As soon as SGI started using laptops, they began outsourcing backup and recovery.

Similar to the EVault service, Connected's DataProtector is installed on a laptop/desktop by an IT administrator, who chooses what folders should be backed up and when. Then an initial back up is sent to an Iron Mountain Vault (Iron Mountain acquired Connected last October) and stored on hardware ranging from EMC Centera and NetApp to generic SATA drives.

From then on, all laptops are backed up automatically once a day. If an end user loses a file, he or she can open a Connected application and restore the last version of the file within minutes.

Drougas describes outsourcing remote laptops and desktops as one of the best decisions he's made as CIO. "It took days to implement and I've never had a complaint about it in six years."

Click here for more of today's news.


Dig Deeper on Cloud backup