News
Stay informed about the latest enterprise technology news and product updates.
Storage Clips: Data protection sales outdo SRM
IDC's latest software numbers show growth in data protection, which is overshadowing SRM partly because it is still too complicated to use.
Daily compilation of storage news: IDC: Data protection sales outdo SRM
The latest quarterly software numbers from IDC show sales of data protection software outstripping storage resource management (SRM), reflecting the singular focus by users on data protection and compliance.

Overall, the storage software market totaled $2.15 billion for the quarter -- up 3.7% from $2.07 billion in the previous quarter and 11.8% from $1.92 billion in the same quarter a year ago.

Download this free guide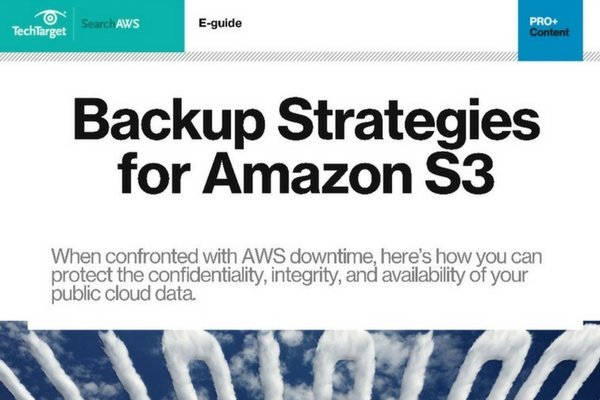 Amazon S3 in the spotlight: Your 34-page backup guide
In this guide curated by the SearchAWS.com editors, you'll evaluate and overcome the DR tradeoffs associated with Amazon S3, with guidance on solidifying an AWS backup plan and securing S3 buckets. Download your copy now.
By submitting your personal information, you agree that TechTarget and its partners may contact you regarding relevant content, products and special offers.
You also agree that your personal information may be transferred and processed in the United States, and that you have read and agree to the Terms of Use and the Privacy Policy.
"The perception that SRM would make things easier hasn't materialized … it's too complicated for people to use," said Rhoda Philips, analyst at IDC and author of the report. Additionally, it's been "overshadowed by compliance and data protection," she said.
While SRM remains the largest of the four storage software segments tracked by the firm, replication revenue spiked the most, followed by backup and archiving. Replication revenue grew $42 million from the previous quarter, compared to $22 million for backup/archive and $14 million for SRM. File system software remained the smallest segment and decreased $2 million from the previous quarter.
"The focus has moved away from reporting on assets and visibility into assets to business problem management … SRM is a necessary evil and is not getting the attention from chief information officers like corporate governance," said Laura Du Bois, analyst at IDC. She thinks it will be at least a year or two before SRM gets more play. "As virtualization matures it will drive adoption of storage management software."
ADIC updates archiving software
Advanced Digital Information Corp. (ADIC) announced the availability of the 5.5 release of its AMASS archiving software. New capabilities of the product include mixed media support that allows users to manage data across multiple optical media types in a single library, including the ability to migrate data between them. It also includes the extension of ADIC's Infinite File Life product to include all generations of LTO tape media. ADIC also announced that it has expanded the range of storage devices that AMASS supports. AMASS 5.5 is available now from ADIC and its partners.
HP embeds Emulex storage switch in EVA
Emulex Corp. announced that it will provide Hewlett-Packard Co. (HP) with a customized version of its InSpeed Model 350 Embedded Storage Switch for the next generation of the HP StorageWorks Enterprise Virtual Array (EVA) family. The HP StorageWorks EVA8000, EVA6000 and EVA4000.
Quest releases storage software for Exchange
Quest Software Inc. announced general availability of Quest Storage Suite for Exchange. The product brings together several Quest products, and provides traffic analysis and reporting; consolidates e-mail storage; archives business communications; discovers and recovers data; and allows management of both Quest and Microsoft native tools through one interface.
Microsoft, Zantaz collaborate on e-mail archiving
Zantaz Inc. and the Microsoft Solution for Hosted Messaging and Collaboration have worked together on a compliance archiving product aimed at service providers and small to midsized businesses. Microsoft will offer the product for e-mail archiving and compliance.
Pegasus, Evertrust integrate products
Storage software maker Evertrust and Pagasus Software Ltd., archiving software maker of optical, CD and DVD devices, announced they will partner on a product. The product, InveStoreACE, will integrate Evertrust's Assureon product with Pegasus' InveStore and will be marketed through Pegasus channels. ACE will work with disk and optical media, either as an on-line cache or with external storage arrays, and offers encryption of data at rest for both online or offline media, data disposition and internal auditing.
Dig Deeper on Backup and recovery software